Description


IT'S VR AUSTIN JAM TIME!
The third annual VR Austin Jam is coming soon! This year's event has some exciting new changes, but maintains our tried and true formula of "show up for two days, make something amazing in VR/AR, then bask in the glory of your creations with our community at the showcase party!"

Come get your hands on cutting-edge technology, collaborate with some of the biggest names in VR/AR, and enjoy beautiful Austin, Texas for three days of hard work and hard play!


WHEN IS THE VR JAM?
We're pumped to announce the dates of the 2017 VR Jam!
Saturday, November 11th (10AM to 10PM)
Sunday, November 12th (10AM to 10PM)
Monday, November 13th -- Wrap Up Party (7PM to 10PM)
WHAT IS A VR JAM?
A VR jam is like a game jam, but focused on creating new experiences in virtual and augmented reality. The VR Austin Jam isn't a contest or an all-night hackathon. This is a fun, safe, collaborative space, where brilliant creative people get together to make mind-blowing experiences straight out of science fiction. If you want to make VR or AR games, animations, films, or experiences, we invite you to attend! Meet new people, learn new things, and be a part of the vibrant immersive reality development scene in Austin, TX.


YOU DID THIS BEFORE?!?
Yes, this is our third weekend-long VR jam! In both 2015 and 2016 we had nearly 100 jam attendees and hundreds more join in for the community showcase to play VR! Previous attendees include folks from Oculus, Sony, HTC, Qualcomm, Unity, Epic Games, Valve, Owlchemy Labs, Merge VR, Phaser Lock, Ximmerse, CloudGate Studio, Panic Button, Taco Illuminati, and Electric Hat Games. You can read all about the 2015 and 2016 events on the VR Austin website.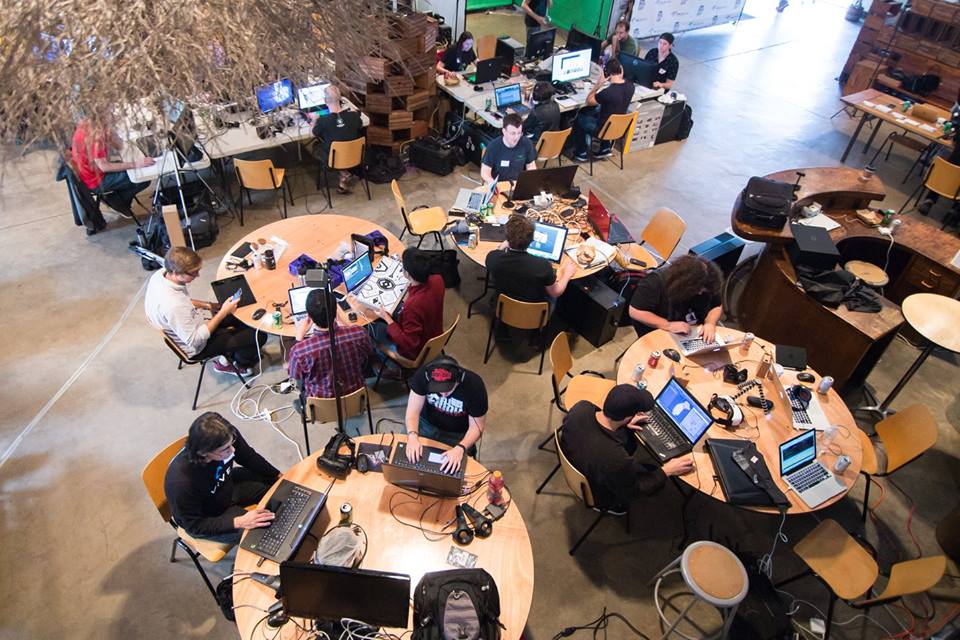 HOW DO I ATTEND?
The wrap party on Monday night is open to the public if you'd like still like to be involved, but not participate in the jam itself. (We'll have more details coming soon!)
We have limited space for VR jammers, so please register via this Eventbrite page to attend the Saturday and Sunday jam and make things!


WHAT ELSE DO I NEED TO KNOW?
Signing up on the Eventbrite page serves as a way to reserve a spot at a desk to do actual development at the VR jam (and the small fee will help cover the costs).
This is a community event. Let's mix and mingle. Please don't bring teams of more than 4 people per company/employer.
If you or a colleague would like to attend briefly to "check things out," please email us so we can save tickets for jammers who need use of the desks.
Bring your own PC! A beefy desktop is encouraged, and if you have a VR headset, please bring it and any other required peripherals. You will be able to iterate much more quickly with a headset plugged into your PC.
If you have extra VR headsets/HMDs and are willing to share, please let us know!
Bringing along some extra ethernet cables, power strips, and cords can't hurt!
Of course, every great event needs a Twitter hashtag: #VRAustinJam


FREQUENTLY ASKED QUESTIONS:
Is this a contest? Nope! It's not a contest -- the jam is in the spirit of making cool stuff, sharing ideas, and growing the Austin community that's excited about VR.
What do I need to know beforehand? Anyone with experience making games in Unity or Unreal should have no problem making VR content at the jam.
Do I need a team to attend? In previous years, most demos were created by teams of 2-4 people. Getting a group of friends to attend together is helpful, but there will also be time to form new teams at the start of the jam.
How long should my game/experience be? Shorter experiences are always better. We recommend aiming for a 3-4 minute experience. Since we have a limited number of VR headsets, we can only allow demos under five-minutes at the wrap party.
Can we bring existing content? You can absolutely use existing content / art / designs / full projects that already exist! No problem there, although building content from the ground up with VR in mind is always a good idea.
For more information about the VR Austin Jam and our other events, check out our website!

**VR Austin reserves the right to refuse admission and/or service to anyone.