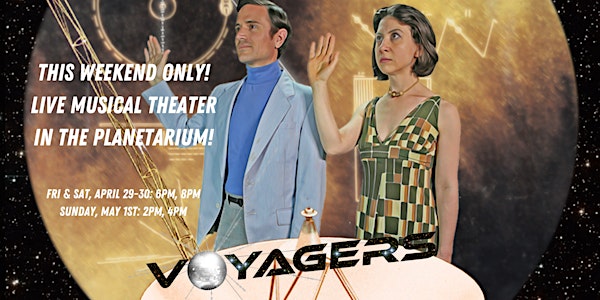 Voyagers at SUNY Oneonta Planetarium! Free Live Musical Performance!
Location
SUNY Oneonta Planetarium
West Dormitory Road
Oneonta, NY 13820
Celebrate the planetarium's reopening with Voyagers, a live musical about the Voyager space probes and the people behind the mission!
About this event
Voyagers combines live musical theater with planetarium effects to tell the story of the Voyager Mission, two space probes launched in 1977 to explore the outer Solar System and carry the Golden Record, a message from the people of earth to the future. Unfused with the sounds of the era, Voyagers shines starlight on the scientists who made major discoveries about space, and about what it means to be humans on a pale blue dot.
We've got six shows this weekend but the planetarium only holds 26 people, so get your FREE tickets now! This experience is not to be missed! Appropriate for general audiences.
The program is supported by the College Senate Committee on Public Events and sponsored by the SUNY Oneonta Alumni Association with Financial Support from the Fund for Oneonta.