Description
We cordially invite you to attend the VoyagerMed Medical Innovation Summit 2016
VoyagerMed provides people across the globe with access to some of the top U.S. specialists and cutting-edge medical treatments. Please join us in fulfilling our mission to help bring people closer to their cure.
What:
The VoyagerMed Medical Innovation Summit will bring together leading medical specialists, from some of the most prestigious medical centers, to present and discuss the latest advancements and treatments available in oncology, orthopedics, cardiology, fertility, spine and plastic surgery. With a mix of global attendees, our focus will be to explore some of the latest medical innovations and to discuss how we can help patients from all over the world access these life-changing medical treatments.
The primary goal of the summit is to foster an open dialogue between doctors and members of the community to discuss new approaches in health and the delivery of these innovations as they apply to the patient.
When:
Event reception: Thursday, September 22nd at 7:30 p.m. - 747 Third Avenue 2nd Floor

Formal conference: Friday,

September 23rd from

7:30 am to

5pm - 417 Fifth Avenue

Medical innovation meeting: Saturday, September 24th from 9am to 3:00 p.m. Please note: SATURDAY is ONLY open to the medical community (MDs and their representatives).
Event Organizers:
Anthony Girand, CEO -Meghan Porter, COO - Struan Coleman, MD - Bryan Hanypsiak, MD - David Lundquist - Amor Diaz - Ghita Seffar -
Confirmed Speakers
Lunch Keynote: Steven Krein, CEO and Co-Founder of StartupHealth
Steven, a successful long time entrepreneur, is co-founder, Chairman and CEO of OrganizedWisdom, and previously cofounded and was Chairman and CEO of Promotions.com, Inc., a global online advertising, direct marketing and technology company which was founded as Webstakes, Inc. in 1996, went public on Nasdaq in 1999 and was acquired by iVillage, Inc in 2002. Promotions.com was named to Deloitte & Touche's prestigious 2002 "Technology Fast 50", ranking it as one of the fastest growing technology companies in New York City. In less than four years, the company generated more than $27 million in annual revenue, built a membership of more than 20 million consumers, attracted blue-chip clients and advertisers such as Kraft Foods, Bristol Myers Squibb, Citibank and NBC, raised almost $100 million from leading venture, strategic and institutional investors and achieved more than a $500 million dollar market capitalization as a publicly traded company. After the company's sale, Krein briefly stayed on at iVillage as a senior executive before founding Transformation Ventures, where he created and coached entrepreneurs on The 10 Laws of Creating Equity Value™. From October 1994 to May 1996, Steven was Assistant Publisher of Law Journal Extra!, the first online legal news and information web site, which was acquired by American Lawyer Media and is now known as Law.com.
Steven is a frequent speaker on digital health and wellness entrepreneurship and has been featured on NBC's The Today Show, CNN, the Fox New Channel, CNBC Power Lunch, CNBC Marketwatch and Bloomberg News.
Steven received his J.D. degree from Widener University School of Law and his B.A. degree from the University of Maryland - College Park. Steven is a Member of YPO (the Young President's Organization) – Metro New York Chapter and lives in New York City with his wife and three daughters.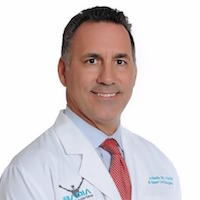 Dr. Alejandro Badia
Doral, FL, Orthopedics
Alejandro Badia, MD, FACS is a hand and upper extremity surgeon at Badia Hand to Shoulder Center, a fully integrated clinical facility for the upper limb, including Hand, Wrist, Shoulder and Elbow, located in Doral, Florida. Dr. Badia was educated at Cornell and NYU, trained in orthopedics at Bellevue Hospital/NYU Medical Center, followed with a hand/microsurgery fellowship in Pittsburgh and trauma fellowship in Germany. He has served as worldwide president of the International Society for Sport Traumatology of the Hand (ISSPORTH) and co-founded the Miami Anatomical Research and Training Center (M.A.R.C.), the world's largest surgical cadaveric training lab and The Surgery Center at Doral, an elite state-of-the-art ambulatory surgery center.
Dr. Badia has published numerous articles, written multiple book chapters, and has been an invited speaker or lecturer in nearly twenty-five countries. He is a member of the American Society for Surgery of the Hand (ASSH), American Association for Hand Surgery (AAHS) and the American Academy of Orthopaedic Surgeons (AAOS) as well as numerous other international hand surgery and arthroscopy associations. Additionally, Dr. Badia served as honored professor at the prestigious Philadelphia Hand Course. For 10 consecutive years, Dr. Badia has been on the editorial review board of the Techniques in Upper Extremity Surgery, comprised of International key opinion leaders in upper limb surgery. Dr. Badia runs an active international hand fellowship, serves on the editorial board of two hand journals and for eight consecutive years, organized a two-day conference and learning symposium for surgeons/therapists devoted to upper limb arthroscopy and arthroplasty.
After years of a successful medical career and a renowned international speaking legacy, he saw a need for specialized orthopedic urgent care centers to immediately assess and treat a range of orthopedic and sports injuries and founded OrthoNOW®, the only orthopedic urgent care center franchise in the country. He serves as Medical Director of the franchise's flagship location in Doral, Florida which has a team of orthopedic specialists on staff that treat broken bones, sprains, torn ligaments and muscles, cuts, sports and workers compensation injuries.
Dr. Badia, a two-time South Florida Business Journal Top 100 Power Leaders in Healthcare and a Top 100 Under 50 Diverse Executive Leader byDiversity MBA Magazine, has also been honored with Legacy Awards from Today's Work Comp Professionals and The Doral Business Council. OrthoNOW® was named a "Top Ten Franchise Opportunity" in healthcare by Entrepreneur Magazine and featured in the following media: Franchise Times, Orthopedics This Week, South Florida Business Journal, Franchise USA Magazine and The Miami Herald.
Dr. Samuel Lin
Specialty: Plastic Surgery, Boston, MA
Bio: Dr. Samuel Lin is a double-board certified plastic surgeon that performs aesthetic and reconstructive surgery in Boston. Dr. Lin earned his medical degree and completed his residency training at Northwestern University, before going on to finish his fellowship training at the University of Texas M.D. Anderson Cancer Center. He is the Associate Program Director of the Residency Training Program at Harvard University, and also serves as the Co-Director of the Aesthetic and Reconstructive Plastic Surgery Fellowship program.
Dr. Miguel Medina
Specialty: Plastic Surgery, Titusville, FL
Bio: Dr. Miguel Medina III is a board certified plastic and reconstructive surgeon at Cleveland Clinic in Weston, FL. He has trained at Johns Hopkins, Harvard Medical School, Massachusetts General Hospital and the University of North Carolina at Chapel Hill. Along with the traditional cosmetic and reconstructive procedures, Dr. Medina also performs facial aesthetic surgery, craniofacial surgery, and reconstructive microsurgery.
Dr. Sophie Bartsich
Specialty: Plastic Surgery, New York, NY
Bio: Sophie Bartsich was born and raised in New York City. She completed her premedical studies atColumbia University and her medical degree at theWeill Cornell Medical College in New York. Dr. Bartsich is an assistant clinical professor of surgery at the Weill Medical College of Cornell University. In 2010, Dr. Bartsich was awarded a research grant to pursue studies in implant-based breast surgery. This research won two awards at the national Aesthetic Meeting in 2011, and ultimately became the basis of her current academic endeavors.
Dr. Kenneth Lee
Specialty: Plastic Surgery, Orlando, FL
Bio: Dr. Lee is a plastic and reconstructive plastic surgeon in Orlando, Florida. He received his medical training at Northeastern Ohio University College of Medicine and the University of South Florida. Dr. Lee is recognized for specializing in complex reconstruction of oncological and traumatic defects in adults and pediatric patients.
Dr. Joel Batzofin
Specialty: Fertility, New York, NY
Bio: Dr. Joel Batzofin is a fertility doctor in New York City and is an expert in the field of assisted reproductive technology. He focuses on egg donation and surrogacy, immunological issues related to infertile and recurrent pregnancy loss. His training allows him to handle infertility issues in both men and women. Dr. Batzofin graduated from the University of Witwatersrand Medical School in South Africa and completed his studies at Harvard Medical School.
Yifat Shaltiel, Esq. - Moderator
Bio: Yifat Shaltiel is the founding attorney of Shaltiel Law Group. Yifat has been an attorney for over ten years and specializes in reproductive law, adoption law, and estate law. Yifat takes great pride in working with all family types domestically and internationally to build and protect their families.
Dr. Jessica Brown
New York, NY, Fertility
Bio: Dr. Jessica Brown is one of the top reproductive medicine doctors in New York City. She is certified in reproductive endocrinology/infertility, obstetrics and gynecology. Dr. Brown's clinical and research interests include reproductive aging, fertility preservation, PCOS and primary ovarian insufficiency/premature ovarian failure. She is a NYU School of Medicine graduate and completed her medical education at The New York Hospital-Cornell and New Jersey Medical School.
Dr. Danielle Lane
Novato, CA, Fertility
Dr. Danielle Lane of Lane Fertility Institute is a highly regarded reproductive endocrinology and fertility specialist who provides fertility services for residents of San Francisco, Santa Rosa, and Novato, California. Patients from throughout the state of California, not to mention from throughout the entire U.S. and other countries, seek out specialized fertility treatment provided by Dr. Lane and the other highly reputable providers at Lane Fertility Institute. Dr. Lane provides many services including IUI, IVF, fertility preservation, alternative family planning, PGD/PGS, and many other fertility services.
Dr. Lane attended McGill University before completing her medical training at the University of Pittsburgh School of Medicine, her residency at Yale-New Haven Hospital and her fellowship at the University of California, San Francisco. She opened the Center for Reproductive Health at Kaiser Permanente in Napa-Solano in 2005. In 2009 she founded Lane Fertility Institute. The Institute has grown to a multi-physician practice with a state of the art embryology laboratory.
Dr. Danielle Lane is committed to providing education for women about preservation of their fertility and developing lower cost models to improve access to care. She has built an organization focused on the core values of teamwork and collaboration needed to help individuals through their fertility journey. In addition, the continuous and rigorous professional development that permeated the culture at Lane Fertility Institute ensures that the organization's protocols and laboratory techniques remain on the cutting edge. This is reflected in LFI's consistently superior pregnancy rates.
Dr. Lane has authored many scientific articles and patient articles. Her research interests include developing patient-sensitive protocols, fertility preservation using oocyte vitrification, ethnic variability in IVF response, and improving fertility awareness amongst women aged 25-35 years.
Dr. Robert Greene
Highlands Ranch, CO, Fertility
Bio: Robert A. Greene, M.D. completed his training at UCLA-Harbor Medical Center under David Meldrum, M.D., one of the most highly regarded fertility specialists in the world. Enriched by this experience, as well as Dr. Greene´s own highly regarded neuroendocrine research, he offers a unique and individualized approach to the diagnosis and management of fertility problems.
Dr. Ioannis Hatzaras
New York, NY, Oncology
Bio: Dr. Hatzaras is a board certified Surgical Oncologist with extensive experience in evaluation and treatment of patients with cancer of the Gastrointestinal (GI) system (stomach, colon, pancreas, liver). He also has expertise in melanoma and soft tissue sarcoma. I am an assistant professor of Surgery at New York University, with my research focusing on disparities of care, patient / physician communication, and predictors of outcomes in patients with GI cancer. I have co-authored more than 45 publications and have lectured extensively around the world.
Dr. Hank Schmidt
New York, NY, Surgical Oncologist
Bio: Dr Schmidt is a board certified surgeon specializing in surgical oncology and particularly in care of patients with breast cancer. His background also includes training in Molecular Medicine and Genetics, and post-doctoral experience in cell signaling, cancer biology, and translational research for development of novel targeted therapies. He is the recipient of a National Research Service Award from the National Institutes of Health. Currently he is the director of the Cancer Risk program (CaRE) at the Dubin Breast Center at Mount Sinai and has expertise in management of patients at high risk for breast cancer and other malignancies.
Cardiology Moderator: Mark Punyanitya
Mark Punyanitya is a Biomedical Engineer with advanced degrees in Applied Physiology & Applied Clinical Trials, who facilitates the translation of science, technology, & medicine. From over 15 yrs of experience, he has founded the Image Reading Center, Inc, for overseeing global, multi-center clinical trials, and now BODYQuant, Inc, for improving patient outcomes & lowering costs by using quantitative imaging to replace invasive medical procedures.

Dr. Sohah Iqbal
New York, NY, Cardiology
Bio: Dr. Sohah N. Iqbal is an Interventional Cardiologist and Assistant Professor of Medicine at NYU Langone Medical Center, who treats coronary artery disease with expertise in percutaneous coronary interventions and hemodynamic assist devices. She graduated from Harvard Medical School and is board certified in both Cardiovascular Disease and Interventional Cardiology.
Dr. Irving Loh
Thousand Oaks, CA, Cardiology
Dr. Loh is a board certified internist & subspecialty board certified cardiac specialist with an emphasis on preventive cardiology. He founded the Ventura Heart Institute, which conducts education, research & preventive cardiovascular programs. Dr. Loh received his MD from UC San Francisco, where he also did his internal medicine residency. His initial lipid research was at the National Heart, Lung & Blood Institute at the National Institutes of Health (NIH) in both intramural (Molecular Diseases/Lipid Metabolism Branch) & extramural (Cardiac Diseases Branch; Division of Heart & Vascular Diseases) divisions. He then was faculty in both Departments of Cardiology & Cardiac Surgery at Cedars- Sinai. Dr. Loh is a former Assistant Professor of Medicine at UCLA School of Medicine.
In private practice, he chaired the HCA Los Robles Hospital Institutional Review Board for 18 years, founded the Bioethics Committee & served as its chair for 3 years, & directed the Echocardiography Lab for 15 years. He served as chief of medicine at the Thousand Oaks Surgical Hospital. He has been the principal investigator on over 160 clinical trials (phase 1, 2, and 3) in cardiovascular therapeutics. He is on the Medical Advisory Boards for Doximity™, Tiatros™, Skipta, LiftOff Health & is Director for Cardiovascular Services for MOREHealth.
He is a Co-founder/Chief Medical Officer of Infermedica (artificial intelligence/machine learning for clinical decision support) & Chief Medical Advisor to Confideo Labs/Doctor Virtualis™ (virtual reality applications for healthcare). Dr. Loh has published in the medical literature, provided articles, op-eds & interviews for magazines, newspapers, radio, television, & a column (Second Opinion) for the Star newspapers. He lectures on cardiovascular risk reduction & integrated disease management strategies for the primary & secondary prevention of heart disease, medical information technology to optimize quality & outcome (including presentations at UC Berkeley & Harvard Schools of Public Health) & healthcare reform. He has delivered over 400 lectures, keynotes, presentations, abstracts & webcasts, including TEDx (validating medical advances). He is the Lead Contributor to the SERMO Cardiology Hub & chairs the American College of Cardiology subcommittee on new models of care for familial hypercholesterolemia.
Dr. Michael Ghalchi
New York, NY, Cardiology
Dr Michael Ghalchi is a board certified cardiologist, with an emphasis on the prevention of cardiovascular disease, in private practice in New York City. He graduated from the University of Pennsylvania and the NYU School of Medicine, where he remains on the faculty. He is a published author, an honorary police surgeon of the NYPD, and sits on several advisory boards, including 'Off the Scale', a population health management platform charged with improving obesity related cardiovascular outcomes. Dr Ghalchi is also currently developing a novel artificial intelligence based strategy to aid in the prevention of stroke.

Dr. Herbert Insel
New York, NY, Cardiology
Bio: Dr. Herbert Insel is a cardiologist in New York City who has received his board certification in cardiovascular diseases and internal medicine. He specializes in preventative cardiology and is a leader in cardiovascular diseases treatments. He is a fellow of the American College of Cardiology and teaches at New York University Medical Center.
Dr. Gordon Donald
Eatontown, NJ, Spine Surgeon
Bio: Dr. Gordon Donald is board certified in both orthopedic and spine surgery, and serves as the Medical Director for the NJ Spine Group. His interests include spinal deformities and tumors, scoliosis, herniated discs, reconstructive spinal surgery, and also minimally invasive spinal surgeries.
Dr. Nick Shamie
Santa Monica, CA, Spine Surgeon
Bio: Dr. Nick Shamie is a prominent spine surgeon in California that has been recognized as a leader in his field. Dr. Shamie teaches both Neurosurgery and Orthopedic Surgery, and also serves as the Chief of Orthopaedic Spine Surgery at the UCLA School of Medicine. His numerous accolades include being listed as one of the Top 10 Academic Spine Surgeons, being named as a Castle Connolly's Top Doctor, featured on Super Doctors, as well as making the list of America's Most Compassionate Doctors.
Dr. Sheeraz Qureshi
New York, NY, Spine Surgeon
Bio: Dr. Sheeraz A. Qureshi is a board certified orthopedic spine surgeon in New York City. He is renowned for his work in disc replacement, spinal cord repair, neuroplasty, and spinal fusion. He is currently the Chief of Spinal Trauma at Elmhurst Hospital Center and is an Associate Professor of Spinal Surgery at Mount Sinai Hospital.
Dr. Struan Coleman
New York, NY, Orthopedics
Bio: Struan Coleman MD, PhD, is a world-renowned, board-certified orthopedic surgeon specializing in hip preservation and sports medicine at Hospital for Special Surgery in New York City and the Vincera Institute in Philadelphia. Dr. Coleman earned a medical degree from Columbia College of Physicians and Surgeons and holds a D.Phil in Microbiology from Oxford University, England. He completed both his residency in Orthopedic Surgery and a fellowship in Sports Medicine at the Hospital for Special Surgery. During his fellowship, Dr. Coleman worked as an assistant physician for the New York Giants football team and is currently the Head Team Physician for the New York Mets baseball team.
Dr. Derek Ochiai
Arlington, VA, Orthopedics
Bio: Dr. Derek Ochiai is a graduate with honors from Cornell University. He attended Case Western Reserve University School of Medicine, where he received several awards, and was inducted into the Alpha Omega Alpha (AOA) Medical Honor Society. Dr. Ochiai is fellowship trained in sports medicine and arthroscopic surgery. He completed his orthopaedic residency at Albany Medical Center and his fellowship training at the Nirschl Orthopaedic Center and Georgetown University. He is board certified by the American Board of Orthopaedic Surgeons and specializes in injuries to the upper and lower extremities, including hip, knee, and shoulder arthroscopy. Dr. Ochiai uses both non-surgical and minimally invasive surgical techniques to help his patients return to their active lifestyles. He has been performing cutting-edge hip arthroscopies since 2003.
Dr. Dan Guttman
Taos, NM, Orthopedics
Bio: Dr. Dan Guttmann is a board certified orthopedic surgeon in Taos, New Mexico and currently serves as the Chief of Upper Extremity Sugery and the Hip Arthritis Service at the Taos Orthopedic Institute. Dr. Guttmann graduated from Temple University and Albert Einstein Medical Center in Philadelphia. He focuses on upper extremity surgery and hip arthritis. Dr. Guttmann serves as orthopedic consultant to the Taos Ski Patrol, Red River Ski Patrol and Angel Fire Ski Patrol.
Dr. Mark Klion
New York, NY, Orthopedics
Bio: Dr. Mark Klion is a board certified orthopedic surgeon practicing in New York, New York. He is a sports medicine, arthroscopic surgery, and reconstructive shoulder and knee surgery specialist and a clinical instructor at Mount Sinai School of Medicine. Dr. Klion has been practicing for over 25 years and treats a wide variety of conditions including fractures, dislocations, sprains, osteoarthritis, spinal stenosis, and scoliosis to name a few. He is also an expert in spinal surgery, shoulder surgery, and ankle and wrist problems.
Dr. Joseph Shehadi
Columbus, OH, Neurosurgery
Bio: Dr. Joseph A. Shehadi is board-certified neurosurgeon with 19 years of experience located in Columbus, OH and serves as the Chief of Neurosurgery, Neuro Oncology, and Neuro Trauma at Grant Medical Center. Dr. Shehadi's special expertise is in back injuries, spinal fractures, head and neck disorder and epilepsy. Dr. Shehadi believes in providing the most advanced surgical care with compassion for every patient of his. Some of the procedures he conducts include Spinal Decompression Surgery, Posterolateral Lumbar Fusion and Spinal instrumentation segmental fixation.