Description
Are you ready to kick off your first week of summer with Summer Seek 2019?! Summer Seek will be FIVE full packed days designed for all incoming 8th graders (current 7th graders) through graduated seniors who want to create lifelong relationships and leave with having a deeper relationship with the Lord. During Summer Seek, students will experience lots of fun, relationship building, spiritual discipleship, leadership training, incredible chapels and games. We are excited to bring in a Guest Speaker, who is excited to pour into your students during some of the morning sessions and all evening sessions! And to wrap up our Summer Seek experience we will all be heading to Michigan Adventures on Friday! We are confident that students will leave pumped to live the life God has called them to!
The Early Bird price is $159 through April 14 and the price will jump up to its regular price at $189 through May 26. After May 26, Later Registration will increase price to $209. All fees are non-refundable/non-transferable.
**If you register after June 9 you will unfortunatley not recieve a Summer Seek t-shirt as we would have already put in the order to arrive on time before event!
Schedule Below: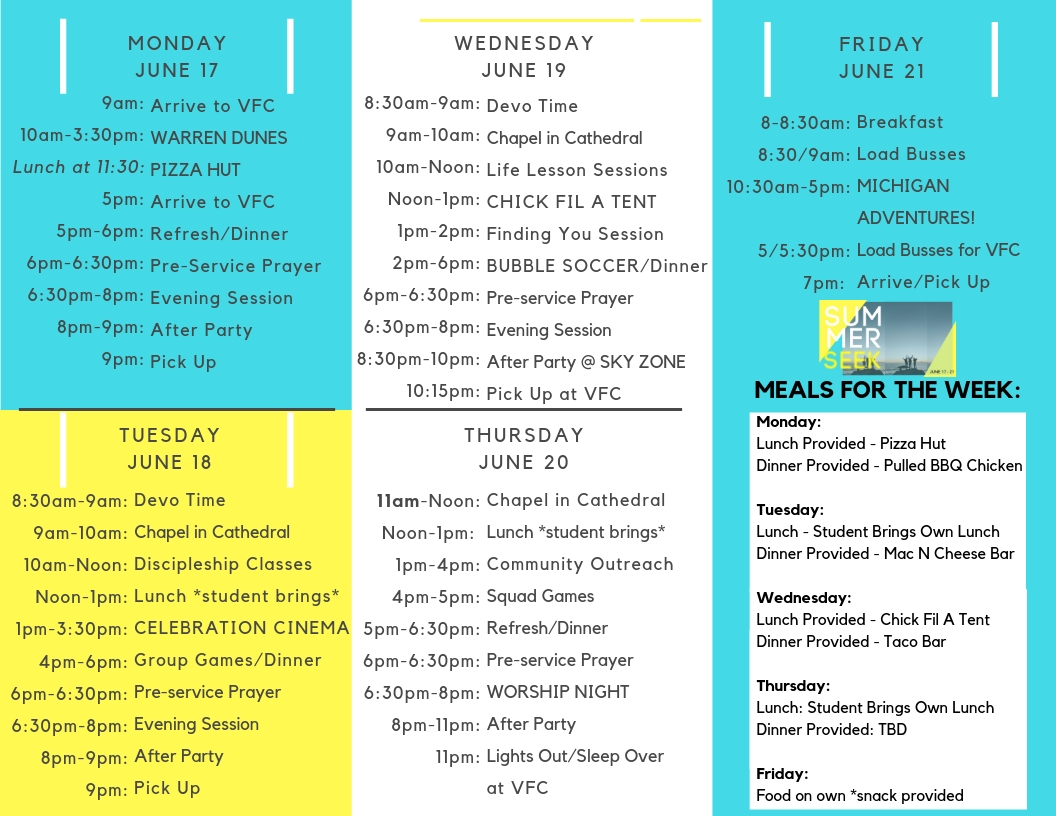 PS - If your student is not able to attend Friday for Michigan Adventures you can go ahead and put in the promo code: NOMiAdventure and you will recieve $30 off.
If you have any questions, please email VOX Youth Director, Josh Rykse at joshrykse@valleyfamilychurch.org or Jaila Rykse at jailarykse@valleyfamilychurch.org.
You do not want to miss Summer Seek 2019 where your student will make new friends and memories they'll never forget. Make this summer the best one yet and sign up for Summer Seek today!