Description
Monrovia Area Partnership, Monrovia City Clerk's Office and Los Angeles County Registrar-Recorders Office are partnering up to bring the entire San Gabriel Valley information about Voting Centers.
In short – voting will include more innovative technology and be more convenient in the coming elections. We are hosting this meeting to give you more information on how it will all work. There will be food provided, so bring your appetites! Also, there will be accessible parking on-site!
For more information, visit VSAP.lavote.net or see the attached flyer (VCPP).
We will see you there!
---
This meeting's focus area includes the following cities:
Arcadia, Baldwin Park, Bradbury, Duarte, City of Industry, El Monte, Irwindale, Monrovia, Rosemead, South El Monte, Temple City, West Covina, Avocado Heights, Bassett, Hacienda Heights, North Whittier, Pellissier Village, Whittier Narrows.
However, ALL ARE WELCOME! Please be sure to join us! Every opinion counts!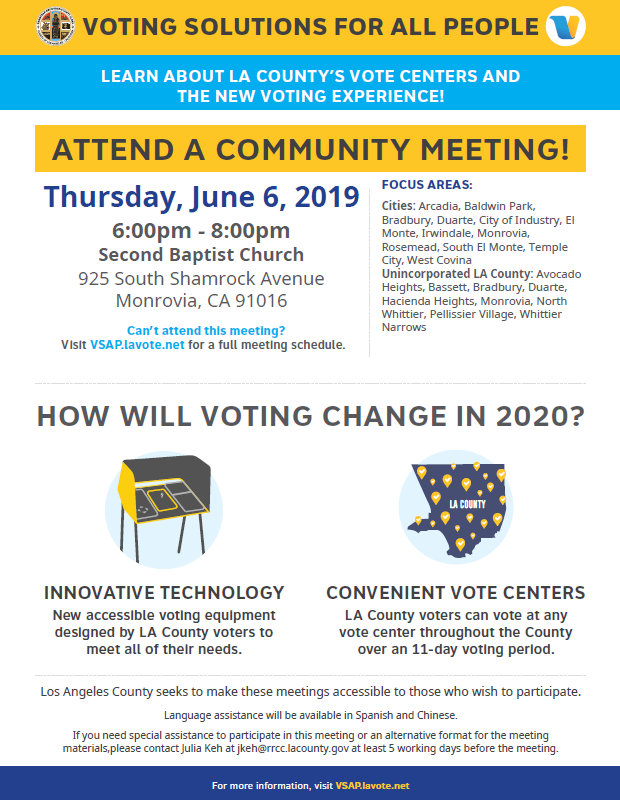 ---
Thursday, June 6th 2019
Second Baptist Church, Monrovia CA. 91016
925 S Shamrock Ave
6:00 pm to 8:00 pm