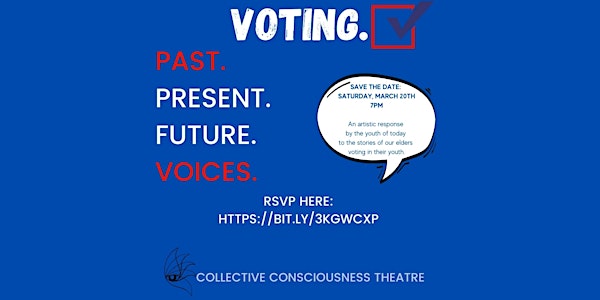 VOTING: Past, Present, Future Voices
Join us on Saturday, March 20th at 7pm for an artistic response by the youth of today to the stories of our elders voting in their youth.
By Jenny Nelson - Collective Consciousness Theatre
Date and time
Saturday, March 20, 2021 · 4 - 5pm PDT
About this event
In honor of the 101st anniversary of the 19th amendment** and in celebration of women's History Month), eight women elders share their experiences of voting during the height of the civil rights movement (1940s-1970s). Youth artists, inspired by their elders' experience, interpret these stories using music, dance, and the visual arts.
Celebrate the valiant women of the vote!
Special thanks to the Community Foundation for Greater New Haven and the Community Fund for Women and Girls.
**The Nineteenth Amendment to the United States Constitution prohibits the states and the federal government from denying the right to vote to citizens of the United States on the basis of sex.