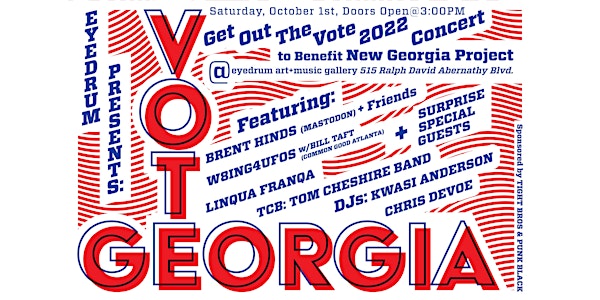 Vote, Georgia 2022, A Benefit Concert
A Get-Out-The-Vote Concert and Dance Party Benefitting New Georgia Project
When and where
Location
eyedrum 515 Ralph David Abernathy SW Atlanta, GA
Performers
Headliners
More Performers
W8ING4UFOS
Linqua Franqa
Tom Cheshire Band
DJ Kwasi Anderson
DJ Chris Devoe
About this event
Atlanta, Georgia – On Saturday, October 1st Eyedrum Art & Music Gallery is producing a one-day music festival from 3pm to 10pm to promote voting and educate voters on the different dates and deadlines for the November 8th general election and December 6th general runoff. All net proceeds will benefit New Georgia Project. The event is also sponsored by Tight Bros. & Punk Black.
Inspired by Cole Alexander of The Black Lips to motivate voters for the 2022 election Will Lawless and eyedrum have teamed up with Brent Hinds, Linqua Franqa, Tom Cheshire, Bill Taft, Chris Devoe and Kwasi Anderson to play and perform music to crank-up voter turnout!
• $5.00 for advanced ticket sales, $10.00 Day of sales
• Tickets on Sale, Friday, September 16th at 10:00am
• 3:00pm Doors, Saturday, October 1st
• DJ Kwasi Anderson Opens
• Into TCB: Tom Cheshire Band
• Linqua Franqa
• W8ING4UFOS
• Brent Hinds & Friends Headline
• DJ Chris Devoe Dance Party till…
• Tabling by New Georgia Project and other non-partisan groups
• This concert is a benefit for New Georgia Project
• This event is sponsored by Punk Black
The mission of New Georgia Project is to build power with and increase the civic participation of the New Georgia Majority — Black, Latinx, AAPI and young Georgians — and other historically marginalized communities — through nonpartisan voter registration, organizing, and advocacy on the issues important to our communities. www.newgeorgiaproject.org
PUNK BLACK is an Atlanta-based, multi-media collective of organizers, artists, punks, and blerds who are committed to creating a radically inclusive space for BIPOC creatives. After performing in ATL and beyond for years we realized there was a clear need for safe alt-space for Black and brown punks on a national scale. PUNK BLACK launched in 2015, hosting over 70 events across the U.S., including Brooklyn, Oakland, Chicago, Washington DC, and more. In just a few short years, this Black run indy collective has created a safe space for Black outkasts, weirdos, activists, leftists, antifascists, punks, and goonies from all over, united in a love of music, art, dank memes, and anime.
Eyedrum art and music gallery is a 24-year-old arts nonprofit based in downtown Atlanta, Georgia. We create opportunities for artists and musicians through our venue and facilitated collaborations to use all media and mediums for experimental, cuttingedge, non-commercial and non-traditional works to be created, explored and appreciated in Atlanta and around the world for the exchange of ideas.