Want to help make it easier to vote when, where, and how you want in Los Angeles County?
About this Event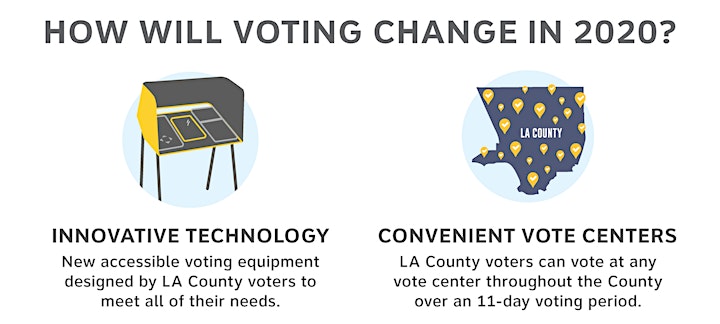 There's a new voting experience coming to Los Angeles! By March 2020, the County will introduce a new system that will allow residents to vote at any Vote Center in the County during an 11 day period, instead of the current system in which you can only vote at one location on voting day.
But the County needs your help to decide where to host the Vote Centers in the Southeast L.A. region! Join us and the L.A. County Registrar-Recorder/County Clerk's Office at our community meeting to provide your feedback about which places in Southeast L.A. would be the best fit to host these centers. Know of a place in your neighborhood that would make for a great Vote Center? Attend and let us know! This is a great opportunity to help make the voting experience easier and more convenient for you and your fellow Angelenos.
We will also provide information about other exciting changes coming to L.A.'s voting experience, including innovative new equipment that will make the voting process more intuitive and accessible and electronic rosters that will allow for same-day registration.
We hope to see you there!
-----------------
¡Hay una nueva experiencia de votación viniendo al condado de Los Angeles! Para 2020, el Condado introducirá un nuevo sistema que permitirá a los residentes votar en cualquier Centro de Votación en el Condado durante un período de 11 días, en lugar del sistema actual en el que solo puede votar en un lugar en el día de votación.
¡Pero el Condado necesita su ayuda para decidir dónde se deben establecer los Centros de Votación en la región del Sureste de Los Angeles! Únase a nosotros y al Registrador del Condado / Oficina del Secretario del Condado en nuestra reunión de la comunidad para proveer sus ideas sobre qué lugares en el sureste de L.A. serían los más adecuados para albergar estos centros. ¡Esta es una gran oportunidad para ayudar a que la experiencia de votación sea más fácil y más conveniente para usted y sus compañeros Angelinos!
También proveeremos información sobre otros cambios que vendran a la experiencia de votación en L.A., incluyendo nueva tecnologia innovadora que hará que el proceso de votación sea más intuitivo y accesible, y listas electrónicas que permitirán registración para votar en el mismo día.
¡Esperamos que nos pueda acompañar!