About this event
As of August 16th, 2021, The Glass House requires proof of full vaccination for all concert goers and event staff. In order to accommodate for the length of time it takes to achieve full inoculation, this policy will go into full effect no later than October 1st, 2021. Any show that takes place prior to October 1st may be attended with proof of vaccination or a negative covid test taken within 72 hours of the show date. Any guest under 12 years old will require a negative covid test within 72 hours of the show date.
Until further notice, face coverings are required. Guests over the age of 2 are required to wear a face covering – over nose and mouth – at all times unless actively eating or drinking. Gaiters, bandanas, and coverings with exhalation vents are prohibited; a face shield requires an additional face covering.
Exemptions will be made for medical and religious reasons.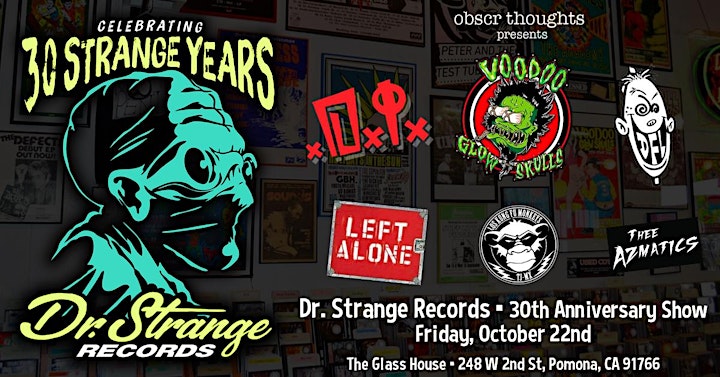 Obscr Thoughts presents the Dr. Strange Records 30-year anniversary celebration at the Glasshouse in Pomona, Ca.
The good doctor hand-picked lineup consists of The Voodoo GlowSkulls (Record Release Party) DI, Left Alone, DFL, Kung Fu Monkeys, and Thee Azmatics.
Lots of limited-edition swag for fans in attendance and other surprises. https://www.drstrange.com/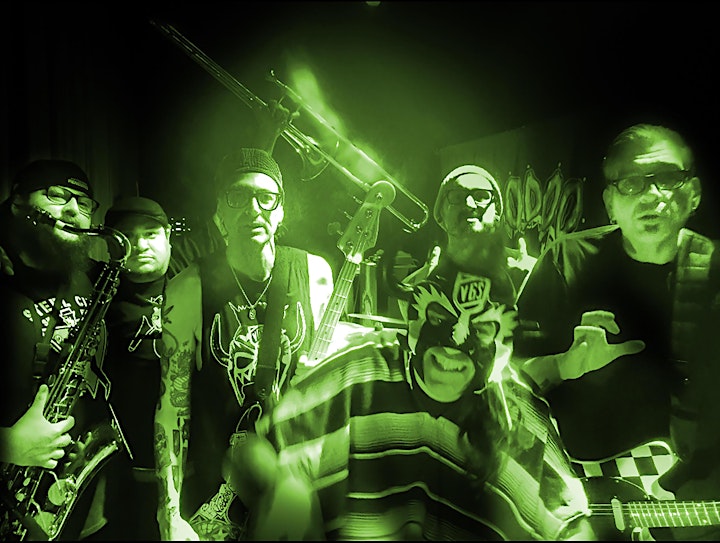 Voodoo Glow Skulls were formed in 1988 by Eddie Casillas, Jorge Casillas, Jerry O'neill and Frank Casillas. After a few years of backyard party shows, cassette demos, 7" singles and first club gigs, they released their debut album "Who is, this is?" for Dr. Strange records in 1993, gaining the attention of Brett Gurewitz, owner of Epitaph records. The band then signed to Epitaph records and released four albums, starting in 1995 with "Firme", their most successful album to date, then followed by "Baile de los Locos", "Band Geek Mafia" and "Symbolic".
The band began to tour worldwide with their first European tour in 1996 followed by Japan, Australia, Mexico, and South America.
The band has been featured on several of Epitaph's Punk-O-Rama releases and has had music featured in video games, TV and movies.
The song "Shoot the Moon" from the band's Firme album was used in the Pauly Shoremovie Bio-Dome and the band's version of "Used to Love Her" (originally written and recorded by Guns N' Roses) is featured in the Mr. & Mrs. Smith soundtrack.
In 2002, Voodoo Glow Skulls signed to Victory Records. The band released three albums on the Victory label and continued to tour.
On January 18, 2012, the band released its self-produced ninth album, Break the Spell, through Smelvis Records.
In June, 2017, Frank Casillas announced his retirement from the band and was replaced by Efrem Schulz.
In May 2021, the band released Livin' The Apocalypse with Efrem Schulz and continues to do shows.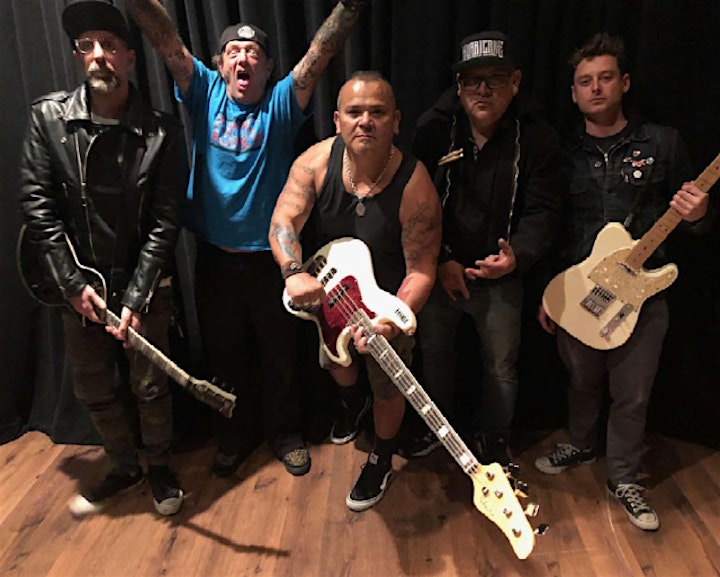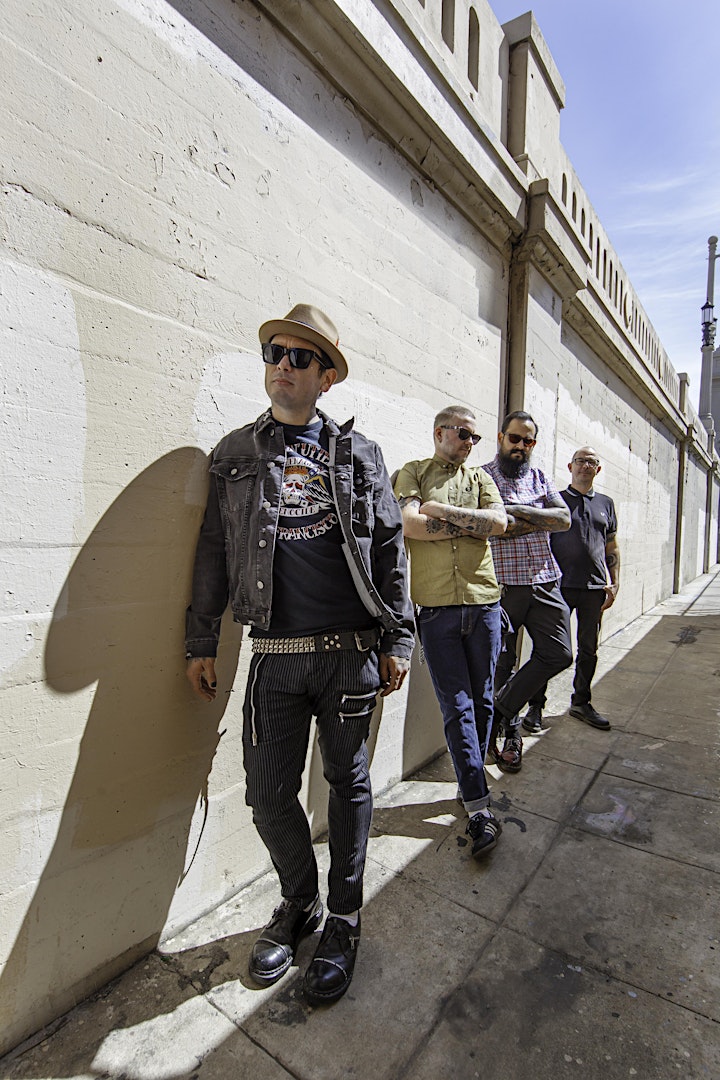 "Forget Stars and Stripes forever, we'd rather pledge our alliance to Left Alone's Checkers and Plaid!" -Ska Punk Daily Left Alone's sixth album, Checkers & Plaid, is coming in dangerously hot - featuring a heavy dosage of high energy Ska (Checkers) and Punk rock anthems (Plaid). Recorded in a mere five days and engineered/coproduced by TJ Rivera (Mighty Mighty Bosstones & Rancid), the album's 10 tracks find the California band at its most focused, relentless, and personal - unleashing a constant one-two punch of danceable ska and authentic punk hits. Vocalist/guitarist Elvis Cortez "We went into the studio to record this album like never before. The songs were not over rehearsed and we built them as we went along." Checkers & Plaid sees Left Alone continue their Southern California and Mexican culture clash with Te Quiero Ver, which features guest vocals from Big Javy of Mexican Ska legends, Inspector. Elvis shares, "Javy was on vacation over the weekend in the states and I invited him to a family fiesta on Saturday night. Left Alone was recording Monday so I asked him if he would be into singing on a song idea I had and thankfully he said yes. He is one of my favorite singers and sang his parts in one take, a total pro." The album kicks off with ska firecracker The Darkness, which was recently featured on Ska Against Racism, the socially important and bestselling ska compilation, which raised over $80K for Black Lives Matter related charities. While the lyrics of The Darkness touch on the struggles associated with maintaining sobriety (and a little thing called love), Scars stresses the need to move on from toxic environments, and Blackhole is a cautionary tale about avoiding getting sucked into a relationship vortex. You could be mistaken for thinking the album closer, The Fix was written in response to the pandemic and our desperate need to attend a sweaty punk show amongst our fellow music lovers. However, the song was written and recorded over a year ago. Elvis says, "I wrote this song about how music makes me feel and how important it is to us all. From the artist to fan music is the language we all understand and feel that can unify us all." Checkers & Plaid is out... on Smelvis/Hellcat Records.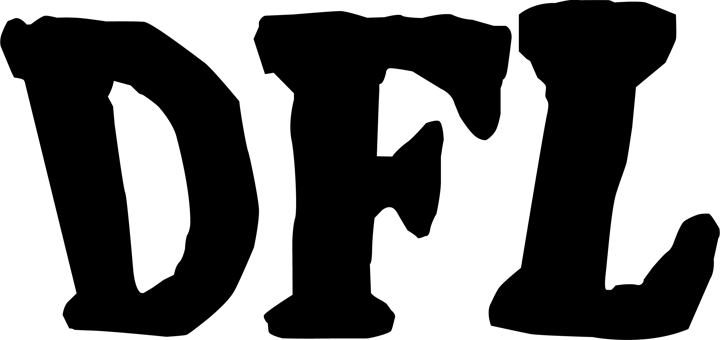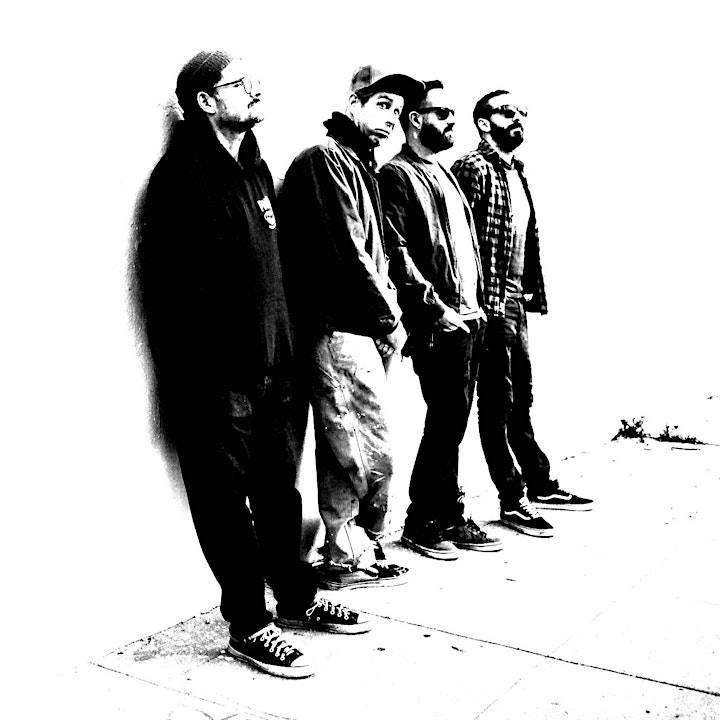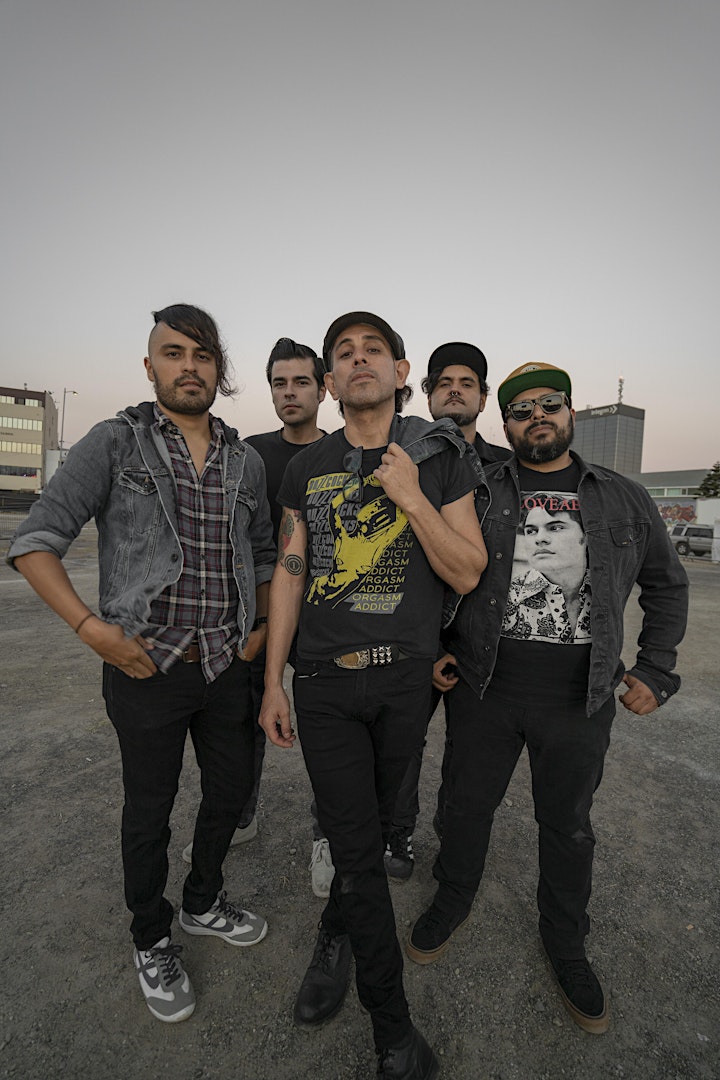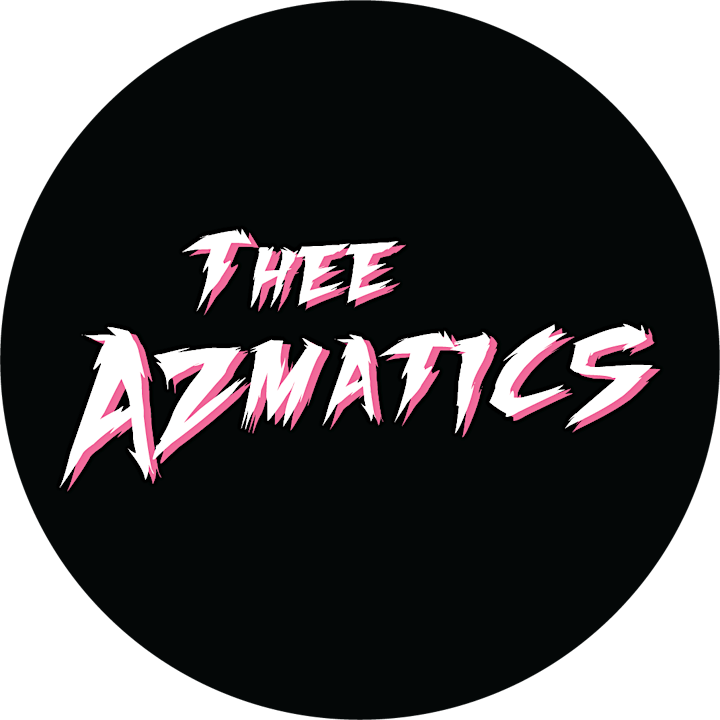 Performers
Date and time
Location
Refund policy