Description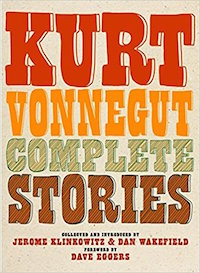 In celebration of the release of Kurt Vonnegut Complete Stories, the first comprehensive collection of short fiction by Kurt Vonnegut, KVML will host a discussion with Dan Simon of Seven Stories Press and Author Dan Wakefield.
Kurt Vonnegut Complete Stories during Banned Books Week. This collection compiles all of Vonnegut's previously collected short works as well as posthumous work and five previously unpublished stories!
Dan Simon is the founder of Seven Stories Press, an independent publisher that focuses on uncompromising political books, fiction, and poetry. Simon and Seven Stories Press have published work by Nelson Algren, Octavia E. Butler, Noam Chomsky, and Angela Davis, in addition to publishing Vonnegut's ever relevant A Man Without A Country.
Dan Wakefield is an author, journalist, and fellow Shortridge High School alum. Wakefield curated the stories that appear in the new collection and wrote the introduction. In addition to Wakefield's own prolific writing, he has compiled and introduced collections of Vonnegut's personal correspondences, Letters, and his graduation speeches, If This Isn't Nice, What is?
This event is free but seating is limited.
For more info on our Banned Books Week programming go to www.vonnegutlibrary.org/events/bannedbooksweek/ or email us at info@vonnegutlibrary.org.
Indiana State Library and KVML (reception after program)
315 W. Ohio Street
Sept. 28th 5-7pm