Description
If I should ever die, God forbid, let this be my epitaph:
THE ONLY PROOF HE NEEDED
FOR THE EXISTENCE OF GOD
WAS MUSIC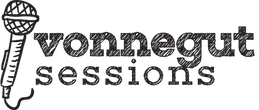 On Thursday, June 1, join us for our 7th Vonnegut Sessions featuring our friends Stelth Ulvang and Nick Jaina!
Stelth, who tours with The Lumineers, and musician pal Nick are stopping by to throw a benefit concert for us! So join us at Indianapolis Professional Firefighters Local 416 Union Hall - 748 Mass Ave. Doors open at 7; performance from 8 to 9:30 pm. Thanks to our generous partners IPF Local 416 for donating the venue and Black Acre Brewing Company for beverages.
This is a one-of-a-kind opportunity to see two of the most unique and creative musicians and writers in a small show setting, all to support the Kurt Vonnegut Museum and Library!
Seating for these shows is limited, and advance tickets are HIGHLY recommended, so get yours now!