Celebrate Volunteers of America's 125th anniversary and our beautiful Durango community!
About this event
This Scavenger Hunt for the Future will take you on a walking expedition around downtown Durango. Solve challenges, submit photos and videos, and test your knowledge of some of Durango's most notable landmarks! Winners will receive prizes and the Grand Prize drawing winner will receive a complete paddleboard kit!
Prizes will be awarded at a culminating celebration at Buckley Park on Saturday, September 25th, 10:30am-noon. Winners must be present to collect their prize.
How long is the hunt?
The hunt should take you less than 2 hours from start to finish and can be completed any time from August 22-September 22. A culminating awards ceremony with prizes, a drawing for all registered players, and refreshments will take place on Saturday, September 25th, 10:30am-noon.
Where does it take place?
The hunt is entirely walkable and will take you to several notable landmarks in the downtown Durango area. We recommend you complete the challenges during daylight and regular business/shop hours. The September 25th awards ceremony will be at Buckley Park.
Who can play?
Families and all ages are welcome! (Kids 10 and under are free). Registration is per person, but we encourage you to work together in teams.
How do I play?
Register here to receive your code to play using the Eventzee app (free to download for Android or iOS) and join us on an epic adventure around downtown Durango!
Awards Ceremony, Prizes, Refreshments and more!
Prizes for several categories will be awarded at the culminating celebration at Buckley Park, September 25th, 10:30am-noon. All celebration attendees who registered for the hunt will also be entered in the Grand Prize drawing. Remember to mark your calendars for September 25th because winners must be present to collect their prize!
If you'd prefer not to participate in the hunt, but would still like to support the Volunteers of America Southwest Safehouse and Durango Community Shelter, please visit our donation page: Click Here
Proceeds benefit the Southwest Safehouse and Durango Community Shelter:
The Southwest Safehouse is the sole domestic violence shelter option for adults and children fleeing domestic violence in La Plata County. Domestic violence survivors have many needs addressed by the Safehouse including: safe shelter in an undisclosed location, food, clothing, counseling, job readiness preparation, housing assistance, support for children in school, improved access to medical and dental care, nutrition education, and much more
The Durango Community Shelter is the only comprehensive shelter option for families and individuals experiencing homelessness in La Plata County. Beyond safe and secure shelter, the Durango Community Shelter provides showers and laundry, three nutritious meals per day, case management, and support in securing employment and safe long-term housing.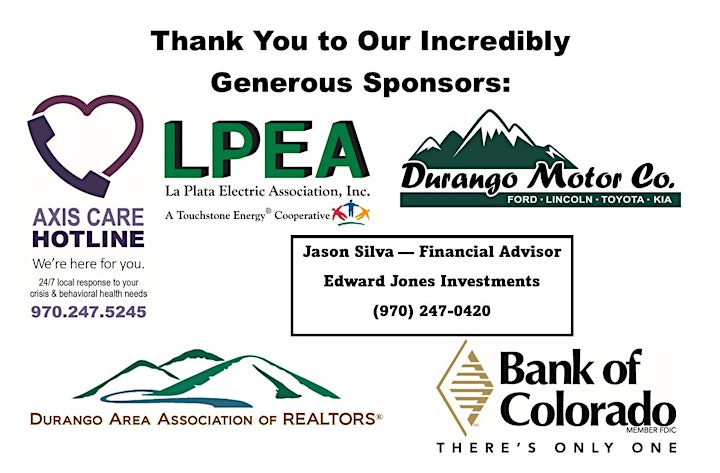 Organizer of Volunteers of America's Scavenger Hunt for the Future, 125 Years Strong
Volunteers of America is a national, nonprofit, organization dedicated to helping those in need rebuild their lives and reach their full potential.
Through more than 30 distinct human service programs throughout the state of Colorado, including housing and healthcare, Volunteers of America helps more than 200,000 Coloradoans each year. Since 1896, our ministry of service has supported and empowered America's most vulnerable groups, including at-risk youth, the frail elderly, low-income families, homeless individuals and families, women and children escaping domestic violence, and those seeking affordable housing solutions. Our work touches the mind, body, heart — and ultimately the spirit — of those we serve, integrating our deep compassion with highly effective programs and services.