Volunteers Needed to Place Remembrance Wreaths at Arlington National Cemete...
Description
Thank you for volunteering with the Arlington National Cemetery's annual Wreaths Across America program.
Founded in 1864, Arlington National Cemetery is our nation's premier military cemetery with over 400,000 gravesites spread across 624 acres.
Since 1992 the non-profit organization Wreaths Across America coordinates wreath-laying ceremonies at Arlington National Cemetery, as well as over 1,100 additional locations in all 50 U.S. states, at sea, and abroad.
Thousands of volunteers are needed to help with the placement of wreaths at Arlington National Cemetery. If you would like to participate you are welcome to do so with our "Washington, DC History & Culture" non-profit community organization, or on your own as this event is open to the general public. All are welcome to volunteer, including children and community organizations.
There are no tickets for this event - just show up. Pre-registration (Facebook/Eventbrite/Meetup/etc.) through Washington, DC History & Culture, while not required, will allow you to receive event updates via email or social media and allow us to know how many people to expect.
SCHEDULE - SUBJECT TO CHANGE
We will post more details as we get closer to the event date (a few weeks beforehand).


7:00 AM: Metro rail opens (system wide).

7:00 AM: Convoy arrival on Memorial Drive

7:00 AM: Security screening process will begin at the Arlington National Cemetery Welcome Center and on Memorial Avenue. Screened visitors will be held on the sidewalk on Memorial Drive to await the Gate Opening.
Screening @ the South Service Gate and Ord Weitzel Gate is TBD at this point.

8:00 AM: All gates into the cemetery grounds will be opened to the general public.

8:30 AM: Opening Ceremony at the McClellan Arch.
Wreath Laying to begin except for the sections in close proximity of the opening ceremony.

9:00 AM Wreath Laying to begin for all trucks and sections.

10:00 AM or Earlier: Wreath laying completed - not sure how long it will take - depends on the number of volunteers. Also, due to the size of the cemetery and the number of volunteers, different sections will finish at different times. You are free to arrive and depart whenever you like.

10:00 AM: Wreath Laying @ President Taft Site

10:30 AM: Wreath Laying @ President Kennedy Site

11:00 AM Wreath Laying @ USS Maine Memorial

12:00 PM Wreath Laying at Tomb of the Unknowns
Arlington Wreaths YouTube Video:
https://www.youtube.com/watch?v=MACkmp47gzk&t=35s
__________________________________________________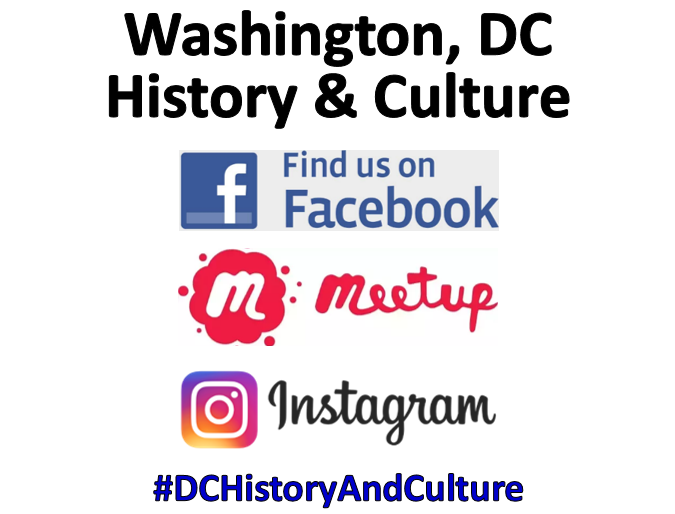 This program is being promoted by the non-profit community organization Washington, DC History & Culture:
"bringing people together to experience the history and culture of Washington, DC."
For more fun and educational programs visit us at:
https://www.Instagram.com/DCHistoryAndCulture
https://www.Facebook.com/DCHistoryAndCulture
https://www.Meetup.com/DCHistoryAndCulture
https://DCHistoryAndCulture.Eventbrite.com
#DCHistoryAndCulture
__________________________________________________
Event Information - Please Read Carefully!
Registration: This event is open to the public and all are welcome including children and groups (but not non-service animals). No tickets are required, just show up.
Participants are welcome to volunteer with our "Washington, DC History & Culture" organization, or on their own, as we are just posting this event info as a public-service type announcement.
Pre-registration with us, while not required, will allow volunteers to receive event updates via email and/or social media and allow us to know how many people to expect. If you are arriving as part of a group there is no need for every member of your group to register with us, although they are welcome to do so in order to receive event updates.
Wreath Donations: This is not a government-funded event and no tax dollars are used for this program. Instead, all the wreaths are purchased through the generous donations of individuals and various organizations. To make a donation please visit the following web link: http://www.wreathsacrossamerica.org/#join-us
Weather: This event will take place in all but extreme weather conditions (e.g. a blizzard). If it's on the calendar, then we're proceeding as scheduled.
Parking: No personally owned vehicles will be allowed on Arlington National Cemetery grounds during Wreaths Across America, Dec. 15, 2018, from 8 a.m.-3 p.m. The parking garage will be available first-come, first-served, for family pass holders only. ANC will establish an automated registration system on which family pass holders can pre-register for a space. Those who are pre-registered will need to be in physical possession of their family pass and confirmation email when arriving to ANC Dec. 15. Once all spaces are filled (there are 600 available), all attendees will need to park at the Pentagon and take the free, handicapped accessible shuttle to the Service Complex gate. Persons attempting to park in the parking garage without pre-registration will be directed to park at the Pentagon. We anticipate publishing the registration system no later than Dec. 1; keep an eye on our website and social media platforms in the meantime. For information, please contact Arlington National Cemetery.

The south escalators for the Metro Arlington National Cemetery stop will not be functioning due to a capital improvement project. We encourage people taking Metro to use the Rosslyn and Pentagon stations. WMATA will be providing free shuttle bus service from those locations.

Parking will be available at the Pentagon South Parking lots. From there it is a short walk to the South Service Gate to enter the cemetery.

Metro: We highly encourage Metro use, as parking within the cemetery itself will be very restricted. While the Arlington Cemetery Station on the Blue Line stops at the cemetery entrance, you can also access various parts of the Cemetery from the Rosslyn, Pentagon, and Pentagon City stops via only a short walk. To support our Metro-traveling volunteers, we will have multiple gates open to provide pedestrian access to the Cemetery. There will be two pedestrian-access gates at Arlington Cemetery that are near Metro stations. They are about a mile walk from the Rosslyn, Arlington Cemetery, Pentagon and Pentagon City stations. If arriving from Rosslyn, use the Ord & Weitzel gate on the cemetery's north side, just south of the USMC Memorial ("Iwo Jima"). For access from the Pentagon and Pentagon City stops, walk to the south maintenance access gate on the south side, between the Air Force and Pentagon Memorials.
Security: Due to the potentially high number of volunteers that may be present and for safety reasons and concerns, ANC officials have implemented some increased security requirements and screening which will be in effect on Wreath Day. You can expect random bag inspections and other related security screening to occur. It is suggested that you leave any large bags, knapsacks, etc., at home or in your vehicles. In addition, food and drinks are not allowed on cemetery grounds. (Bottled water is okay.)
Meeting Points & Times: TBD - to be posted at a later date (1-2 weeks beforehand).
Section We Will Be Placing Wreaths In: TBD - will decide the day of and go wherever we're needed.
Placing a Wreath at a Specific Grave Site: We expect tens of thousands of volunteers on Wreath Day and it would be impossible to "save" a particular grave site for a person to place a wreath. Our best suggestion would be for you to bring a friend or relative with you to Arlington. Arrive early and have the person with you go directly to your interested grave site to stand by the site. Then you go to the closest wreath truck for that section to await receiving a wreath. Should another volunteer come up to place a wreath on that site, the person standing by the site could request the volunteer to move to another grave as you will be bringing a wreath for that site. That's the best we can do. Please note ANC officials request that only one wreath be placed on each marker as in those instances of dual burials, the remains are placed on the front side of the marker.
Wreath Laying Protocol: The wreaths are placed ribbon up-ward. Also, the ANC cemetery officials, out of respect and understanding of the beliefs and traditions of the Jewish Faith, have asked that volunteers be advised to not place a Remembrance Wreath on any marker which has the Jewish Religious symbol of the Star of David on it. However, we ask that you still pause, read and say the name of that veteran to thank them for their service and sacrifices. If you do see a Jewish marker with a wreath on it, assume that a family member placed it there and do not remove it. The wreaths sponsored, donated and delivered to Arlington National Cemetery become "government property" once they arrive into the cemetery. They are NOT TO BE REMOVED from the cemetery for placement at any other location. As this is a cemetery appropriate behavior is expected at all times.
Community Service Credit: Can be provided at the event only (not before or after) just bring your paperwork to our meeting point, which will be announced at a later date (1-2 weeks beforehand).
Post-Event Lunch: Optional lunch afterwards at the Pentagon City Mall food court.
Additional Questions: Please read the event description before asking questions. Anything that can't be answered by the above event description, Google, or common sense please let us know.
https://www.youtube.com/watch?v=MACkmp47gzk&t=35s
http://www.wreathsacrossamerica.org/volunteer-at-arlington/
We look forward to seeing you. Thanks!
Robert Kelleman
rkelleman@yahoo.com
202-821-6325 (text only)
https://www.linkedin.com/in/robertkelleman/
Please read the above event description before contacting us.
Pictures from Previous Years