Description
Donations and 200 Volunteers Needed Labor Day!
Starting Monday, Sept. 4th at 5AM to 7PM, We plan to Cook, Assemble & Distribute 5,000 GRAB-N-GO BBQ Holiday meals for Homeless Veterans and those in-need. Choose a shift of 7AM to 11AM or 11AM to 3PM or 3PM to 7PM when you send in your confirmation. You may also volunteer for the entire day or a few hours in-between, whatever fits in your schedule. Arrive the time of your preferred shift, at CENTER OF HOPE, JAC, INC., 55 E. Villa St. at N. Raymond Ave. in Pasadena.
Holiday hot meals will be BBQ Ribs & Chicken, Hot Links, Baked Beans, Potato & Macaroni Salads, Vegetable, Fruit, Pies-Cakes-Desserts and Bottled Water.
Teams who choose to, will distribute meals in Downtown LA Skid Row, West LA, Santa Monica,Pasadena, Long Beach & County Wide locations. DRIVERS NEEDED TO DELIVER & DISTRIBUTE MEALS TO COUNTY WIDE LOCATIONS! SIGN UP TO DELIVER BY EMAIL: FeedLACounty@gmail.com. Those with Vans or Trucks are encouraged to participate.

Activity is open to all able adults and Youth with parental permission and/or supervision. Volunteer release forms will be available.. WE APPRECIATE YOUTH PARTICIPATION WITH WRITTEN PARENTAL PERMISSION AND/OR SUPERVISION. There is no age restriction other than very young children, who would be unable to participate as volunteers. Consider safety for yourself and those you care for. Please wear comfortable clothes and shoes, bring your own water or soft-drink

PLEASE SHARE SOME LOVE FOR OTHERS TODAY WITH AN ONLINE DONATION FOR EVENT FOOD & SUPPLIES, FEEDING HOMELESS VETERANS AND THOSE IN-NEED! BLESS YOU! www.feedlacounty.org
VOLUNTEER OPPORTUNITIES ARE AVAILABLE AT EVERY EVENT SCHEDULED ON MOST MAJOR HOLIDAYS THROUGHOUT THE YEAR. VISIT OUR WEBSITE OR FACEBOOK FOR CURRENT INFORMATION.
Please email us with any questions: feedlacounty@gmail.com. THANK YOU! Facebook: Feed LA County @FeedLAC
COMEDY SHOW BENEFIT 4 FEED LA COUNTY: TIX @ Door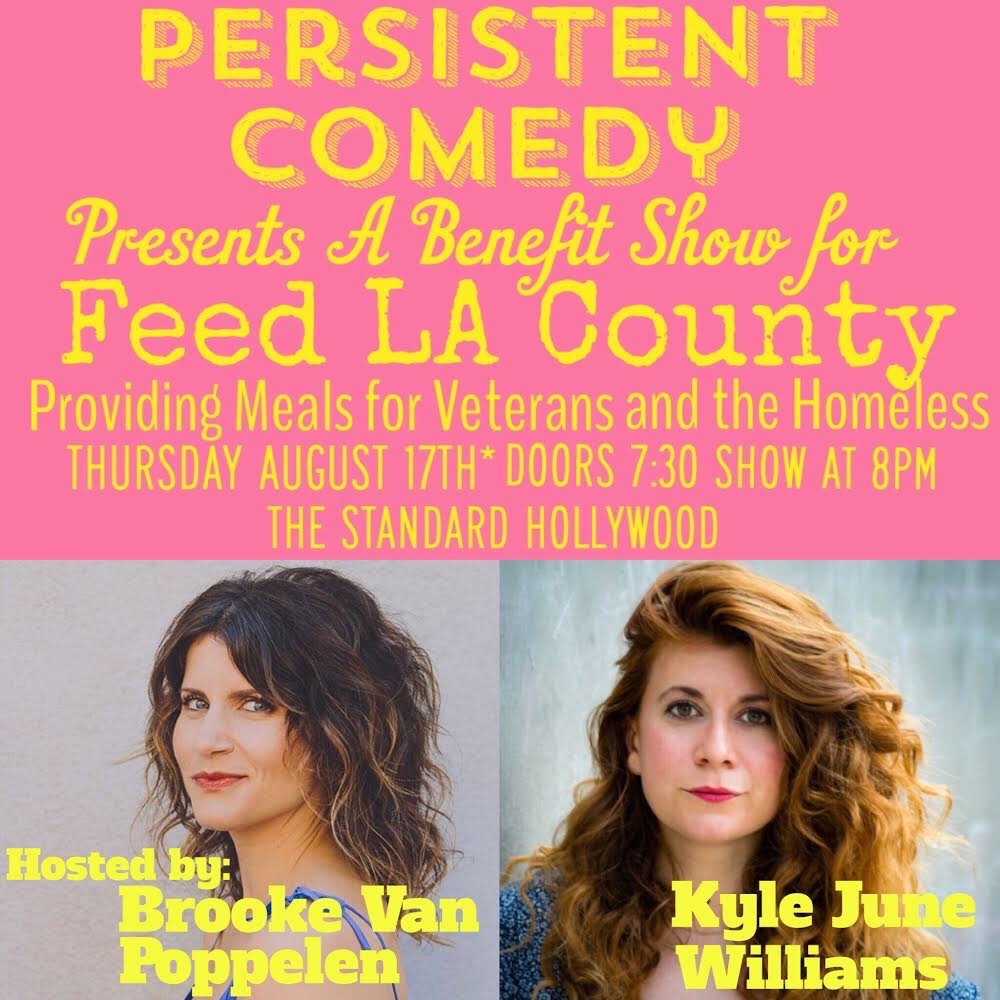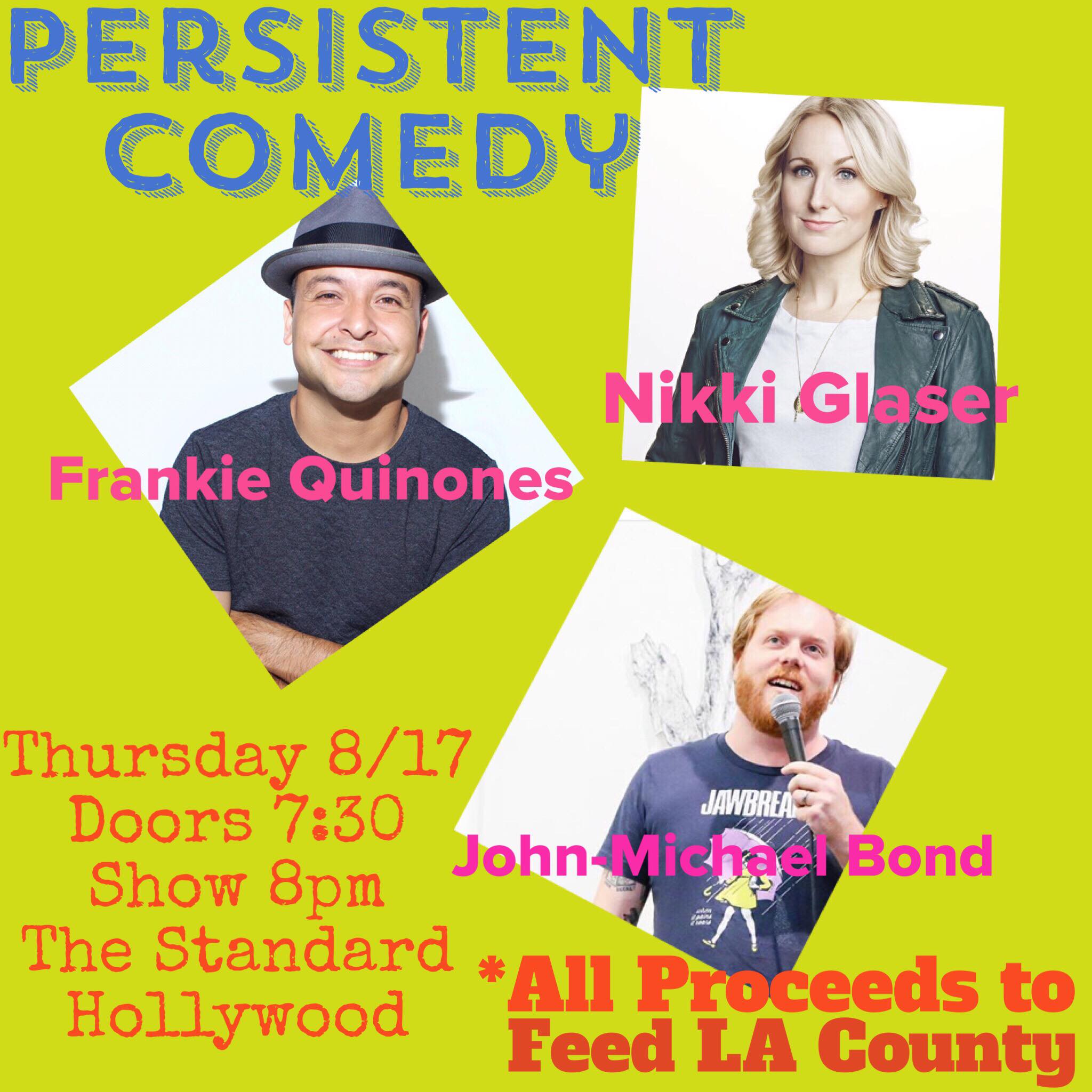 PERSISTENT COMEDY is thrilled to present a show honoring the work of Feed LA County. This tireless charity brings hot full meals to the homeless and Veterans.

$20 Suggested Donation at the Door Only*
Thursday, August 17th, Doors open 7:30pm, Show starts 8:00pm. Venue: The Standard, 8300 W Sunset Blvd., West Hollywood, CA 90069. Valet Parking is Available.
Let us put a giggle in your belly and action in your heart!
Hosted By: Kyle June Williams and Brooke Van Poppelen
THIS LINEUP JUST KEEPS GETTING BETTER!
Featured Comedians: Kyle June Williams, Brooke Van Poppelen, Frankie Quinones, Nikki Glaser and John Michael Bond.

*ALL PROCEEDS go to Feed LA County