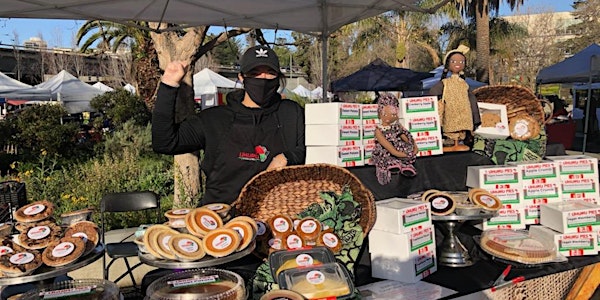 Volunteer w/Uhuru Foods & Pies @ the Grand Lake Farmers Market
Volunteer in our food booth with Uhuru Foods & Pies at the Grand Lake Farmers Market in Oakland!
When and where
Location
Splash Pad Park (Farmer's Market) 746 Grand Avenue Oakland, CA 94610
About this event
Hello Future Volunteers!
Do you like to serve customers, train people and be outside? And/or do you want to learn how or gain more experience working in a real food booth? Then volunteer at our food booth on Saturdays where we sell our delicious sweet and savory pies at the Grand Lake Farmer's Market in Oakland!
Uhuru Foods & Pies is one of the economic institutions of Black Star Industries (BSI) and it is about putting the means to grow, produce and distribute fresh food into the hands of African people.
The vision of Uhuru Foods & Pies includes the goal for Africans to control their own land, farms, trucking, baking, cooking and distribution of food, none of which African people are currently able to carry out on a large scale inside the U.S., Africa or anywhere in the world today. This is what prosperity and and self-determination for present and future generations of African people worldwide will look like.
Just pick a Saturday from 7AM - 11AM or 11AM-3PM or 9AM-3PM at the Grand Lake Farmer's Market in Oakland (hours are negotiable if you can't work the full time).
And/or if you would like to take on an internship, you will gain experience in these areas:
- Leadership skills
- Managerial skills
- Training skills
- Troubleshooting skills
- Customer service skills
We have many other ways to get involved with Uhuru Foods and Pies with baking, operations, delivery and remotely through social media, recruitment, sales, etc!
Come to our meetings to find out more, sign up here: https://tinyurl.com/22openmeeting
You may also call us at 800-578-5157 or email at oakland.volunteer@uhurufoods.org
We have COVID safety protocols in place.
Thank you! We look forward to working with you!