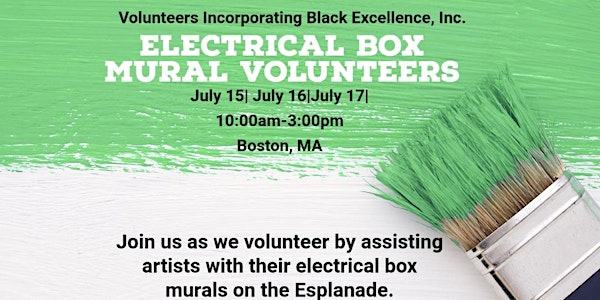 Volunteer VIBEs: Esplanade Electrical Box Mural Volunteers
Location
Charles River Esplanade
Charles River Esplanade
Boston, MA 02116
Volunteer VIBEs: Esplanade Electircal Box Mural Volunteers
About this event
Join Volunteers Incorporating Black Excellence, Inc. as we volunteer by assisting artists with their electical box murals on the Esplanade.
The Electritcal Box Mural Project is in partnernship with the Esplanade Association and the Massachusetts Department of Conservation and Recreation.
Event Details
Date:
Friday, July 15
Saturday, July 16
Sunday, July 17
Volunteer for 1, 2, or 3 days!
Rain Dates: July 21, July 22, and July 23
Time: 10:00am-3:00pm (Volunteer for a morning shift, afternoon shift, or both!)
Location: Fairfield St. Footbridge, Boston, MA 02116 (Esplanade). Map of Esplanade.
Nearest T-Stop:
Hynes Convention Center (9 minute walk)
Copley (12 minute walk)
Back Bay (17 minute walk)
Charles MGH (24 minute walk)
Volunteering will take place outdoors on the Esplanade. Dress comfortably for outdoor weather. Sunscreen is recommended. Bringing a refillable waterbottle is recommended. Water will be available onsite.
Activity:
July 15: Volunteer by preparing the electical boxes. This includes, laying down tarps, chipping off paint, sanding, cleaning, and priming boxes. Safety goggles and gloves will be provided.
July 16 & July 17: Volunteer by supporting artists as they paint. This includes replenishing materials, keeping the painting area clean, and assisting artists as needed.
Bathrooms are available
Volunteers:
Seeking 6 Volunteers for each day to volunteer for a full shift (10:00am-3:00pm) or a half shift (10:00am-12:30pm, 12:30pm-3:00pm)
Volunteers must be 18+
Volunteers must complete both waivers listed below in order to volunteer.
Wear clothes you are comforable getting dirty in or paint on.
Complete Waivers
In order to confirm your spot as a volunteer, you must RSVP on Eventbrite and complete the volunteer waiver listed below:
If you do not complete the waiver, your spot will be given to someone else.
If at any moment you are no longer able to attend, please cancel your registration on Eventbrite so we can release your spot to someone else. We rely on an accurate number of volunteers.
See you soon!
VIBE
www.wearevibe.org
Instagram: @volunteer.wearevibe