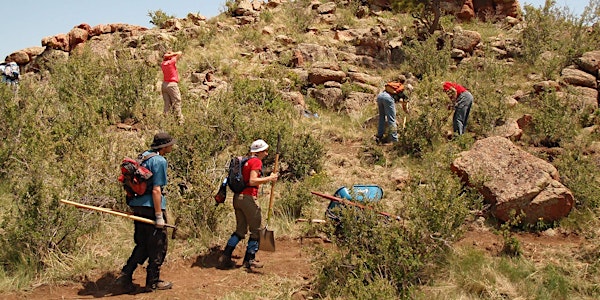 Volunteer Trail Day 2 at Curt Gowdy State Park - Saturday, August 25th
By Wyoming State Parks, Cheyenne Mountain Bike Club and Overland Mountain Bike Association
When and where
Date and time
Saturday, August 25, 2018 · 9am - 3pm MDT
Location
Curt Gowdy State Park 1264 Granite Springs Rd Cheyenne, Wyoming 82009
Description

If you love riding the trails at Curt Gowdy State Park, it's time to give back by joining us for a volunteer trail day at Gowdy with our friends from the Cheyenne Mountain Bike Club. In conjunction with Wyoming State Parks, we will be holding our second joint Gowdy trail day on Saturday, August 25th.
If you missed out on the first trail day in July, this is your chance to give back to Curt Gowdy State Park for all of the fun you have had or will have there.
Note: The Antelope Dash running race will be taking place the same day, but our trail work will be on a section of trail away from the race.
Sign up now to hold your spot on the crew.
Here are the details:
Start Time: 9:00am (Carpooling is encouraged. If you can drive from either Fort Collins or Cheyenne, please add your name to this Google Sheet and let us know how many spots for people/bikes you have available. If you need a ride, please contact a driver to coordinate driving up with them).
End Time: 3:00pm, possibly more trail work or riding after, if people want to.
Meet at: Visitor Center - Google Map. We will be taking vehicles (or riding bikes, if you prefer) from the Visitor Center to the work site on the Stone Temple circuit. We will be making lunches at the Visitor Center to take with us to the work site.
Work: We will be doing both rock and trail tread work with an opportunity to work on your retaining wall-building skills (C'mon, Rockhounds, time to get busy!).
Lunch: Similar to the last Gowdy trail day, we will be making bag lunches at the Visitor Center to take with us to the work site. There may be some morning snacks/coffee as well.
Tools: Supplied by Wyoming State Parks.
Wear: Long pants, sturdy work or hiking boots - rough terrain - no open-toed shoes.
Bring: Daypack, 2-liters water, snacks, sunscreen, sunhat, sunglasses, stormgear, work gloves.
Free camping: Should be available, possibly at Camp Jack, but we have to verify, so please check back.
Questions? Contact: trails@overlandmtb.org
We Build to Ride, and Ride What We Build!
About the organizer
Three great organizations working together for better trails.