Event Information
Location
THEARC Farm
1901 Mississippi Ave SE
Washington, DC 20020
Description
THEARC is a small urban production farm with fruit trees. They run a CSA program and are looking to expand. Come help Casey Trees and the THEARC plant more shade and fruit trees to support their expansion!
** IMPORTANT: The Tuesday before this planting, we will send a logistics and directions email with detailed information about how to get to the site. You will receive this email ONLY if you are signed-up for this planting. **
---

Requirements
Registration: To ease the registration process, please bring a completed volunteer waiver form with you to the planting. If you do not have access to a printer, we will have some waivers on hand.
Youth Volunteers: Volunteers under 18 years of age must have their parent or legal guardian sign their consent form and be supervised by an adult at all times.
No specific skills required. Each event starts with a tool safety and planting demonstration. Volunteers plant alongside experienced Citizen Foresters and staff.
Arrive on time. Check-in opens a half hour prior to the indicated start time.
Dress comfortably and appropriately for the weather. Closed toe shoes and long pants are required. Boots are preferred over sneakers.
Animals: No animals are allowed into the event, except for service animals.


Group Registration
If you represent a group (5+ people), complete the Group Volunteer Information Form and we will contact you to discuss potential volunteer opportunities.
Meals
Volunteers are welcomed in the morning with light breakfast fare and treated to a celebratory lunch at the conclusion of the event. Indicate dietary restrictions during the online registration process. Drinking water is available throughout the event.
Getting There
Public Transportation: The Southern Ave Metro Station on the Green Line is 0.6 miles away from our meeting location.
Parking: There is a free parking lot.
Bike Parking: Bikes can be locked to nearby signs.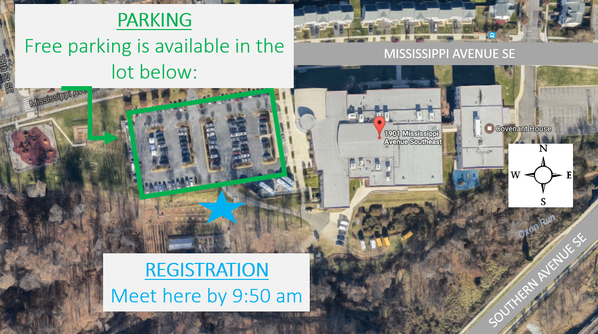 ---
Support Casey Trees
Become a Casey Trees Member today and receive some incredible perks and benefits - all while doing your part to help build a greener place to live for us all. Casey Trees relies on the support of friends, neighbors and volunteers like you to make our work possible. Thank you for your help!
Date and Time
Location
THEARC Farm
1901 Mississippi Ave SE
Washington, DC 20020