Description
Project Helping organizes volunteer events specifically designed to make an impact — both on you and your community. Through volunteering, you can actively invest in your communities while also reaping the benefits of increased mental wellness. We create opportunities for you to practice kyndfulness! Here are the amazing opportunities to #BeKyndBeWell this week.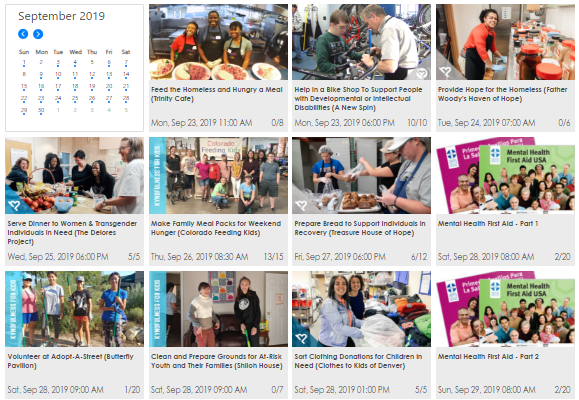 Help in a Bike Shop To Support People with Developmental or Intellectual Disabilities (A New Spin)

Provide Hope for the Homeless (Father Woody's Haven of Hope)

Serve Dinner to Women & Transgender Individuals in Need (The Delores Project)

Make Family Meal Packs for Weekend Hunger (Colorado Feeding Kids)

Prepare Bread to Support Individuals in Recovery (Treasure House of Hope)

Mental Health First Aid

Volunteer at Adopt-A-Street (Butterfly Pavilion)

Clean and Prepare Grounds for At-Risk Youth and Their Families (Shiloh House)

Sort Clothing Donations for Children in Need (Clothes to Kids of Denver)

Volunteer to Help Improve and Care for Community Parks (Denver Parks & Rec)
FAQs
Why Volunteer?
Through the act of volunteering, you are actively investing in your community while also improving your mental wellness! Volunteering is proven to have numerous health benefits including improved mood, feeling healthier, increased sense of purpose and reducing stress levels. Volunteering can also give us a deep sense of happiness, both immediately and long-term.
* 94% of people who volunteer say that volunteering improves their mood.
* 96% of people who volunteer say that volunteering enriches their sense of purpose.
This is just some of the science that supports our mission and outlines why it's so beneficial to do good things for others. We call that practicing Kyndfulness. #BeKyndBeWell
Do these volunteer events require special skills?
There are no specific skills needed for our volunteer experiences. But we do consider willingness to help others a very special skill and since you're reading this, you already have that one!
Are there age requirements for volunteering?
Minimum age varies depending on the volunteer experience! Visit projecthelping.org/volunteer to find an event and verify the minimum age before registration.
ALL THE DETAILS: Where to meet and park? What to wear and bring? What is the agenda for the day?
All of the details for each event are included in the event listing. We'll also send a reminder email and a text a few days before the event!