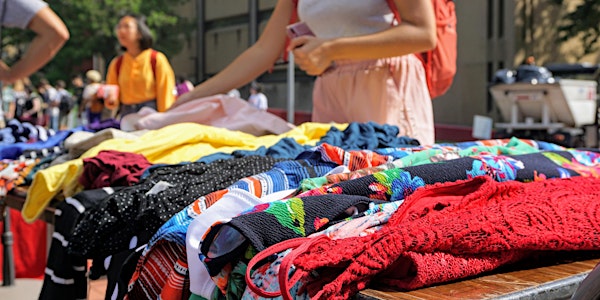 Volunteer Sign-up: Temple Thrift (October 12)
Temple's Pop-up Thrift, where we will be selling gently used clothing donated during last year's residence hall move out!
When and where
Location
Bell Tower Lenfest Circle, Polett Walk Philadelphia, PA 19122
About this event
Temple University will be hosting a Pop-up Thrift, where we will be selling gently used clothing donated during last year's residence hall move-out, Give + Go Green.
All of the clothing pieces are under $10, and most of the jeans, sweaters, shirts are under $3. All of the proceeds raised will go directly to The Cherry Pantry. Since 2019 we were able to raise $8,179 to address student food insecurity on Temple's campus.
This fundraising sale relies on the help of volunteers throughout the university. We will need volunteers to help staff the clothing tables. Volunteers will be asked to put new merchandise out and collect the pre-paid tickets from our valued customers. Volunteer shifts are split into two-hour increments.
FAQs
I am excited to help, but I can only volunteer 1 hour. Can I still volunteer?
Absolutely!!! Select the shift that best meets your schedule and email caroline.burkholder@temple.edu with your exact availability. We really need your help!
I want to help, but I am confused by the process. Will I receive training?
Yes! We will have Office of Sustainability staff on hand to walk you through the responsibilities of your volunteer shift. We will also be on-site and floating around to answer any of your volunteer questions.
Do I need to wear anything special?
Your regular work/school attire is perfect for this event.
Can I bring my own unwanted clothes to the sale or donate them on campus?
No, unfortunately we do not have the staff capacity or storage available
We are hosting a number of fundraising sales on campus and its all from Give + Go Green in collaboration with UHRL. We have already screened the material and donated an entire tractor trailer full of clothes that we didn't find cool enough for school. If we have additional clothing or household goods left over at the end of all of the sale dates, we will donate it to Goodwill. The total tonnage resold and donated will be captured in the university's recycling and waste minimization efforts.
How can I contact the organizer with any questions?
Please contact caroline.burkholder@temple.edu or call Caroline at 215-204-5558.