Volunteer Sign-up 2016 Angel Tree/NFL Alumni-Northern California Clinic

Saturday, August 27, 2016 from 7:00 AM to 4:00 PM (PDT)
Event Details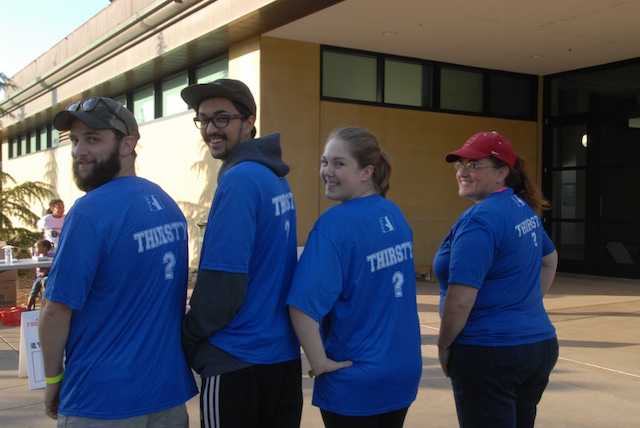 Volunteer Today!
In it's 11th year, the Angel Tree Football Clinicis proud to announce a new partnership with the NFL Alumni - Northern California Youth of America Week Event
Register to find out about the many exciting Volunteer opportunities. 

The 11th Annual Angel Tree Football Clinic in partnership with the NFL Alumni-Northern California Chapter are hosting a FREE one-day Football Clinic for boys 7-13 years old  in Northern/Central California who have an incarcerated parent, or are otherwise underserved or have significant risk factors.  Volunteers will be assisting the operation of the Clinic in a number of potential roles. More than 60 Former NFL and College football stars lead boys through fun drills & skills development exercises, while providing motivation, inspiration and positive male role-modeling. All participants and their adult chaperones/caregivers, as well as Event Volunteers (that's you!), will be treated to a hearty, BBQ lunch and an inspiring "Lift Them Up" Ceremony, featuring outstanding and encouraging motivational presentations and speakers.  The Angel Tree Youth Football Clinic is now the signature Northern California event for NFL Alumni Youth of America Week.  
300 "Boys of Promise"
60 Former College and NFL PLayers|
100 Volunteers
1 Amazing Transformational Day
Will You Join Us?
 We need your help!  Sign-up to Join us on Saturday, August 27, 2016 as a volunteer for the 11th Annual Angel Tree Football Clinic/NFL Alumni - Northern California Youth of America Week!
When & Where

Mitchell Field @ Red Morton Community Park
(behind NFL Alumni-Northern California Headquarters)
1311 Madison
Redwood City, CA 94061


Saturday, August 27, 2016 from 7:00 AM to 4:00 PM (PDT)
Add to my calendar
Organizer
William "Billy" Anderson and Joe Avila are the Co-Founders of the Angel Tree Football Clinic. Anderson is a Motivational Speaker, Author, Success Coach and CEO of Fierce Life Now, LLC. At the time of the Founding of the Angel Tree Football Clinic, he served as the Regional Executive Director for Prison Fellowship in the Southwest U.S. "Billy", as his friends and teammates call him,  is a former Stanford Runningback/Kick Returner, who led the PAC-8 Conference in Kick Return Yardage and was a key member of the 2-time Bowl Champion & Nationally-ranked Cardinal Football teams of 1977-1978. He was the Stanford Special Teams Captain and recipient of the Stanford Football Unsung Hero Award. 
Joe Avila, has been a member of the Prison Fellowship Leadership Team since the year 2000.  He has been a stalwart Champion for  Angel Tree, a program of Prison Fellowship, which provides support and uplift, nationally, to children who have an incarcerated parent.  He has served previously as the Western Regional Director for Prison Fellowship and now, as National Director, Sports Camps & Special Events, is focused on expanding Angel Tree Sports Clinics and Special Projects to engage both boys & girls who are children of prisoners, or otherwise under-served,  across the United States.
The two friends saw the need to create a positive experience for under-served Boys in Northern & Central California.  Thus, in 2005, with the help and partnership of the late Coach Ben Parks, Prison Fellowship and the Stanford University Football program, Billy and Joe launched the initial Annual Angel Tree Football Clinic, held at the world-class athletic facilities of Stanford University.  In 2017 the pair once again collaborated and with the backing of Angel Tree, and a partnership with Prison Fellowship Field Director and Former Baltimore Raven Linebacker Tyrus McCloud, they hosted the first Angel Tree Football Clinic-Miami.  Future plans for Angel Tree Football expansion include a "Friday Night Lights" Event in Fresno, CA and potential Clinics in Minneapolis, MN, Atlanta, GA and Las Vegas, NV among other locations.
Beginning in 2016, the original San Francisco Bay Area-based Angel Tree Football team partnered with the NFL Alumni-Northern California  to create the Angel Tree Football Clinic/NFL Alumni Youth of America Week signature event! The goal of the ATFC is to bring  high caliber, high character former college and pro footballers together with at-risk youth for an annual day of fun, mentoring and encouragement!  The annual event now hosted in Redwood City, California, draws in excess of 400 boys, aged 7-14, more than 100 adult volunteers and more than 60 former College and NFL players serving as Volunteer Coaches, each year.
 In early 2017 Anderson and Avila,  were recognized with the Jefferson Award for Public Service for their decade plus work through the Angel Tree Football Clinic.  Anderson was additionally recognized by his Alma Mater, Stanford University, with the creation of the Billy Anderson Community Outreach Award, given annually to a member of the Stanford Football offensive unit who best exemplifies service to youth and the community.