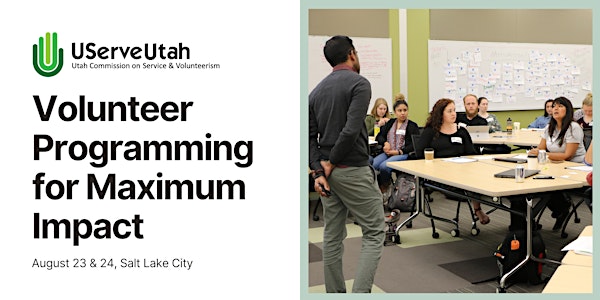 Volunteer Programming for Maximum Impact
Attend the Volunteer Programming in Maximum Impact training to strengthen your organization's volunteer program.
Date and time
August 23 · 9am - August 24 · 3pm MDT
Location
Taylorsville State Office Building (TSOB) 4315 South 2700 West Taylorsville, UT 84129
About this event
1 day 6 hours

Mobile eTicket
About the Course
UServeUtah's Volunteer Programming for Maximum Impact (VPMI) is designed to help volunteer engagement professionals develop goals and implement strategies for effecting change in their organizations.
What Makes Our Training Different?
UServeUtah, the State's Commission on Service and Volunteerism, offers years of industry experience, insightful advice, and engaging delivery. Our in-person training gives volunteer professionals the opportunity to connect and learn from their colleagues.
What You'll Learn
The curriculum is designed by UServeUtah and combines years of industry expertise, comprehensive resources, and the latest developments in the field of volunteer programming.
Training includes:
✔️ Laying the Foundation: Building a Mission-Centric Volunteer Program
✔️ Recruiting Strategy
✔️ Volunteer Program Management
✔️ Volunteer Retention
✔️ Volunteer Impact Measurement
✔️ Creating Sustainability
How It Will Help You
The VPMI course focuses on strategic organizational change. It approaches change as a process rather than a one-time event. Development and implementing a change management strategy for volunteer programming delivers organizations a return as high as 6x. This training provides a path for participating organizations to create that strategy to maximize their impact.
This is an engaging and interactive training with coaching by subject-matter experts. This two-day course is in-person and gives participants opportunities to network with other industry professionals.
VPMI will deliver the following to your organization:
Lay the groundwork for a mission-centric volunteer program
Build a coalition of support between senior leadership and staff to create organization-wide commitment to volunteerism
Devise processes to maximize return on investment
Create an organizational plan to create positive and meaningful volunteer experiences
Design strategies for volunteer recruitment and retention
Invest in the role of volunteer coordinator
Develop a plan for sustainability to ensure organizational continuity
What's Included?
Training by Industry Professionals
In-Person Networking Opportunities
Training Workbook
Lunch/Light Snacks
One-on-one virtual coaching session post-training with UServeUtah
Expert review of evidence items
Who Should Attend?
Volunteer engagement professionals (volunteer managers, executive-level decision makers) seeking to build a new volunteer program or revitalize existing strategies. This course builds on volunteer management fundamentals taught in UServeUtah's Volunteer Management Training. Attending the Volunteer Management Training is not a prerequisite.
When is the Training?
UServeUtah hosts the Volunteer Programming for Maximum Impact annually in August in Salt Lake County.
Refund Policy
Cancellations made up to one week prior to the first day of the training will be fully refunded. After this date, payment can be credited towards a future UServeUtah training up to one year of the purchase date.
No refunds will be issued for no-shows.