Multiple Dates
Volunteer Orientation for New Elementary School (PreK–Grade 5) Volunteers
Sales Have Ended
Registrations are closed
Get in touch with us to receive future training dates: csv@cpsd.us.
Sales Have Ended
Registrations are closed
Get in touch with us to receive future training dates: csv@cpsd.us.
Cambridge School Volunteers' required orientation for **new** volunteers working with Cambridge Public Schools students in PreK–Grade 5.
About this event
This orientation is required for our **new** volunteers who plan to work remotely with students in Pre-K through Grade 5. Volunteers will also need to attend a CSV cultural humility training .
Elementary school tutors are matched with an individual student or small group in grades PreK-5 for ongoing support in a specific subject or multiple subjects. This includes helping younger students navigate virtual learning (Zoom or Google Meet) and their assignments. Elementary school tutors also serve as mentors and coaches, providing social emotional support, time management, and organizational skills. In collaboration with the educators working in the public elementary schools in Cambridge, we will identify specific areas of support and provide you with access to curricular content.
This session will cover school and program information and begins the tutor training process. CSV's elementary school team will also provide coaching and support to tutors/mentors throughout the school year.
Returning volunteers from previous years should not register for this training.
Need to sign up for our cultural humility training? Go to our list of current CSV Trainings and Info Sessions .
What is the time commitment? Volunteers give a minimum of one hour per week, until the end of the school year. Many volunteers choose to work more hours.
When are volunteers needed? Weekdays only. The schedule for volunteers varies according to the school and classroom needs and the type of volunteering. At this grade level, there are no volunteer opportunities on weekends, and there are no opportunities during the late afternoon or evening (after 3:00 p.m.).
Who are the students? You'll be working with a student or students in one of the 11 elementary schools in the Cambridge Public Schools, or kids in K–5 at the city's one K–8 school (Amigos School/Escuela Amigos). The students in these schools are from a wide variety of backgrounds.
Can I help if I've never worked in a school? Yes! You do not have to have prior experience as a tutor or teacher. We will work to match your talents with a need in the schools.
Do I need to provide references or have a CORI check? Yes. We will also need an image of a government-issued photo ID (driver's license or passport) for a CORI (criminal record) check. You must also provide two completed reference forms (your two references should be individuals who have known you for at least 6 months) and a Receipt of Ethics/Conflict of Interest Summary Form. Links to the required forms are embedded in the online application.
Link to online application: bit.ly/csv-preK-8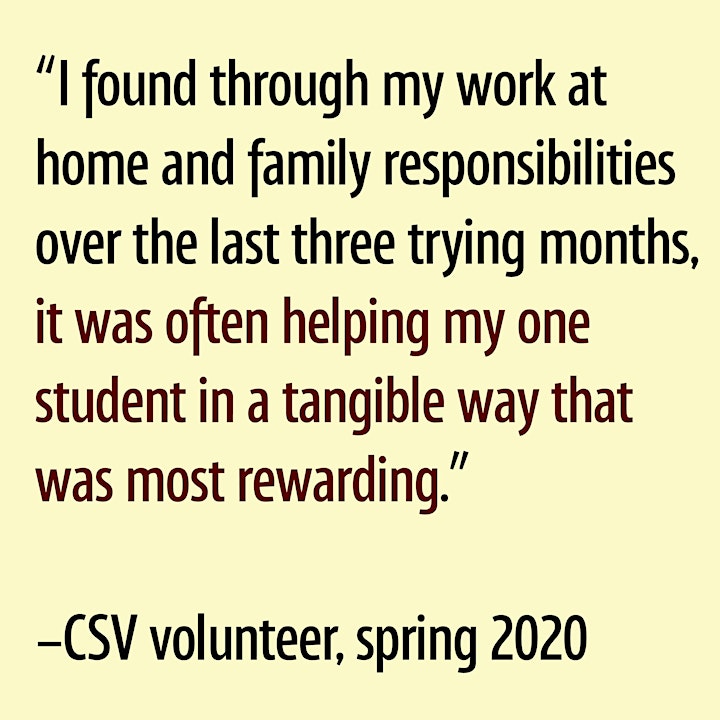 Organizer of Volunteer Orientation for New Elementary School (PreK–Grade 5) Volunteers
Founded in 1966, Cambridge School Volunteers is an independent non-profit organization supporting the academic and personal success of Cambridge public school children. CSV develops programs which match caring and competent adults with students of all needs and levels. To read more CSV success stories, please visit our website: www.csvinc.org