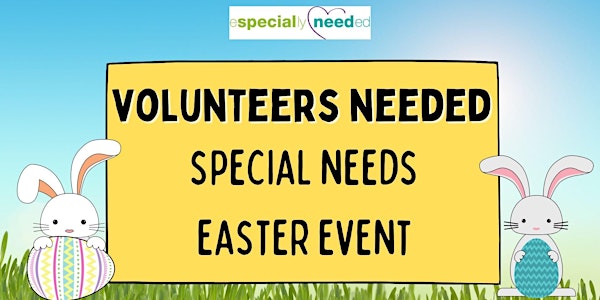 VOLUNTEER OPPORTUNITY - EASTER EGG HUNT 2023
VOLUNTEER AND MAKE A DIFFERENCE! Hello Especially Needed Volunteers! Help us put on one of the largest Special Needs Easter Egg Hunt
Date and time
Saturday, April 8 · 10am - 4pm CDT
Location
MIRACLE LEAGUE FIELD - Harold Bacchus Community Park 13995 Main St Miracle League Field Frisco, TX 75035
About this event
VOLUNTEER AND MAKE A DIFFERENCE!
Hello Especially Needed Volunteers!
CURRENT OPEN VOLUNTEER OPPORTUNITIES:
Volunteers Event Setup, 10am-11:30am
Volunteers Egg Stuffing & Distribution, 10:30am-3:30pm
Volunteers LEAD, 10:30am-4pm
Volunteers Easter Bunny & Helper, 11:30am-3:00pm
Volunteers Photographers, 11:30am-3:30pm
Volunteers Registration Desk, 11:30am-3:30pm
Volunteers Help with Booth/Games 11:30am-3:30pm
Volunteers Parking Directors 11:30am-3:30pm
Volunteers Event Shift, 11:30am-3:30pm
Volunteers Post-Event Load Truck 3pm-4pm
Help us put on one of the largest Easter Egg Hunts for individuals with special needs. Especially Needed can't host such a fun and exciting event without the assistance of amazing volunteers like you!
As always, our event is filled with fun activities for the families. We will have games, a bounce houses, face painting, a balloon artist, a resource fair and much more!
Ready to be a part of the magic this year?  Deadline to register is 4/07/2023.  We have several volunteer shifts available and know that every single role is vital to the success of the event. There are a couple of things to consider before signing up to volunteer:
- We ask that all volunteers are 14 and up. We ask that any students that require written validation of their volunteer hours seek out our volunteer coordinator after your volunteer shift is over so we can sign your paperwork.
Be aware of the weather - if you sign up for a shift and area that may be outside and if it is cold please wear warm sweaters, gloves, closed-toed shoes and/or anything else you may need to be comfortable.
Honor your commitment - we need all hands on deck during the entire shift. Bring a positive attitude - it's a fun event and a beautiful day to be a part of!
Be ready to work, have fun and make a difference with Especially Needed!
We look forward to seeing familiar faces and meeting a whole lot of new ones. Please don't hesitate to e-mail us if you have any questions regarding volunteering; Our volunteer coordinator is Nechole Whitlock, you can contact her at 972-567-8005 or nechole@especiallyneeded.org.
If you would like to donate to Especially Needed, sponsor this event, be part of the resource fair or inquire about anything regarding Especially Needed, please visit our website or contact Nechole or Heather at the information listed above.
Thank you for being a part of such a wonderful event! It would not be a success without you!
In Celebration,
The Especially Needed Team
About the organizer
Building a strong community where individuals with special needs are valued, respected and included.
Go to www.especiallyneeded.org for more information.