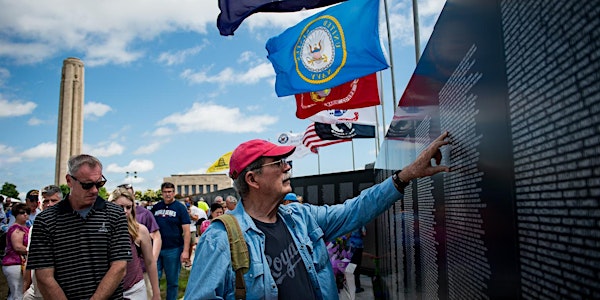 Volunteer Opportunity - AVTT Traveling Vietnam Wall, May 19-30, 2022
Be a volunteer during the display of the American Veterans Traveling Tribute Vietnam Wall at the National WWI Museum and Memorial, May 19-30
When and where
Location
National WWI Museum and Memorial 2 Memorial Drive Kansas City, MO 64108
About this event
The National WWI Museum and Memorial will be hosting the American Veterans Traveling Tribute (AVTT) Vietnam Wall from May 19 – 30, 2022, ending on Memorial Day.
The Vietnam Memorial Wall in Washington, D.C. contains the names of those who gave their lives as a result of their service in Vietnam. The AVTT Wall is an 80% scale version of the Vietnam Memorial Wall. Across its 360 ft. length, the Wall contains every name etched on the original memorial. Since its inception, hundreds of thousands of people across the U.S. have viewed the AVTT Vietnam Wall.
New this year, AVTT also will display smaller tribute panels honoring American sacrifices in conflicts through the 20th and 21st centuries, including WWI and WWII, 9-11, and Afghanistan and Iraq.
We expect more than 50,000 people to visit the display on the Southeast Lawn of the Museum and Memorial grounds.
To accommodate these visitors, we need volunteers to assist those paying tribute. From Thursday, May 19 - Monday, May 30, we are looking for over 300 volunteers.
During each volunteer shift, individuals and groups are needed to handle a variety of tasks, including:
Welcoming guests and Vietnam veterans
Helping guests to locate names on the Wall
Directing guests to specific sections of the Wall
Assisting with Wall rubbings and wayfinding
Assisting with keeping the grounds clean
If you are interested in participating in this amazing volunteer opportunity, please sign up by the new extended date of Friday, May 6, 2022.
Volunteers will be provided with:
Information about this event, instructions and a map for parking & volunteer sign in
A T-Shirt (to ensure guests know you are a volunteer who can assist them) Please note that we cannot guarantee we will have your t-shirt size if you sign up after Saturday, April 23, 2022.
A pass to visit the National WWI Museum and Memorial
Refreshments in a shaded area during your shift
Volunteers must be at least 14 years old (anyone under 18 years old must be accompanied by an adult), commit to a full volunteer shift, sign a release and provide an email address for ease of communication.
Please contact us at VietnamWall@theworldwar.org with questions.