Description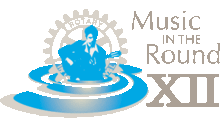 Music in the Round is a unique annual concert this year benefitting the Rafiki AIDS Orphanage, The Kirk Horn Fund for Music, and Cap Square Rotary Foundation. The only rule: the artists must play songs they've written themselves, on the instruments on which they were written.
Music in the Round audiences get to hear the artists talk about their songwriting, particularly the stories and emotions surrounding the song's creation. It's a treat for music lovers featuring some of the most talented musicians Columbus has to offer.
What: Volunteers will greet people when they come in and tell them to find their name/organization tag and point them in the general direction of their section. Some volunteers will be asked to usher guests to their seats and help collect donations. Once most people have arrived, volunteers will either move over to the artist merch area to sell using ipads and cash or monitor the silent auction and help check people out at the end of the night.
Where: Via Vecchia Winery, 485 S. Front Street, Columbus, OH 43215
When: Please arrive by 6pm.
Event Leaders: Diana at diana@columbusgivesback.org
After the Event: Though the event itself will be fun and entertaining, we hope you will consider joining us afterwards for food and drinks as a part of our #socialtwist!
Learn More: Check out MITR XII at http://www.musicintheround.com/!