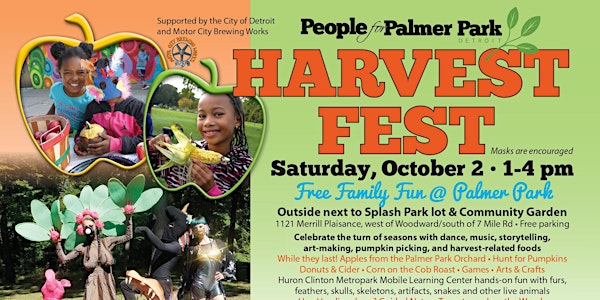 VOLUNTEER for HARVEST FEST at Palmer Park
Volunteer at Harvest Fest: help children with arts & crafts, picking & decorating pumpkins, serving cider, apples & donuts, grilling corn!
When and where
Location
Palmer Park Community Building 1121 Merrill Plaisance Street Detroit, MI 48203
About this event
Volunteer all day, or for a few hours. We appreciate all help!
In the morning, 10 am-12:30 pm:
we will be setting up tents, tables and chairs
getting the grill going to roast the corn
setting up pumpkins in the patch and scarecrows in the garden
clean up and preparing the site for the event
Shift 1: 12:30-3 pm
Helping children pick and decorate pumpkins
Arts & Crafts: decorating the scarecrows, decorating the Sukkah
Coloring & creating "my story" books for kids
Serving cider, apples, donuts
Grilling and serving corn-on-the cob
Entertainment coordinating
Shift 2: 2:45-5:15
Same as above, but includes clean up and breakdown
Clean Up: 4-5:30 (a few more folks to help breakdown the tents, tables, etc.)
Harvest Fest, a free, all ages family-friendly festival presented by People for Palmer Park, will celebrate the turn of seasons with dance, music, storytelling, art-making, pumpkin picking, and harvest-related foods on Saturday, October 2 from 1-4 pm in Palmer Park, in the lawn adjacent to the Palmer Park Community Center, Splash Park and Garden at 1121 Merrill Plaisance, Detroit, 48203. Palmer Park is located in northwest Detroit, just west of Woodward Avenue, between McNichols and Seven Mile Roads and bordered by Merrill Plaisance
The Festival will include performances of "The Last Unicorn," an imaginative, playful, and restorative experience with music, dance, costumes, and poetry about Mother Earth, the survival and extinction of species, and balance in the animal kingdom. It reminds us of that magic resides in our connection with nature and one another.
This fun-filled community event, held for the past decade (until Covid last year), celebrates the vibrancy of nature with enriching activities. Be among the first to taste apples from the Palmer Park orchard; enjoy grilled corn on the cob, and freshly pressed apple cider donated by Motor City Brewing Works; and autumn would not be complete without donuts, and pumpkin picking (free pumpkins for the first 150) and decorating.
There will be guided nature walks to explore the forest, and a special visit by the Huron Clinton Metropark Mobile Learning Center to learn about animals, see furs, feathers, skulls and other artifacts, and meet and pet snakes and other live animals.
There will also be special storytelling, book giveaways, and other surprises. Author Barbara Allen, a sixth-generation descendent of famed abolitionist and suffragist Sojourner Truth, will read from her new children's book, "Remembering Great Grandma." The "Read in Color" program through Little Free Library has donated books focusing on the experiences of BIPOC or LGBTQ people that will be given out to children while they last.
People for Palmer Park's sponsors for this year's event include City of Detroit Parks & Recreation Dept., City of Detroit General Services and Motor City Brewing Works.