Description
Bigger IS better at this "only in San Francisco" event! With 400,000 fetish enthusiasts spread out over 13 city blocks, there is something for everyone. Located on historic Folsom Street, leather and fetish players from all over the world converge. With over 200 exhibitor booths showcasing fetish gear and toys, it's an annual dream come true for adult alternative lifestyle communities around the world.
Volunteer Perks
We love our volunteers! The Folsom Street Fair wouldn't exist without you. To thank you for your time and effort, we'll provide a Volunteer Hospitality area at the Fair. We'll serve breakfast, lunch, dinner, and snacks -- and there are other great perks, too!
Training
To ensure that volunteers have all the information they need to be successful in their specific shifts on Fair Day, we've developed a comprehensive training program. Shifts are available for online training unless the security level or complexity of work requires an in-person training, as outlined in the image below.
If you volunteered for Up Your Alley 2017, you may be eligible for an exception. Check your registration order form and email confirmation for details.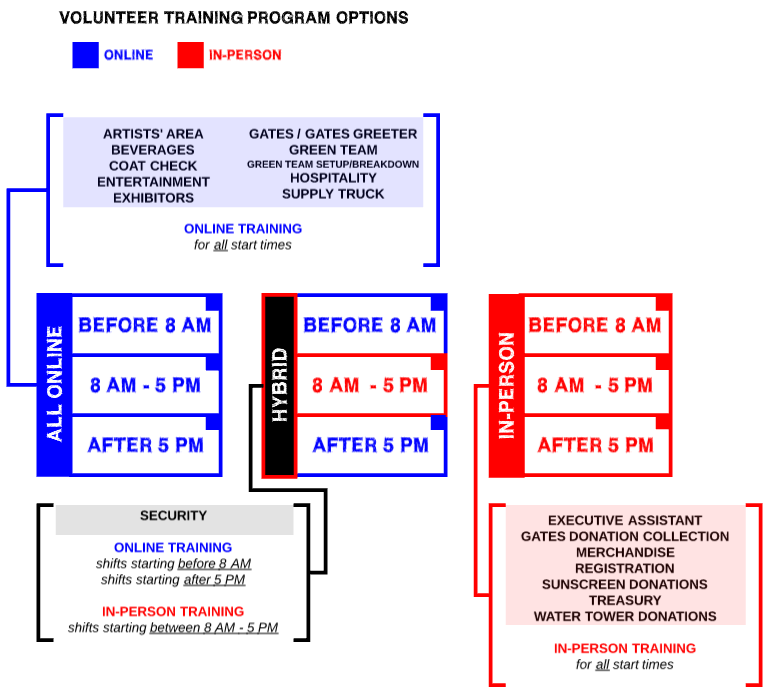 About Folsom Street Events
Since Folsom Street Events first began, the organization has donated nearly $5.5 million to San Francisco-based and national charities. Volunteers who give their time to help our events run smoothly are the biggest reason that we are able to give away as much as we do. By donating their time, volunteers help our Major and Supporting Beneficiaries earn funds to support important and inspiring projects in the areas of The Arts, Health and Human Services, and Social Justice.
Register Now to Volunteer!
When you register for a volunteer shift, please select one of our Beneficiaries who will receive credit for your hours. Our events are largely volunteer-run to ensure that we keep overhead costs as low as possible. This way, we can donate the majority of the money raised back to our Beneficiaries. Each volunteer shift is incredibly important in making our events run smoothly and safely.
If you'd like to register for multiple volunteer shifts, please register for only one shift per Eventbrite order. Then, return to this page to place a second order for a second shift.
For more information, please visit our Volunteer Help Center. We look forward to seeing you at the Folsom Street Fair!