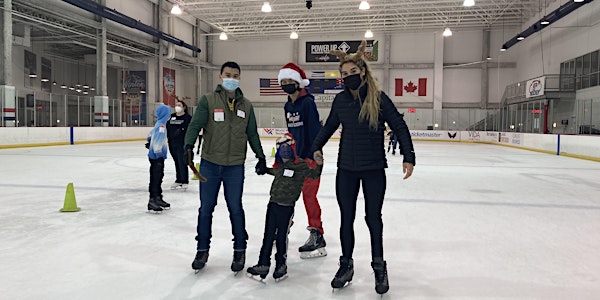 Volunteer for Adapted Ice Skate Event - for Individuals with disabilities
On Friday 12/30 from 4-7pm, volunteer your ice-skating skills at Arlington County's Therapeutic Recreation Adapted Ice Skating event.
When and where
Location
MedStar Capitals Iceplex 627 North Glebe Road #Suite 800 Arlington, VA 22203
About this event
Come Volunteer with Us at our Adapted Ice Skate event on 12/30/22 from 4-7pm!
Volunteer registration will close on Friday, December 23, 2022, at 11:30pm.
Volunteer roles:
On-ice support - volunteers should be comfortable skating on the ice as your role will be to support novice or new to skating participants who may benefit from physical support as well as positive encouragement.
Off-ice support – greeters who point participants in the right direction for the event, run the registration table where participants will sign-in, assist with putting on and taking off skates, and help with the flow of skaters on and off the ice.
*Please Note* There are a limited number of non-skating positions.
Some key information for volunteers:
Volunteers for this event must be at least 16 years old.
We are asking that all volunteers commit to being onsite from 4-7pm.
Skate rentals will be provided to volunteers for free that do not have their own skates during the event.
You will receive orientation and assignments prior to the start of the event. Specific details will be sent to you prior to the event.
Thank you so much for sharing your time and skills to support this Adapted Ice Skate event. If you have any questions, please do not hesitate to reach out to Cat Trovato at ctrovato@arlingtonva.us or 703-228-4736.