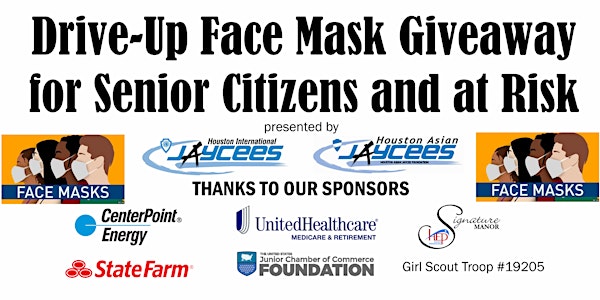 Volunteer Event: Drive-Up Face Mask Giveaway for Senior Citizens & At-Risk
Location
Signature Manor
6968 Howell Sugar Land Road
Houston, TX 77083
Volunteers will be helping at the 2nd Face Masks Giveaway by providing needed supplies to senior citizens & most vunerlable to COVID-19.
About this event
Do you want to make an impact to Houston and the surrouding communities during this difficult times? Well, the Houston International Jaycees are looking for young professionals who want to help their fellow neighbors at the July volunteering event.
Due to the huge success of the first Facial Masks & Meals Giveaway last May, the Houston International Jaycees (HIJ) will be hosting the 2nd Facial Masks & Meals Giveaway on Saturaday, July 11th 2020. This will be the 6th event that the HIJ has done as part of the COVID-19 Relief Project.
Up to 600 people were supplied with facial masks were given out at the last giveaway events and over 300 cars were served during a 4 hour period. This was accomplished due to the hard work of the volunteers and collobration with Houston Asian Jaycees Foundation. Several people called to see when the next one would be!
Please view pictures from the Facial Masks Giveaway to see how great that event was.
https://www.facebook.com/pg/JCIHoustonIntl/photos/?tab=album&album_id=3276341625732431
HIJ are looking for 30 volunteers of young professionals to help at this event to make it as successful as the first one. Volunteers duties include: packing pre-packed masks and hand satinzers in bags, delivering meals & bags in people's trucks, traffice control, and others. Interpreters are needed to help translate instructions.
Date: Saturday, July 11th from 8:30 AM-1:30 PM Volunteer Time
Location: Signature Manor, 6968 Howell Sugar Land Rd, Houston, TX 77083
All social distancing precautions will be in place for volunteers. Facial masks and gloves will be provided for all volunteers to wear at all times. People will remain in their cars during the giveaway. Water and lunch will be provided. Since this event is outside , there will be tents for some duties, but it recommended that volunteers bring hats, sunglasses, and sunscreen for themselves. If you only can come for a specific time, that is fine!
If you would like, this event is a great chance for you to help your neighbors of your hometown of Houston and surrounding communities.
If you have any questions, please contact Nicole Jones at 832-465-1319 email us at jcihoustonintl@gmail.com
-------------------------------------------------------------
The Houston International Jaycees are an award winning young professional organization that develops leadership through service to humanity. Houston International Jaycee's goal is to help young professionals between the ages of 18 and 40 develop personal and leadership skills and give them the tools to build the bridges of success for themselves in the areas of business development, management skills, individual training, community service, and international connections.
https://jcihoustonintl.org/
Follow us on Instagram, Twitter and Facebook .