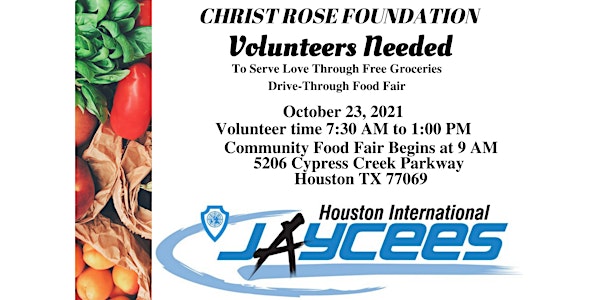 Volunteer Event: Community Drive Thru Food Fair w/ Christ Rose Foundation
Calling all volunteers! Houston International Jaycees will be helping serve free groceries thru a drive thru to families in needs!!
When and where
Location
5206 Cypress Creek Pkwy 5206 Cypress Creek Parkway Houston, TX 77069
About this event
Hello everyone!!
We are heading back to help serve necessary groceries ito families in needs for the month volunteer event for October! We had such a great time in August that we are going back!
We are volunteering as a group helping with the Community Drive Thru Food Fair with Christ Foundation for their monthly food distribution, where they served over 200 families with essential groceries. They need volunteers to assist with this event to make sure these families get essentials and help to alleviate the financial burden of purchasing groceries.
Volunteers duties could include:
- preparing boxes
- loading the boxed groceries into vehicles.
- speaking other languages such as Spanish and Mandarin to help translate
There will be sanitizing stations, gloves and masks provided, and temperature checks will be completed.
There will be hydration stations set up as well as covered work areas.
Volunteers are required to wear close-toed shoes. Comfortable clothings is recommended.
Instructions to sign up with Houston International Jaycees:
1. Go to https://www.christrose.org/events
2. Click on RVSP for the Saturday Oct. 23rd
3 . Fill out the form and make notes that you are with the Houston International Jaycees by "Add comment" section
4. Complete the waiver form.
DATE: Saturday October 23rd
TIME: 7:30 AM-1PM - If you can't volunteer for the whole time, that's ok! Just let us know when you need to leave.
LOCATION: 5206 Cypress Creek Parkway Houston, TX 77069. Plenty of parking!!
Contact: Nicole Jones - JCIHoustonIntl@gmail.com .
We will be following the current CDC's guidelines for COVID-19. All participants are required to show proof of COVID vaccination card or a photo of that required will not be required to wear masks. All others will be required to wear masks. Masks are optional for those who proof of COVID vaccination. A COVID-19 Self-Health Check Survey will be sent out prior to the event.
The Houston International Jaycees are an award winning young professional organization that develops leadership through service to humanity. This organization won the 2020 Most Outstanding Local Chapter from the JCI USA and Americas and many more awards in 2020! Houston International Jaycees' goal is to help young professionals between the ages of 18 and 40 develop personal and leadership skills and give them the tools to build the bridges of success for themselves in the areas of business development, management skills, individual training, community service, and international connections.