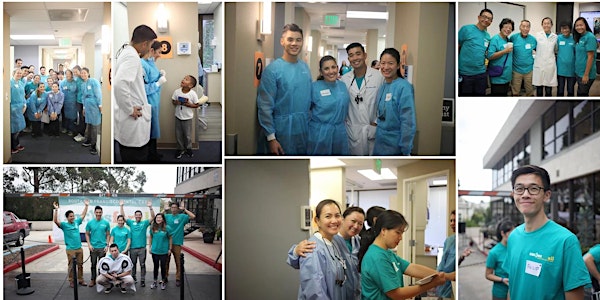 Volunteer at Smiles for All 2019: A Day of Free Dental Care
When and where
Location
South San Francisco Dental Care 2400 Westborough Blvd 205 South San Francisco, CA 94080
Description


Come join our team of passionate volunteers to bring Smiles for All, a day of free dental care, to our neighbors in need. After a dental exam, we will be providing a free cleaning, filling or extraction to participants. We are looking for dentists, hygienists and dental assistants to treat patients, as well as coordinators to help with registration, education, and much more. No clinical skills necessary, just a desire to make a difference!
Watch our Smiles for All Video on YouTube

Volunteer Shifts
Morning: 8am to 1pm
Afternoon: 12pm to 5pm
Full Day: 8am to 5pm
Night before event on Saturday: 6pm to 9pm
Volunteer Roles
Clinical Volunteers
Dentists, hygienists and dental assistants to help treat patients. Clinicians must be properly licensed, insured and immunized to treat patients.


Administrative Coordinator
Assist with registration desk and data entry. Requires reading and computer data entry.


Patient & Backend Coordinator
Guide patients through building and assist with deinstallation. Requires physical labor and walking up and down stairs


Set-Up Coordinator (Night Before Event)
Help set-up tables, chairs, paper work and signs the night of Saturday, October 19 from 6-9pm, the night BEFORE Smiles for All.


Student Volunteers
Registration for all dental student volunteers including dental, hygiene and dental assistant programs from UOP, UCSF and SFSU. Help with pre-screening, patient coordination, patient education and/or registration.



Questions about volunteering? Email smilesforall@ssfsmile.com



All volunteers should register by Friday, October 11 at the latest to receive orientation materials.
About Smiles for All
Smiles for All is a registered non-profit charity event hosted by South San Francisco Dental Care. South San Francisco Dental Care and their team of volunteers have been able to donate over $250,000 worth of dental services to over 500 people. Our efforts have been recognized by the South San Francisco mayor's office, the San Mateo County Board of Supervisors and Assemblyman Kevin Mullin for our exceptional service to the community.
To learn more about Smiles for All, please visit www.smilesforallday.com
Thanks to the support of the following donors: