We're NYC's largest, donation-based community food pantry. Please come join us to combat food insecurities in NYC!!!
About this event
About 9 Million Reasons:
We provide free food for anyone in need. And we are serious about an inclusive community. We do not tolerate any discrimination, we're LGBTQ+ friendly, and we can accommodate peoples with disabilities. Our workplace is safe, and there is hands-on training for any activity that is new to you.
In 2016, we started with just a supply room in a school. We were a few volunteers dedicated to helping New Yorkers who struggled to make ends meet. Every Saturday, we supplied 500 families with groceries we bought, rescued, or that were donated from local grocery stores and food drives.
When Covid-19 sickened thousands and shut down the city's economy, food insecurity doubled overnight. We did everything we could to scale up, and we are now reaching 7,000 families a day in our crisis-converted school house. It was an intense six months, but we are now operating where few others can and we're here to stay. We've fed 950,000 New Yorkers and counting.
Volunteers can expect to form a strong connection with our existing teams, and will feel a great sense of purpose driven by helping others. In just one single day, you might hand out food to hundreds, or move 10,000 pounds of groceries. You might bag dry goods, or help behind the scenes with phone banking, data, or social media. There are dozens of things to do, and we can place people where they feel most comfortable and valued.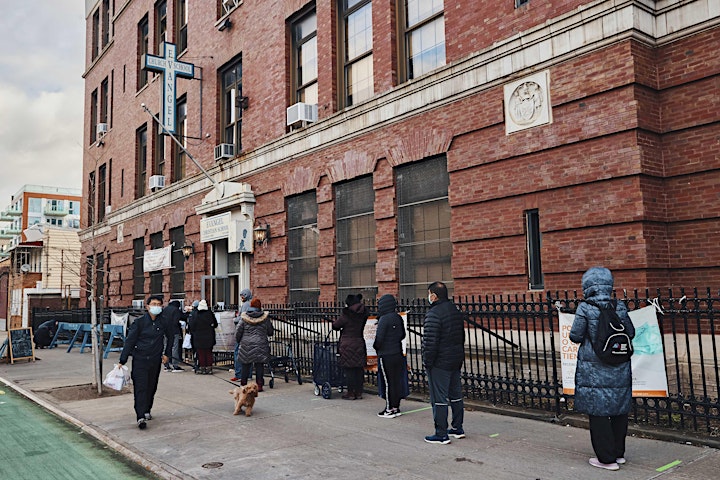 Variety of Positions:
Food Bag Packers: One packs food bags from bulk/loose groceries; this position may require light lifting, long periods of standing, and working primarily indoors.
Front Door Ambassadors: One greets clients as they come to 9MR to pick up food supplies; during their daily job functions, one will be utilizing apps to register clients' information and hand out food boxes. This position will require light to medium lifting and working primarily outdoors. Spanish and English bilingual skills are highly preferred.
Parking Lot Movers: One will be moving pallets using manual pallet jacks or electric pallet jacks from one place to another. During their daily job functions, one will also assist with loading and unloading commercial trucks using pallet jacks. Electric pallet jacks training will be provided onsite. This position requires prolonged periods of working outside. Occasionally, one maybe asked to direct traffic in the parking lot or on the street within close vicinity.
Forklift Driver and Truck Driver: One will be loading and unloading trucks using a forklift; if selected, one will also driver commercial Ryder trucks. A driver's license will be required, and a background check may be required.
Volunteer Drivers: One will be using one's OWN VEHICLE to transport food supplies from 9MR to an individual's home.
Administrative Support: One will be responsible for answering phone calls, doing simple counting, recording data into Google Suite platforms, completing simple office duties.
Please come in with an ideal position in mind, we will delegate your assignment based on your preferences during our kick-off before the event.
More About Us:
We will provide hot lunch daily, our entry selections will accommodate vegetarian options as well. We are doing our best to ensure the health and safety for our volunteers, hence, face covering is required for the entire duration while on site. Gloves will be provided based on needs or requests.
Parking spaces are available around the neighborhood. We are conveniently located near subway stations, bus stops and Citibike docks.
Check us out on
Instagram @9millionreasons
Facebook at https://www.facebook.com/9millionreasons/
or by visiting http://www.9mr.nyc