About this Event
Phoenix World Burn Congress is the world's largest gathering of burn survivors, their families, and medical and fire service professionals. It is a life-changing event that connects attendees with support resources, educational programming, and most importantly, each other. It is through these shared experiences that healing begins.
Why volunteer?
This life-changing experience will fill you with inspiration as you serve the burn community. Volunteers are vital to the success of the Congress. Without you, we could not provide the supportive community and tools that burn survivors need to thrive.
After you register, please go to: Sign Up Genius to sign up for a time slot(s)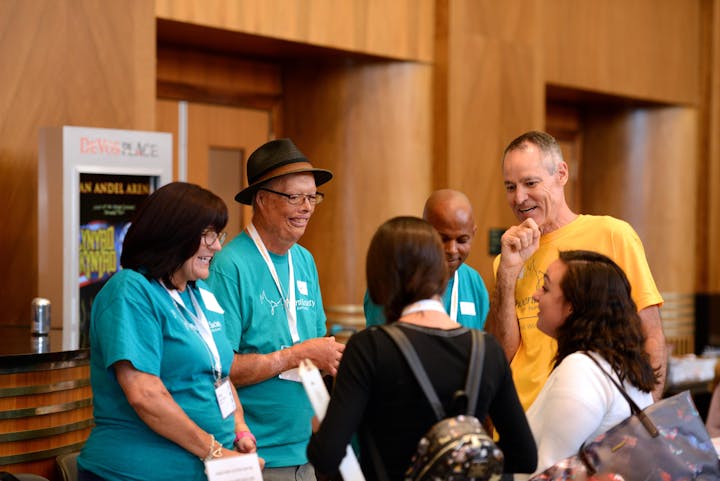 VOLUNTEER JOB DESCRIPTIONS 2019*
(*Summary of traditional duties of volunteers. Other duties may arise. Volunteers are assigned at the time of their shift.)
Supply Relocation:
Assistance with relocating supplies during the conference. Requires the ability to lift and move boxes, awkward items, and running supplies to requesting area.
Registration:
Assist with on-site registration for attendees. Attendees check-in, receive their conference information, receive their t-shirt and late register here.
Transition Hosts
Responsible for assisting attendees in finding their way to sessions and meals.
Room Monitors
Assisting during large or small group gatherings. Make sure the room is set up as planned and assist the speaker and AV personnel with problem solving. Responsible for assisting attendees with physical needs to appropriate seating as well as monitoring the doors during general sessions to decrease disruptions of the group.
Meal & Coffee Assistance:
This position greets attendees at meal times, assists with traffic flow, and assists carrying plates and glasses to their table if needed.
Show Office and Volunteer Suite Support:
Assist Show Office with the running of the convention and support the Volunteer Suite, ensuring volunteer needs are met.
Special Events:
Assists with needs of special events. This may include assisting and directing attendees during designated events. May also include putting up signs, moving chairs, assisting with name tags and other last-minute requirements.
Hospitality, Transport & Attendee Mobility:
Responsible for meeting and greeting attendees at the hotel, answering questions and assisting with needs that arise. Responsibilities can include assisting attendees to and from the hotels and convention center. The volunteer may need to push wheelchairs, assist with carrying small items, and provide any other assistance that is identified.