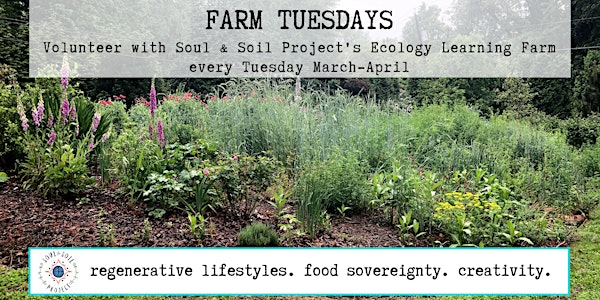 VOLUNTEER A.M. | Ecology Learning Farm, nonprofit
Lend a hand at our nonprofit's learning farm in Fairview, where we learn, practice and explore the techniques of regenerative agriculture.
When and where
Location
Soul and Soil Project 105 Flat Creek Road Fairview, NC 28730
About this event
Our community-style educational nonprofit needs helping hands!
WHAT VOLUNTEERS CAN EXPECT
Farm volunteers can expect tasks such as: weeding, tending to greenhouse, mulching, harvesting and/or cleaning, and potentially more involved projects like setting up new experiments, managing compost, building (experienced folx only).
We have two time slots available for volunteers, so that we can keep organized and maintain safe group sizes. Please register for the Eventbrite of your desired time.
Volunteers are not obligated to stay the full duration, but we do encourage and appreciate it! (Remember, the earlier you come, the cooler it is!)
What to Bring :
snacks (and a lunch if you would like to stay 12-2)
your water bottle
work gloves if you have them
sunscreen and anything else you may need
face mask for if/when inside greenhouse and near people
your own sanitizer if you can
If you have not filled out a waiver form with us before, please make sure to do so before volunteering. Form link: https://docs.google.com/forms/d/e/1FAIpQLSeu_H88Y7ele8edMd8jtHYgEh2jN3YuvktJ6lxJndwsnTy1hA/viewform?usp=sf_link
We have tools, Dr. Bronner's soap and wash station.
Thank you!
REFLECTIONS
In this time of great change, food sovereignty is a crucial key to our personal and collective empowerment, not only for humanity, but for the entire ecology of the planet. Industrial agriculture is extractive, contaminating both the foods we eat and the lands we cultivate. It is layered with social injustices and does not promise a sustainable future. Time and time again, local food systems have proven vital in times of change, in regards to access, economy and well-being. WNC has a history of farming, and is becoming, more and more, a hub for small farms working with small businesses and households. And we can keep getting stronger!
Our work through Soul and Soil Project is to nourish interest not only in food cultivation, but in regenerative lifestyles. We are committed more than ever to collaborate with young people to create safe opportunities to become involved, to explore the intersections of food sovereignty, social systems, culture, creativity, DIY activities and natural health.
We welcome Liberation Tools to the team, which forges quality garden tools for the free distribution to under-resourced farmers/growers of color.
We will be curating creative, online educational content centered on RESILIENCE.
And we will continue to offer Community Resilience Series classes, workshops and discussions throughout the year.
We welcome new team members who are ready to be involved on a more consistent level, and hone and share their unique skillsets for a collective purpose.
Together, we grow resilient, happier communities!