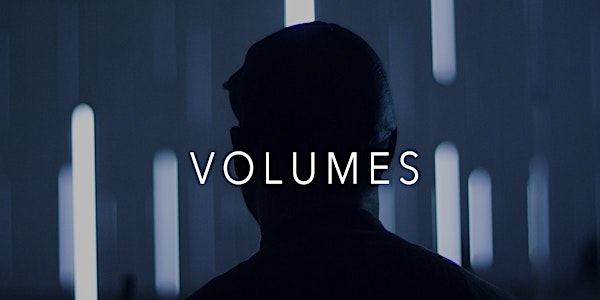 VOLUMES - Kaleen Reading, Karen Smith & Sunny Dee
VOLUMES is an immersive audio-visual installation by interdisciplinary artist/musician Ezra Masch that is activated by live drumming.
When and where
Location
Icebox Project Space 1400 North American Street Philadelphia, PA 19122
About this event
VOLUMES is an immersive audio-visual installation by interdisciplinary artist/musician Ezra Masch. The exhibition will be on view October 8th-29th at Icebox Project Space in Philadelphia PA. In VOLUMES, live drumming activates a matrix of vertical lights installed in a three-dimensional grid. Velocity and pitch determine the quantity of light that floods the gallery, creating a dynamic sensory experience for viewers.
A month long performance series curated by Masch will feature a host of percussionists from the Philadelphia area and abroad. This performance features drummers Karen Smith, Sunny Dee, and Kaleen Reading.
Doors: 6:30pm
Show: 7:00pm
There will be a brief intermission between each drummer performance.
Drummer Bios
Karen Smith - Karen "Magic Fingaz" Smith, Brooklyn Native, Philly Resident, is a Professional Percussionist, Playwright, Poet, Teaching Artist, Curator and now Pie-Maker!!! Karen is a recipient of several grants including Leeway Foundation's Art and Change and Illuminate the Arts Grants . Ms. Smith is the Founder, Artistic Director and Lead Percussionist of Weez the Peeples and Sistahs Laying Down Hands Collectives. The opportunities continue to grow with a stellar list of artistry that she has provided rhythms, including Sister Sonia Sanchez, Ursula Rucker, TC Carson, Debbie Allen, Steadman Graham, Toshi Reagan and Founder of Sweet Honey in the Rock, Bernice Johnson Reagon to name a few as well as being that "Go To" percussionist for other theatrical productions. Besides her percussionist presence on YOUTUBE, Karen has released her first CD project in 2020 entitled, "Spiritual Atmosferic Cleansing" that can be found on all the digital music distribution sites and the second CD will be released this September entitled, "Spiritual Hush". 2022 will also premiere her plays, "Pocketbook Diaries" and "Awoke the Musical '' as part of the Fringe Festival. "Awoke" presents a look at mass incarceration and how there's a pipeline between the public school system and the prison system. "Possible is Possible '' is my daily mantra!
www.karensmithdrums.com
@karensmithdrums
Sunny Dee
Dionna "Sunny Dee" Miller- (born September 5, 1981) is a professional drummer who's known through out the Tri-State area for her "In the pocket" precise sound. Sunny Dee started playing the drums at the mere age of 16 at Rhema Deliverance Center in Philadelphia. Sunny had a strong musical upbringing & grew up listening to gospel music as a child. Sunny would sit in rehearsals with her father who sung in a group named "Unity". They had a drummer named Eric Tribbett. After watching Eric play, she had the urge to get on kit. Sunny's career has led her to play with some of Philly's top musicians such as Steve Mckie and Killiam Shakespeare, Carvin Haggins and Bria Marie, Alisa Joe and Gyrl Problems. Gyrl Problems (an all female band) was her first major gig, they opened up for the R&B group sensation "SWV" during their reunion tour. She is currently the Musical Director for the Mister Mann Jam Session, which is held at City Winery Philadelphia bi-monthly.
Sunny has been blessed with an awesome start for her career. Her main drive is to provide the best lifestyle for her son Dèyon, who is her inspiration. Sunny's main goal is to have her brand go global, and to pave the way for future upcoming female musicians and artists in a predominantly male-based industry. This is the sole reason why she created "The Female Takeover". The Female Takeover is a movement that started in 2014. It is a showcase where all female entertainers and musicians can freely share their talent and be equally supported.
Kaleen Reading
Kaleen Reading is a touring/session drummer who is currently a full time band member of the Philadelphia-based punk band Mannequin Pussy (Epitaph Records).
She began touring at age 14 with the School of Rock All-Stars, where she performed with artists such as Jon Anderson (Yes), Dr. Know (Bad Brains), Brendan Small (creator of Adult Swim's Metalocalypse), Perry Farrell (Jane's Addiction), John Wetton (King Crimson), The Butthole Surfers, and many more. During most of her teenage years, she also toured nationally and internationally with all-female metal tribute bands Misstallica, Queen Diamond, and Judas Priestess.
With an obvious background in covering music, Kaleen has always put a priority on also forming bands and creating original music. After countless original bands, she co-created a Brooklyn based noise punk band called Low Fat Getting High, which featured heavy distorted bass playing and locked-in, yet chaotic, drums. It was through playing in the Brooklyn DIY scene that she met her current band Mannequin Pussy in 2014. Since then, the band has been touring non-stop, and have recorded the albums Romantic (2016), Patience (2019) and the Perfect EP (2021). They have performed at major music festivals such as Coachella, Glastonbury, Riot Fest, Shaky Knees, Voodoo Festival, Outbreak Festival, Two Thousand Trees, Firefly, and more. Their music has been featured in various TV shows, most notably HBO's Mare of Easttown.
In addition to being a full-time band member, Kaleen loves filling-in for bands such as Rat Fist (featuring Randy Randall of No Age), Colleen Green, Soul Glo, and Thin Lips. She recently provided auxiliary drumming for the Grammy-nominated artist Japanese Breakfast during their performance of "Paprika" for Jimmy Kimmel Live!