Description


Volkstock presents the 6

th

annual Volkstock festival happening live this fall! Come join in the fun at this huge 2-day event scheduled to hold on the 9

th

, 10

th

, and 11

th

of November 2018 by 12:00 pm at the beautiful Lake Pleasant, 8708 W Harbor Blvd, Peoria, AZ 85383.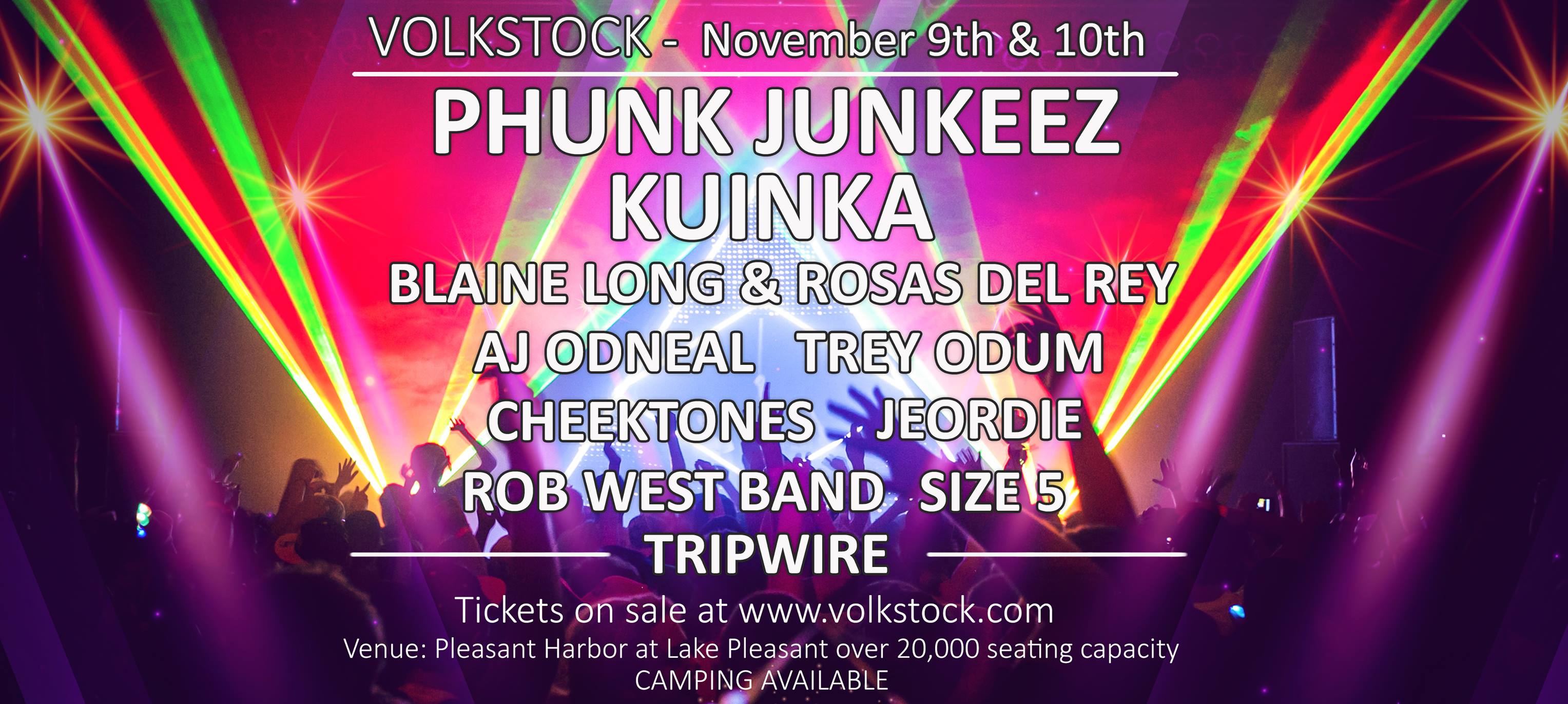 This year's edition promises to be the biggest and best VolkStock festival ever. Every year, VolkStock organizes huge shows that attract crowds in their thousands from different parts of the country. There are usually upwards of 3000 to 5000 attendees each year. This year, we're looking to set a new record by introducing a wide variety of intense and fun-filled activities all rolled into one massive and mind-blowing 2-day festival.
On the first day, we will be featuring an all-day live music concert where you will get to experience electrifying performances from various music artistes. For this year's concert, we will be expecting touring headliner bands like Phunk Junkeez, Kuinka, Blaine Long & Rosas Del Rey, AJ Odneal, Trey Odum and The Rob West Band, along with a host of vendors from all over the East Coast.
Expect to have your fill of adventure as well because attendees will be treated to an exciting outdoor camping experience by the lake. It is a great opportunity to spend some time with your loved ones. So come along with your tents and camping kits to ensure that you and your loved ones get the most fun out of it.
That's not all, the VolkStock festival will also be featuring a huge car show with a large collection of Vintage Volkswagen cars. Yes, guests will be treated to the usual Vintage Volkswagen Car Show and this year's edition will be held on Saturday, after the live concert event. Expect to be thrilled by the breathtaking exhibition of about 400 cars, and get the chance to meet and interact with other Vintage Volkswagen cars enthusiasts.
Volkstock General Admission Pass, November 9, 10, 11 $25/per person
Access to all performances at Volkstock in the general admission area of the festival grounds.

Gates open at 12:00pm Friday, Concert Seriest starts at 5pm and ends at 10:00pm. Saturday Gates Open 9am and ends at 10:00pm.

Children 12 and under are free.

All ticket sales are final.

No additional cost to show you car

No additional cost for swap

No refunds or exchanges.

Event is rain or shine.

Artists and schedule are subject to change.
Volkstock Weekend Camping Pass, Two Nights, General Pass Included $50/per person
Pleasant Harbor at Lake Pleasant is located at

8708 W Harbor Blvd, Peoria, Arizona

, and is in the festival grounds.

You may arrive and set up camp beginning Friday at 12:00pm, 24 hours a day.

A campground host is on duty 24/7 to help you find an available campsite and to answer any camping questions.

Pleasant Harbor is available for camping prior to the festival, but you will need to pay the park fee in addition to your festival camping pass fee. Visit https://pleasantharbor.com/rv-resort/ for more information.

You must have both a camping pass and festival pass to enter the campground during the festival.

Inlcudes One General Admission Pass into Volkstock

Camping passes are sold per PERSON, not per site. RV camping may have more than one vehicle.

There are no reservations for physical camping spots – camping is on a first come, first served basis. The campground is not split up into campsites.

Restroom and shower facilities are available. There is a deposit required to access shower, pool, and jacuzzi area which is $10 and available at the office upon arrival.

Bagged ice is available for sale at the RV Park store.
Children aged 12 and under are free in the campground and festival. Children must wear a festival wristband (available at the box office). Write your cell phone number somewhere on your child's pass; in the event you become separted from your child, security can call you. Children must be accompanied by an adult at all times.

Camping quiet hours are 10pm to 7am. Please, at all times, be respectful of your neighbors.

Fire must be in a self-contained metal fire pit which has a screen cover, and is elevated off the ground.

Pets are permitted at Volkstock and camping area.

Single day camping passes are not available. You may camp for one night, however the cost to camp is still the price of two days.

All ticket sales are final.

No refunds or exchanges.

Event is rain or shine.

Artists and schedule are subject to change.