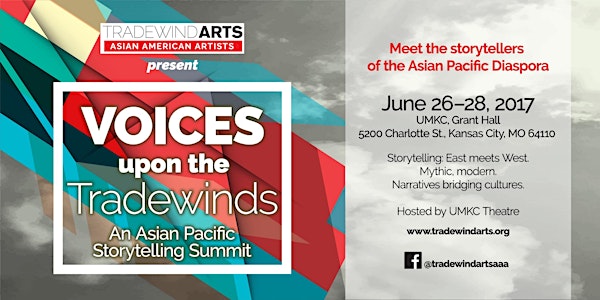 Voices Upon the Tradewinds: An Asian Pacific Storytelling Summit
When and where
Location
Grant Hall 5200 Charlotte Street Kansas City, MO 64110
Description
From June 26-28, Tradewind Arts Asian American Artists will welcome Eth-Noh-Tec Kinetic Story Theatre and ten of the world's top English Language Asian and Asian American storytellers to Kansas City for Voices Upon the Tradewinds, an Asian-Pacific American Storytelling Summit to engage in professional development, exploring community connections to storytelling, and inspiring conversations to catalyze the voices of our communities. We'll build on the success of the previous and initial gathering hosted by Eth-Noh-Tec at their home base in San Fransisco in 2014 by connecting with the local community in workshops with several performance styles, "Fishbowl" circle conversations to spark inclusive and engaging discussion, along with a culminating "Concert" of stories and tellers.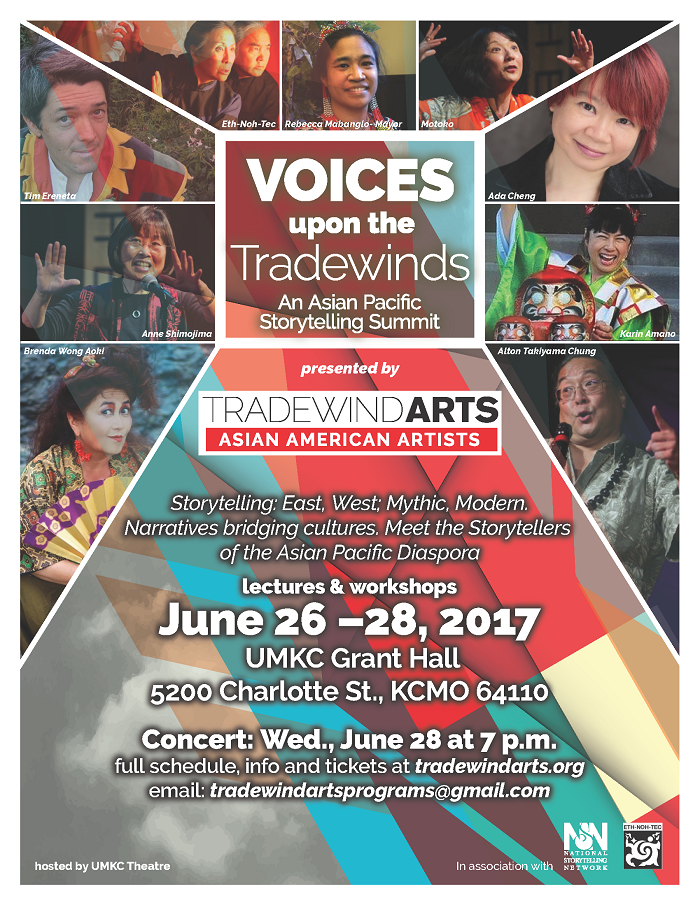 Summit Agenda
Monday 06/26/2017
Session 1: 3:15 pm-4:45 pm NOW SEE HEAR! Visual & Audio Energy Dynamics by Robert Kikuchi-Yngojo
Tuesday 06/27/2017
Session 2: 9:00 am-10:30 am TELL IT! MOVE IT! 8 Working Actions in Kinetic Storytelling by Nancy Wang
Session 3: 10:45 am-12:15 pm LISTENING TO ANCESTORS: Filipino Traditional Knowledge through Stories (lecture) by Rebecca Mabanglo-Mayor
LUNCH: 12:15-1:30 On Your Own. Feel free to brown bag it on the front lawn, weather permitting!
Session 4: 1:30 pm-2:50 pm RAKUGO: Japanese Comic Storytelling by Motoko
Session 5: 3:15 pm-4:45 pm PANEL: THE STORY TREE: Community Storytelling Engagement Projects
Wednesday 06/28/2017
Session 6: 8:30-9:50 am PAST TENSE, PRESENT TALES: Fishbowl Circle Discussion; Working with Asian Pacific History
Session 7: 10:00-11:15 am Korean Storytelling by Seung Ah Kim
LUNCH: 11:15-12:00 On Your Own. Feel free to brown bag it on the front lawn, weather permitting!
Session 8: 12:00 pm-1:15 pm FISHBOWL PANEL on Storytelling & Business, Get the Gigs? People Power? Techno or No-Tech in Marketing?
Session 9: 1:30 pm-2:50 pm BEYOND WORDS: Characters & Movement from the Japanese Theater by Brenda Wong Aoki
Session 10: 3:00 pm-4:30 pm FISHBOWL PANEL DISCUSSION: On The Horizon: What's Next?
CONCERT
Wednesday 06/28/2017
"Voices Upon the Tradewinds" API STORYTELLING CONCERT 7:00 pm-9:00 pm