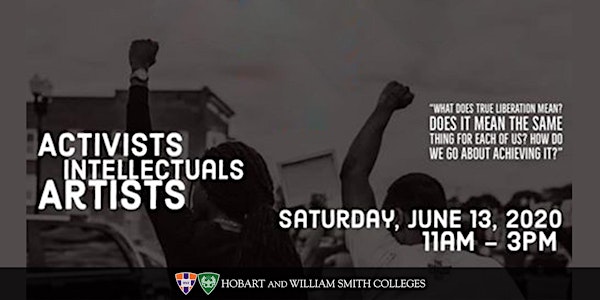 Voices of protest and love:Liberatory Knowledge in the Hour of George Floyd
HWS Virtual Teach-In on Racial Injustice
About this event
Poster created by Michael Gramling
Join us Saturday, June 13th for the first in our series of virtual teach-ins on racial justice. "Voices of protest and love: Liberatory Knowledge in the Hour of George Floyd" is the first in the series. Featuring Geneva's wealth of educators, scholars and activists, the teach-in, in the words of Instructor of History Virgil Slade asks "What does liberation mean? Does it mean the same thing for each of us? How do we go about achieving it? Who does the 'educating'? Which voices are privileged and which are silenced? These are vexed and contested questions but when you live in a society where too many are taken from us too often, in a place where even requests to breathe are fatally ignored, these are conversations that we cannot afford to delay."
This program is co-sponsored by the Office of the President, the Africana Studies Department and The Office of Intercultural Affairs. A call for contributors to the July program will go out next week.
Intro/Welcome - Our Call to Purpose - Brandi Taylor '19, Akim Hudson, Michael Gramling
Poetry/Spoken Word - Fatim Cisse '23
Session 1: The Truth of Our Moment Speakers: Renee Grant, Juanita Aikens, Ricky Price
Session 2: Anti-Black Violence and the Making of America Speaker: Professor of History Janette Gayle
Session 3: Voices of Protest and Love - Geneva Activists Speak Up and Speak Out Speakers: Akim Hudson, Michael Gramling
Session 4: Our Beautiful Black Triumph - Decolonizing the Mind Speaker: Virgil Slade, Instructor of History
Session 5: Youth Voices for Racial Justice and Change
Session 6 : Where Do We Go From Here?
Session 7: Sensing My Body's Knowledge Speaker: Professor Kelly Johnson
Session 8: Share Out
Closing and Continuing: Khuram Hussain
For more information email the Office of Diversity , Equity and Inclusion at DEI@hws.edu