Description
Join us for the third annual Voices of Hunger Summit, hosted at UMass Lowell. This year's theme is Changing the Paradigm. Building on the previous summits at Bunker Hill Community College and Worcester State University, this year's Voices of Hunger on Campus Summit theme will shift the focus to the systemic issues in society that contribute to the rising numbers of students experiencing food and housing insecurity.

The event will bring together campus staff, faculty, students, and community partners from across the region to discuss the root causes of food and housing insecurity on college campuses, as well as interventions with different stakeholder groups, and provide a space to think critically about how to move this work forward. The summit will include a keynote speaker, panel presentations, and table discussions.

Keynote Presenter
Anthony A Jack, Ph.D.
Assistant Professor of Education at Harvard University
Author, The Privileged Poor: How Elite Colleges Are Failing Poor Students
---
Bunker Hill Founding Sponsor Scholarship
The Bunker Hill Community College Foundation, Inc. is offering 50 scholarships for two people from 25 institutions across the region to attend the conference. This is an effort to make the conference more accessible to campuses who may not have the resources to attend. Please fill out this form if your campus is interested in the scholarship. Please note that there is a limited amount of scholarships, and are therefore not guaranteed.
---
Parking and Accommodations
The Conference will take place at the UMass Lowell Inn & Conference Center at 50 Warren Street in Lowell, MA. Free parking is available in the Lower Locks Parking Garage adjacent to the Inn and Conference Center. Participants must enter the garage by entering the ICC Parking Lot and turn right into the garage before the guard booth. The gate will be lifted and there is no ticket to be pulled. However, if you enter on the Warren Street side of the parking garage you will pull a ticket and be charged $8.00 for the day as this section of the garage is operated by the City of Lowell. Participants who park in the wrong side of the garage will be responsible for paying their own parking fees.

If you are interested in accommodations, rooms can be booked at the Inn & Conference Center. Please call the front desk at (978) 934-6920 and request the UMass Lowell Affiliate Rate, as you will be attending the Voices of Hunger Summit on May 31 at the Conference Center.
---
Presented by: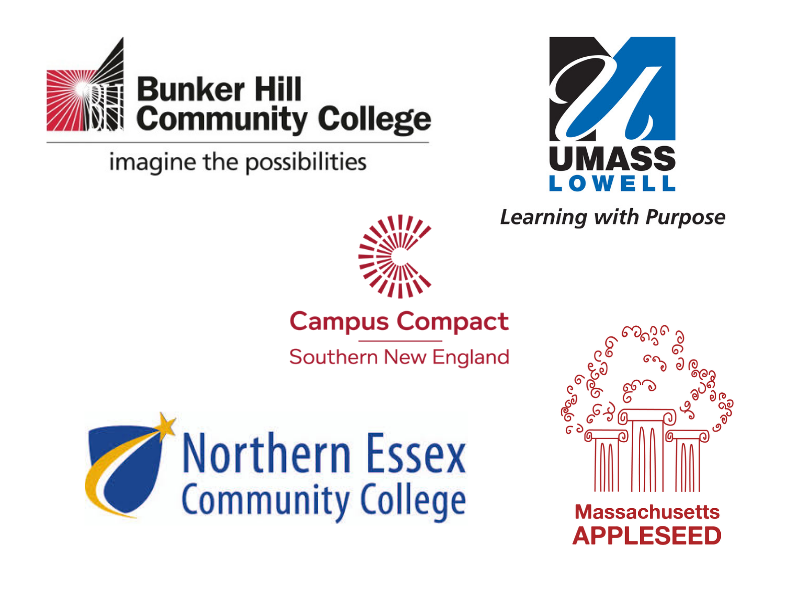 With the support of the 2019 Voices of Hunger on Campus Planning Committee representatives from:
Bunker Hill Community College
Campus Compact for Southern New England
Middlesex Community College
University of Massachusetts Lowell