Location
TouchPoint
2401 Liberty Heights Ave
Baltimore, MD 21215
Description
If you are a talented artist between the ages of 14 - 21 years, this opportunity is for you! Be part of this exciting New Musical and original cast album of Voices of Carmen.
These are PAID portions for Artists. If you have already signed up for YouthWorks Baltimore City, please let us know when you audition. If you live in Baltimore County, you will be paid through a grant. NOTE: All those cast will be paid :)
Video About Voices of Carmen.
Listen and learn songs from this new musical on Soundcloud.
Project Time Line:
March 2nd-4th Auditions
March 16th Present Carmen cast at Bmore Healthy Expo
April Date TBA, Costume fitting
May/June dates TBA, Cast album recordings
July 1st Camp Carmen Begins!
July Date TBA, DC Black Theater Festival - New Works and Readings
July 19th Artscape/Teenscape
July 24th Community Tour
July 25th Community Tour - Penn North Enoch Pratt Library
July 26th Invited Dress Rehearsal
July 30th Preview performance
July 31st Opening night. Baltimore School for the Arts
Aug 1st Show. Baltimore School for the Arts
Aug 2nd Gala performance and reception Baltimore School for the Arts
Aug 3rd Kennedy Center Millenium Stage performance, Washington DC
Aug 4th Cast Party Baltimore
Time Commitment:
Monday - Friday 9AM-3:30PM, July 1st - Aug 2nd.
Plus evening performances and special appearances.
AUDITION PROCESS:
Check In
Introductions/Warm Up
Improv/Acting
Singing
Movement for all levels
Call Backs - Sat, March 9th, 2PM
NOTE: Musician Audition - Sat, March 9th, 2PM Click here to RSVP!

What to expect when Auditioning! Click here for full video.
Frequently Asked Questions FAQ:
If I've never done a musical before, should I still audition? Yes you should audition!
Will the cast be paid? Yes
Can I do this show for service learning hours? Yes, there are five community presentations
Do I come to all the auditions? No, pick one audition that works best for you
What is the timeline and commitment? *See above
How many performances are there? Seven to Ten
What kind of dancing is it? There are a variety of dance styles in the show. Do what you do best.
Should I prepare a dance routine? No, you will be taught a simple combination and given the opportunity to freestyle.
What should I wear? Clothes you are comfortable moving and dancing in
Should I come with a song to sing or rap? Yes, choose a song from the Voices of Carmen demos on
SoundCloud
.
Do I need to sing or rap exactly like the demo? No, you can add your own flavor and style
I'm an actor, should I bring a monologue? No, we will do some improv and some people may be asked to read scenes from the show.
Does it matter where I live? No, we are casting talent from Baltimore City and Baltimore County. All are welcome :)
The Story of Carmen - Learn more about the opera!
---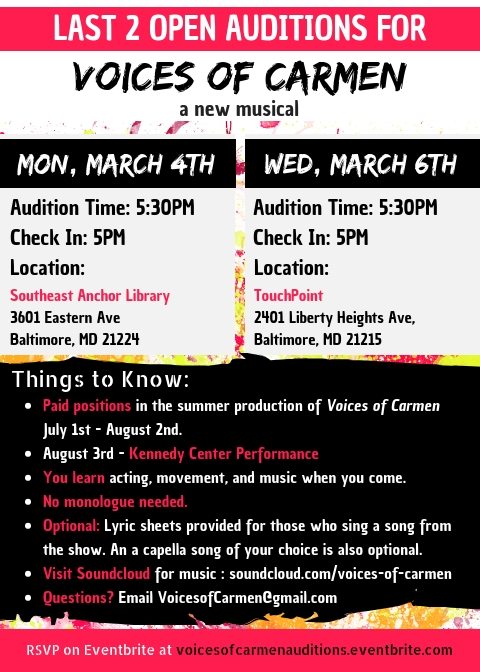 Questions? Email VoicesofCarmen@gmail.com