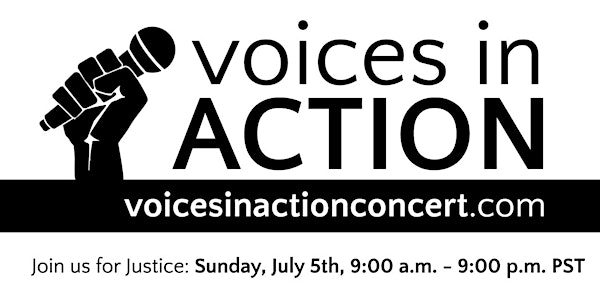 Voices in ACTION - Concert for Racial Justice | VoicesinActionConcert.com
Voices in ACTION, a Telethon Style Concert for Racial Justice July 5th, 9am to 9pm (PDT) / noon to midnight (EST). VoicesinActionConcert.com
About this event
It's the day of the show! Join in the Livecast concert any time Sunday, July 5th between 9am-9pm West Coast time | Noon to Midnight East Coast time. Get all the information you need at VoicesinActionConcert.com
Or watch on Facebook live (gather your friends for a watch party!). You can also watch on Youtube, Twitch or from VoicesinActionConcert.com where you can also get a schedule.
(Ticket holders got all the juicy details first via email.)
Ready to take action to protect Black lives? Enjoy 50 artists with a free ticket and donate to support NAACP LDF.
Join in to Voices in ACTION, a 12-hour Telethon Style Livestream Concert ONLINE on Sunday, July 5th from 9am to 9pm (PDT) / noon to midnight (EST). Top artists and rising stars representing many genres will inspire us. We'll hear from leaders, poets and comics. What?! folk icon Dar Williams, Marc de la Cruz (Hamilton), DJ Kuttin' Kandi, AshEL SeaSunz, Diane Phelan (The King and I), Daniel Alexander Jones, Renita Martin, Shawna Virago, Daniel Laurent, Juanita Ulloa, Amy X. Neuburg, Dr. Mwanza Furaha... omg read on for more!
We will rally to raise funds, friends and ongoing support for for the nation's premier legal organization fighting for racial justice, the NAACP Legal Defense and Education Fund (NAACP LDF). Please donate now and we urge you to make your donation monthly to address the long-term crisis of racial injustice. Get your FREE ticket to receive the link to the livestream and a schedule for the day so you can be sure to catch your favorite artists. Hint, if you love Dar Williams, don't be late!
We are also encouraging support of racial justice organizations in general and of the arts and artists as so many are hard hit by the COVID-19 crisis. Visit our website for more details.
Who's in?! Get your free tix now -- it's all about follow through when it comes to racial justice. Check the popcorn supply. Plan your Facebook Live watch party! It's free, what are you waiting for?
Join the #VoicesinACTION movement by sharing, inviting your friends and rallying support for lasting change!
Hell yes I'll share! Get your influencer kit here. Invite your friends on Facebook.
I have skills and I can help! Sweet! Visit our website & look forward to meeting you!
Voices in Action - Artists Against Oppression
Confirmed talent:
DJ Kuttin Kandi - mc/dj--hip hop
Dar Williams - folk pop
Marc de la Cruz - Broadway (Hamilton)
AshEL SeaSunz - hip hop, roots, rap, reggae
Rev. Robin G. White - poet
Kate Offer - classical music comedy
Albert Lee - singer
Dr. Phillip Harris - opera baritone, spirituals
Dawn L. Troupe - singer
Dr. Mwanza Furaha - vocalist (as seen with Betty Carter)
Shawna Virago - trans folk/punk icon
Farmer Ama - spoken word (Salon Black Walnut)
Betsy Salkind - comedy (writer for Roseanne)
Aundre the Wonderwoman - award-winning comedy
The Matlock Duo - singer and pianist
Letta Neely - spoken word (Root top 30 Performance Poet)
Amy X. Neuburg - avant-cabaret electronic and vocals
Solstice - a cappella (Nat'l Top Three - Harmony Sweeps )
Eric Hung - piano
Juanita Ulloa - operachi, mariachi
Ashi Day - composer, singer
Renita Martin - poet, playwrite, musician (as seen in Ebony)
Deems Tsutakawa - jazz piano
Bryan Blanchette - Abenaki Singer-songwriter
Diane Phelan - Broadway (The King and I)
Fog City Singers - a cappella
Shannon Caldwell - classical singer
Ife Franklin - museum-collected multimedia artist and author
Mia Anderson - actor, poet, playwright
Rajnii Eddins - poet, author and hip hop MC
Daniel Laurent - award winning video producer, hip hop MC (Outside)
Omega Jade - comedian, poet, hip hop MC
Rajdulari Landell - jazz and contemporary
Anthony Antoine - contemporary and hip hop
Dr. Darius Omar Williams - poet, playwright, actor
Arnoldo Incentas - drag singer
Aaron Diskin (Golem) - punk klezmer
Daniel Alexander Jones/JoMamaJones - performance artist, playwright (Black Light)
Tamara Dunn - jazz song
Priya Prasad - comedy
Julie Egger - fiddle (Red Hot Chachkas)
Byron Au Yong & Aaron Jafferis - playwright, composer
Aaron Marcus - trans activist, musician (Frost and Fire)
Duncan E. Teague - poet, reverend (The ADODI Muse: A Gay Negro Ensemble)
Nate Burgos - oboist/woodwinds, singer
Alicia Vida Ortiz - activist, educator, musician
Rev. Dr. Raedorah Stewart - writer, scholar, clergy
Alysaya Ali Sewell - sociologist, professor
Anoosh Jojorian - blogger, editor, teacher
EMCEES:
Michelle Barnwell - Producer, Reel Roost; TEDx Speaker - Scripting Your Own Reality
Angelina Spicer - filmmaker, The Push for Permission; comedian (Conan, Kimmel)
Jaclyn Friedman - author Yes Means Yes: Visions of Female Sexual Power and a World Without Rape, celebrated podcast host: Unscrewed.
Abe Rybeck - ground-breaking theater founder (The Theater Offensive)
Tara Watts - photographer, interior architect, set PA on "The Blacklist" and an Art Dept. PA on "Patriot Act"
MC Ella Sogomonian, broadcast anchor (KRON ON)
Veronica Arriola - MC Veronica Arreola - SheSource - Women's Media Center
Onyx Keesha - filmmaker, actress, performer
A taste of what you have to look forward to...learn more on our website.
In 2019, Marc delaCruz became the first Asian American to play Alexander Hamilton on Broadway. He is currently a member of the Broadway cast of "Hamilton" where he plays James Reynolds/Philip Schuyler and understudies Hamilton, Burr, Laurens/Philip and King George. He was also a swing in the original cast of "If/Then." Off-Broadway credits include "Jason in Ordinary Days" with Keen Company, "Pacific Overtures" with Classic Stage Company and "Three Days to See" with Transport Group.
Top battle DJ and Hip Hop Activist DJ Kuttin Kandi has won the Source Magazine Championships and was the first female to make the DMC USA Finals. She has performed with Jay-Z, Busta Rhymes, LL Cool J, Wyclef, Mya, Common, Blackstar, Naughty By Nature, Biz Markie, Dead Prez, Rocksteady, and many more. She has been featured in Rolling Stone and the New York Times and A Magazine named her a top 5 DJ.
Daniel Laurent (also known as DL) is best known for his hit single "MASSterpiece (The Anthem)", his video "OUTSIDE" recently went viral, won 10 Best Music Video awards, and screened in 16 film festivals. DL is a member of 10,000 Fearless Peace Makers, promoting a culture of peace in Boston neighborhoods.
Vocalist - actor - producer Mwanza Furaha has shared the stage with Maya Angelou, Betty Carter, Carmen McRae, Sun Ra and many more.
The New Yorker has described Dar Williams as "one of America's very best singer-songwriters." Jonathan Keefe of Slant Magazine said "Williams has built a reputation on an ear for extraordinary melodies and an effortless but still razor-sharp wit." She can be found headlining at internationally renowned festivals and concert halls all over the world.
AshEL SeaSunz is the founder of Earth Amplified, both a roots, rap, and reggae band and plays with the Dogon Lights, Earth Amplified, and the Soulestial Church Band. He has toured w/ or opened up for Bassnectar, Will.i.am, Erykah Badu, Stephen and Damian Marley, Steel Pulse, Van Jones, Dead Prez, KRS-1, Blackalicious, Michael Franti, Jason Mraz, and many others. In response to the COVID-19 crisis AshEL is part of the Essential Foods & Medicines for the People effort and is the founder of SOS Juice among many other accomplishments.
Ife Franklin is a visionary multimedia artist and author who channels the riveting story of her Great Grandmother Willie Mae's escape from slavery -- her work has been exhibited and collected by museums, such as The Fitchburg Museum of Art, Galleries such as New York's Cinque Gallery, Asheville NC's World Gallery, and Boston's Brickbottom Gallery and New Art Center among many others. Ms. Franklin is a multi-year recipient of the NEFFA (New England Foundation for the Arts) Creative City Grant and past recipient of the Pat Parker Award for Art Achievement.
Mia Anderson has appeared in 30 films including award-winning films like Sleep, Production and If You Leap. She has performed as Lady in Yellow in Colored Girls, Tatiana in Midsummer's Night Dream,and the Porter in Macbeth among many others. As a director in New York, she has worked with Rising Sun Company, Construct Theater, Culture Project, and the National Black Theater.
Farmer Ama (Ama Hannan) is a Poet, Farmer, and Founder of "Salon Black Walnut" nights of Arts & Culture, and Invitational BIPOC Artist In Residency program in VT, our channel for Reparations.
LA Comic Betsy Salkind has made millions laugh on Showtime's Fierce, Funny Women, on The Tonight Show and as a writer for Roseanne. She has been called the heir apparent to SNL's Gilda Radner.
Letta Neely was named one of The Root's Top 30 Black Performance Poets and was twice a finalist for the Lambda Literary Award for poetry. Her work has been included in The World in Us, Role Call, and other anthologies and authored poetry books Juba and Here. Geographies of Power will be available in October 2020. Her plays: "Hamartia Blues", "Last Rites", and "Shackles & Sugar" have been produced in Boston, Philly, and Los Angeles. She is a co-artistic director for Fort Point Theatre Channel.
Rajnii Eddins has been praised by Major Jackson, Poetry Editor of Harvard Review: "Rajnii's tongue is ancestral, and his spirit is free. In the tradition of sacred word-warriors, he names the fallen and the martyrs with extraordinary grace and a humbling consciousness that manifests light in all directions. His fiery poems ration out eternal wisdoms that call forth simply a substitution of love for hate and a spiritual reckoning so that we all can breathe. Sing on, dear brother."
Rev. Robin G. White, is an award-winning author with four published titles, the Georgia Author of the Year Finalist, Resurrection: A Collection of Work, Reflections of A Life Well Spent, First Breath and the first title in a children's series by the same name, God Like Me, authored under the pseudonym, R. L. Young. She was awarded the Chicago Literary Award for Poetry and won the prestigious Lambda Literary Award for Best Independent LGBTQ Publisher.
Bryan Blanchette is a New England native and member of the Nulhegan Band of the Abenaki tribe. He studied music at the world renowned Berklee College of Music. He started pow wow drumming in 1996. His group, The Blackhawk Singers have performed internationally to critical acclaim. He brings 10,000 year old traditions into music and performance into a 21st century setting.
Learn. Groove. Give. Commit. We can change this together.
Learn about the 50+ incredible artists in the show here
Visit our website for more details about the artists, the cause, who we are and for many gorgeous pictures of the artists!