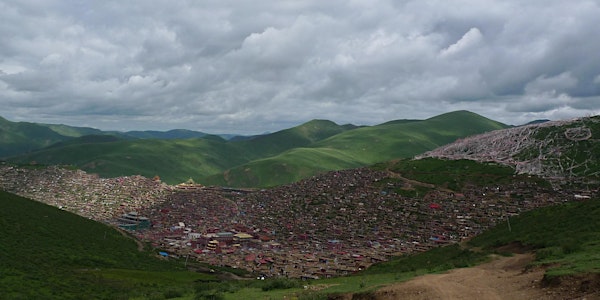 Voices from Larung Gar – Online Symposium
Join us for the book launch of Voices from Larung Gar: Shaping Tibetan Buddhism for the Twenty-First Century on Saturday, April 10th.
About this event
The 2.5 hour symposium features special guests Anam Thubten and David Germano in dialogue with Antonio Terrone and Holly Gayley about Larung Gar, one of the largest Buddhist institution on the Tibetan plateau. This will be followed by a panel of contributors to the ground-breaking anthology, Voices from Larung Gar, addressing innovative approaches by Larung Gar leaders, moderated by Michael Sheehy.
Schedule:
4pm-5:15 MT Panel 1: Larung Gar, Its Impact and Founding Figures, featuring Anam Thubten, David Germano, and Antonio Terrone, moderated by Holly Gayley
5:15-6:30 MT Panel 2: Voices of Second Generation at Larung Gar on Buddhist engagement with animal rights, gender equality, and science, featuring panelists listed below, moderated by Michael Sheehy
Panelists:
Geoffrey Barstow, Oregon State University
Catherine Hardie, Hong Kong Baptist University
Sarah Jacoby, Northwestern University
Padma 'tsho, Southwest University for Nationalities
Hosts:
Holly Gayley, Tibet Himalaya Initiative at CU Boulder
Michael Sheehy, Tibet Center at the University of Virginia
This event is co-sponsored by the UVA Tibet Center and Tibet Himalaya Initiative at CU Boulder, under the auspices of our Center for Asian Studies.
About the Book:
Voices from Larung Gar is the first collection of talks and writings by the leading voices of Larung Buddhist Academy, better known as Larung Gar. The book offers a compelling vision for Buddhism in the twenty-first century by some of the most erudite, creative, and influential Tibetan Buddhist luminaries today. In everyday language, these leaders delve into an array of contemporary issues, including science, ethics, gender equity, and animal welfare.
This collection features contributions from a range of prominent figures who are forging dynamic, modern paths forward for an ancient tradition. Included are the internationally renowned Khenpo Jigme Phuntsok, founder of Larung Gar, his distinguished successors Khenpos Sodargye and Tsultrim Lodro, and erudite nuns holding the scholarly title Khenmo, who are becoming known for their impressive publishing projects. Larung Gar is thus one of Tibetan Buddhism's most vital communities, actively balancing cultural preservation and innovation.
Learn more: https://www.shambhala.com/voices-from-larung-gar.html