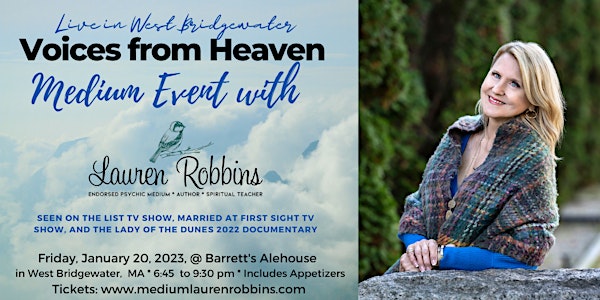 Voices from Heaven Medium Event with Lauren Robbins
Listen as Lauren channels messages from heaven to prove you are never alone. All ticket holders are entered to win a free 30-minute session.
When and where
Location
Barrett's Alehouse West Bridgewater 674 West Center Street West Bridgewater, MA 02379
About this event
Voices from Heaven Medium Group Reading Event with Appetizers at Barrett's AleHouse and a Chance to Win a Private 30-Minute Session – 7:30 - ~ 9:30 pm (Doors open at 6:45) - Meet Lauren Robbins, an Award-Winning Tested & Endorsed Psychic Medium, Author, and Spiritual Teacher who has appeared on The List TV Show, Married at First Sight Boston, on Lifetime, and in The Lady of the Dunes 2022 Documentary. Listen as Lauren channels messages from loved ones in heaven with their personality, memories, and messages they want to share in this live group event to heal your heart and prove you are never alone.
Lauren will go to every table to attempt to provide messages from spirit. Note: Not all guests are guaranteed a message but will leave with an unforgettable experience. Once you have purchased tickets, you will receive an email from Medium Lauren Robbins with your reservation. Please call our office at 508-339-8111 to provide your name, phone number, and the first names and last initials of the guests you purchased tickets for so they will be admitted into the event and drawing. You will receive a booking confirmation from Medium Lauren Robbins to confirm your reservation. You will be responsible for letting your guests know about the event details.
HARD-COPY TICKETS ARE NOT REQUIRED. This event is held at Barrett's Alehouse, 674 West Center Street, West Bridgewater, MA 02379, Phone: 508-510-4204. The event is located on the first floor. A bar that offers beer and wine will be available in the room. Doors open at 6:45 pm for check-in and appetizers. The event begins at 7:30 pm. Please arrive and check in to be seated at 7:00 pm when the event begins. Thank you. To watch clips of previous Medium Events, please visit the Medium Lauren Robbins channel on YouTube.