Voices for Votes: Real Talk on the Key Social Justice Issues for the 2016 Presidential Election
When and where
Location
Fitts Auditorium at Penn Law 3501 Sansom Street Philadelphia, PA 19104
Description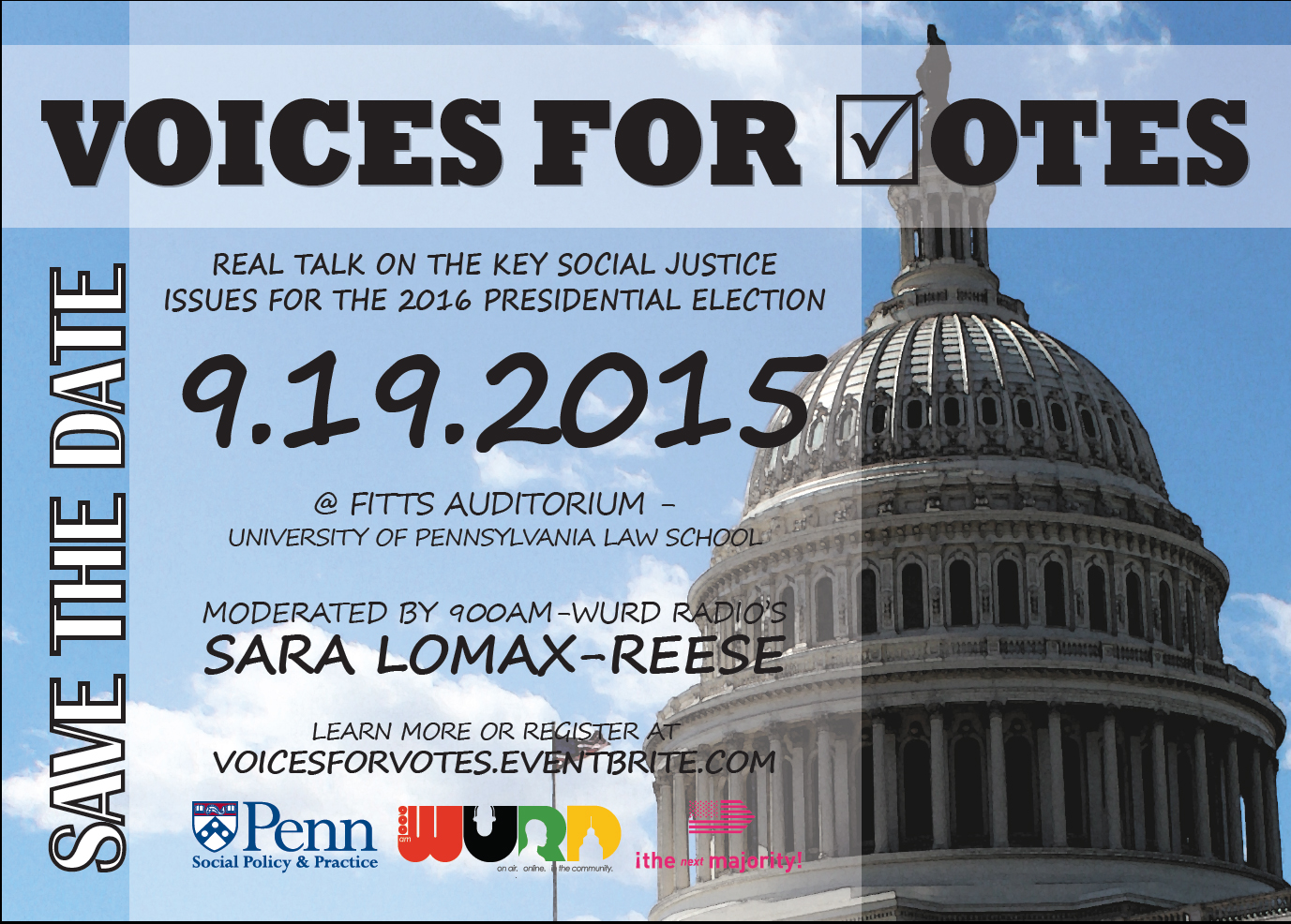 Voices for Votes
September 19, 2015, 11 a.m. - 2 p.m.
Fitts Auditorium @ the University of Pennsylvania Law School
3501 Sansom Street, Philadelphia, PA
---
The University of Pennsylvania School of Social Policy & Practice (SP2) is excited to announce "Voices for Votes: Real Talk on the Key Social Justice Issues for the 2016 Presidential Election."
Voices for Votes will be a nonpartisan discussion moderated by Sara Lomax-Reese, 900AM-WURD's president and general manager. This interactive forum, including a distinguished panel of experts, will focus on what a diverse community of voters and voters-to-be feel are the most pressing social justice issues facing the world today that must be addressed in the 2016 election.
Panelists will include:
Byron C. Cotter, Esquire

is the director of the Alternative Sentencing Unit at the Defender Association of Philadelphia. Cotter specializes in mass incarceration and prison alternatives.

Charles D. Ellison

is a veteran political strategist, Washington Correspondent for the Philadelphia Tribune and Contributing Editor at theRoot.com.

Nikki Adeli

is the former youth commissioner to Mayor Michael Nutter, currently serves as the president of the Board of Directors of the national organization, Student Voice and was the youngest TEDx speaker in Philadelphia in 2014.

Amy Castro-Baker

, PhD, MSW is an assistant professor at SP2 where she teaches Policy Analysis as well as Gender and Social Policy.

Sean Foley

is currently the president of the Penn Democrats, as well as the logistics director for Penn Model Congress.

Shira Goodman

is the executive director of CeaseFirePA, Pennsylvania's largest gun violence prevention organization which partners with mayors, police chiefs, faith leaders, community organizations and individual Pennsylvanians working together to take a stand against gun violence.

Kelly Kroehle

, MSW is the director of The Bryson Institute of The Attic Youth Center, Philadelphia's LGBTQ youth center.

Siobhan Reardon

is president and director of the Free Library of Philadelphia, the first woman to serve in this capacity

Mitchell X. Chan is the Chief of Staff for the Penn College Republicans. Chan is also currently the campaign intern for Melissa Murray Bailey for Philadelphia Mayor in 2015

Via conversations generated in Voices for Votes, SP2 hopes to provide a forum in which people from diverse communities -- regardless of race, creed, political affiliation, economic status, age, etc. -- have a safe and structured outlet wherein they can voice their opinions and gain practical knowledge to make a difference at the polls, as well as in their communities.
Voices for Votes will cast a wide net to include not just Penn faculty, staff, and students, but also community organizations, policymakers, affinity groups, and a bevy of other unique and multi-generational individuals throughout the region.
---
"Voices for Votes" comes as a prelude to SP2's anticipated release of "SP2's Penn Top Ten," a comprehensive publication, reference guide and multimedia package in which SP2 experts address what they believe are the top ten social justice issues facing the country today. Both the event and Penn Top Ten strive to educate, enlighten and empower current and future voters from all walks of life.
The forum, which is open to the general public, is one of many efforts SP2 puts forth to advance social justice and societal transformation through education, research, and civic engagement on a global level.
Light refreshments will be served and there will be an opportunity to network and collect voter resource materials after the event.