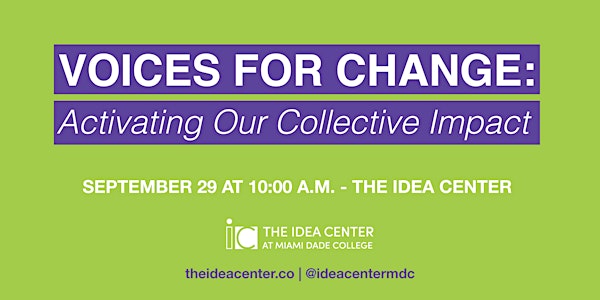 Voices for Change: Activating Our Collective Impact
When and where
Location
The Idea Center at Miami Dade College 315 NE 2nd Avenue Building 8 - 5th Floor, Room 8503 Miami, FL 33132
Description
We live in a time where it can appear that problems are outrunning solutions, and yet experts tell us that, for the first time in history, we have all the resources available to make important changes happen. So, what will it take to create an "everyone a changemaker" community where solutions outrun problems instead? Possessing key mindsets and practicing critical skills will make the difference in helping us use our voice and leverage our collective creativity to design for a better tomorrow.
Join us on September 29 for Voices for Change, an interactive workshop designed to engage you in real-time dialogue about specific UN Sustainable Development Goals (SDG) that are most relevant to Miami. In this session, we will focus on SDG #13 which focuses on climate action, and you will participate in activities that will result in everyone crafting personal and collective "commitments to change." As a changemaker, this is a workshop for you - come to join others interested in collaborating for the kind of social impact our community needs now.
Light breakfast will be served at 9:30 A.M.

Voices for Change is sponsored in partnership with the United Nations Association - Miami Chapter.