Description
ONLINE TICKET SALES HAVE ENDED.
You can still join us! Please bring your ticket donation ($75 or $125) at the door.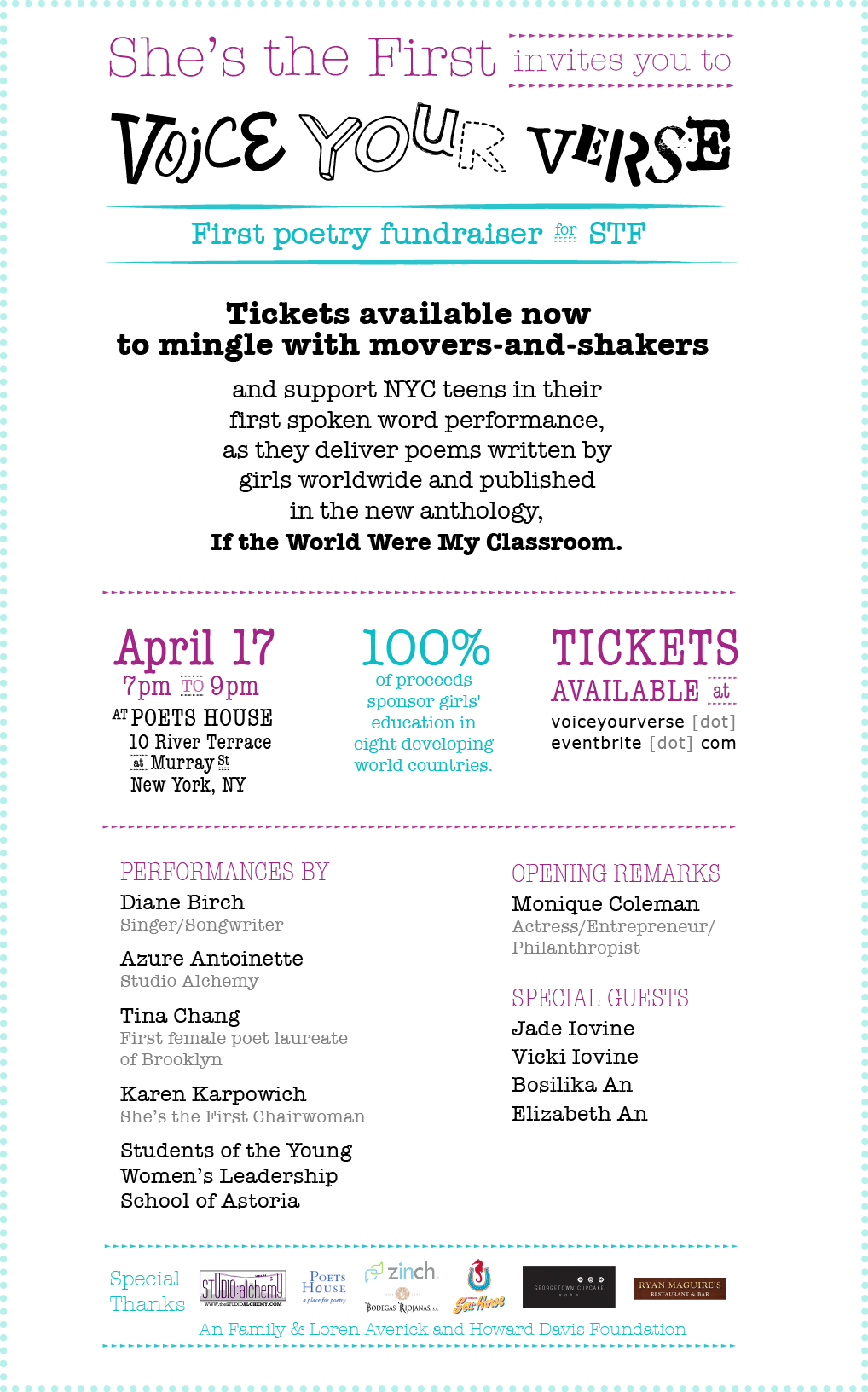 THE PROGRAM
7pm: Opening Remarks by Monique Coleman • Poetry Performances
8pm: Reception • Acoustic Performance by Diane Birch • Book Signing • Auction
Enjoy wine, delicious food from Financial District favorites, Ryan Maguire's Ale House and Cowgirl Seahorse, and desserts from Georgetown Cupcakes.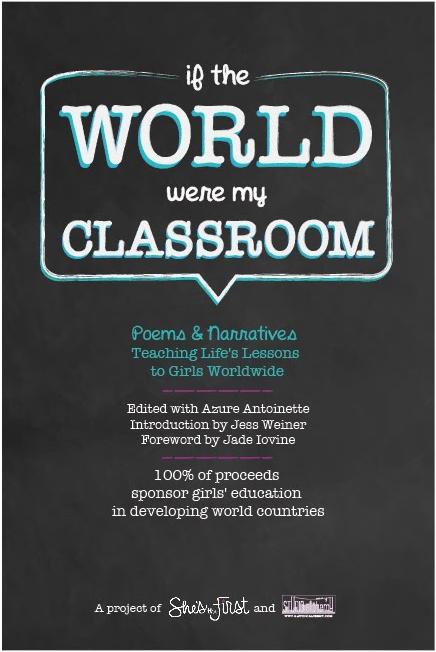 ORDER THE BOOK!
If you can't make it to the event, you can still order a paperback copy of If the World Were My Classroom, and it will be delivered to you after the April 7th release date. We will be selling and signing copies at the Poets House as well!
Why poetry? Here's the story!
YOUR IMPACT

She's the First is a non-profit organization that sponsors girls' education in the developing world, enabling them to be the first in their families to graduate from secondary school.
Meet Sophia Paolo, one of the girls you'll help sponsor when you purchase a ticket! She's 17, and next year will be her last year of secondary school. All proceeds from the Voice Your Verse event will benefit the education of girls like Sophia who are from Tanzania, India, Uganda, Kenya, Guatemala, South Sudan, Ethiopia, and Nepal. These girls who wouldn't be able to afford school otherwise will now have an opportunity to be the First!
ABOUT AZURE ANTOINETTE

Azure Antoinette is a poet/spoken word artist, freelance photographer, and youth literacy advocate. She recently formed Studio Alchemy, launching this spring, to house her inspiring projects. As a poet/writer, Azure Antoinette has been commissioned to write for the First Lady of California, Maria Shriver, beats by dr. dre, and the American Cancer Society just to name a few. An Oprah-approved poet, Azure teamed up with She's the First in April 2011–all because of one tweet!

ABOUT TINA CHANG

Tina Chang, was raised in New York City and is the first female Brooklyn Poet Laureate. She is the award-winning author of the poetry collections Half-Lit Houses and Of Gods & Strangers and co-editor of the anthology Language for a New Century: Contemporary Poetry from the Middle East, Asia and Beyond, along with Nathalie Handal and Ravi Shankar. Her poems have appeared in American Poet, McSweeney's, Ploughshares, and The New York Times, among others. She currently teaches poetry at Sarah Lawrence College.
ABOUT KAREN KARPOWICH

Karen Karpowich is the Board Chairwoman of She's the First. She runs her own corporate sustainability consulting business, was the immediate past president of the New York Women's Agenda, and serves on the Board of New York Women in Communications, Inc. She has presented her poetry at KGB's, Poets and Writers Collaborative and the Cornelia Street Cafe. Most recently, actress Tamara Tunie performed a poem she had written to honor the fallen of 9/11 at Symphony Space's Tenth Anniversary Commemorative Concert.
ABOUT DIANE BIRCH

Singer-songwriter Diane Birch traveled across the globe to get to America, where she literally found her voice and made her remarkable debut, Bible Belt (2009). With hook-driven songs, Birch mixes piano-playing virtuosity with easy-going soul and can strike an uplifting groove on even the most melancholy tune. Her first album was recorded in NYC and New Orleans with a formidable team of Grammy-winning producers: S-Curve Records founder Steve Greenberg, soul legend Betty Wright, and Mike Mangini. Diane is in the studio recording her sophomore album, due in early summer 2012.
ABOUT THE YOUNG WOMEN'S LEADERSHIP SCHOOLS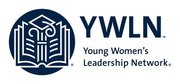 The Young Women's Leadership Schools are privately supported 6th – 12th grade public secondary schools that promote high-quality student learning opportunities in and out of school, for predominantly low-income students who will be the first in their families to attend college.
ABOUT POETS HOUSE

Poets House is a 50,000-volume poetry library in Lower Manhattan, one of the most comprehensive, open-stacks collections of poetry in the United States. Founded in 1985 by U.S. poet laurete Stanley Kunitz, nearly every world-renowned poet of the last 25 years has visited the library. In its recently renovated and rent-free LEED-certified home, the Poets House offers a gorgeous view of Battery Park City and invites New Yorkers inside year-round to curl up with a book by their favorite poets, or use the free WiFi to create their own works on their laptops.
Special thanks for donations & discounts:
Organizer of Voice Your Verse Poetry Fundraiser