Empower your voice so you can experience greater joy-not just filled but a fuller life. Be Confident! Unmute, activate, empower your voice!
About this event
It's Your Time and Turn to VOICE IT!
You know too much to be silent. Arise and Flourish!
Get Your Voice and Confidence reActivated with Confidence and Prayer Coach Dr. Phyllis Fuller.
For years I lived as an introvert. I loved studying Scriptures from a child with a grounded understanding of what is not acceptable to God. However, I was comfortable focusing on my inner thoughts and ideas rather than external reality. So I remained silent. Before, during and a few years after divorce I was quiet, voiceless and socially safe as not to encounter conflict, i.e., No Confidence although I had knowledge of the Word of God! I Needed my VOICE ACTIVATED! I got my voice activated and now live confidently and boldly in my purpose and destiny.
Join me August 6 and 7, 2021 for Voice IT! You will not be disappointed! You have a Voice and you need to speak in order to be heard. VOICE IT! Registration is FREE.
Freely support the ministry at
$DrPhyllisFullerUSA or
paypal.me/KingdomDominionTrain
❤️Grab and Keep your Seat. Space is Limited.❤️ Registration is Free.
www.drphyllisfuller.com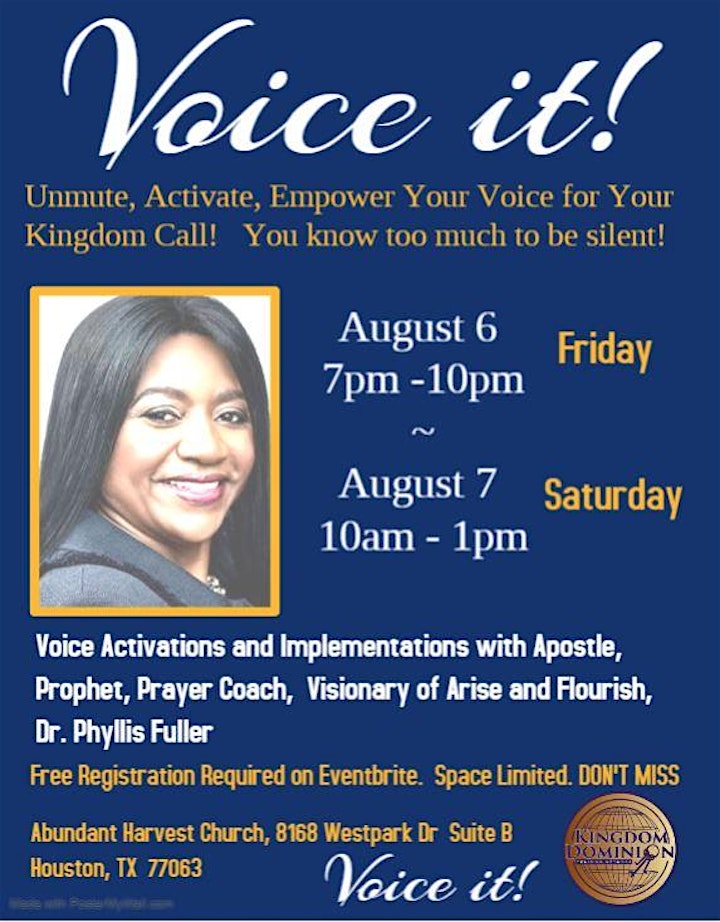 Organizer of VOICE IT! Your Time and Turn to be Heard. Confidence Coaching w/Dr.Phyl