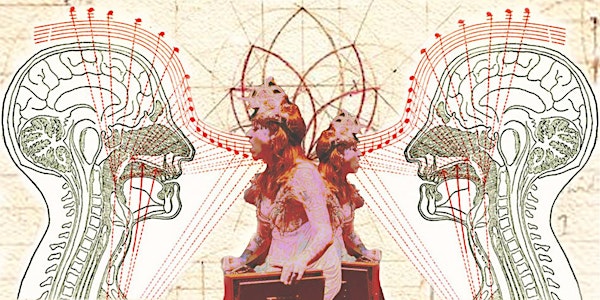 Voice Cult: Come Sing
When and where
Location
House of Yes 2 Wyckoff Avenue Brooklyn, NY 11237
Description
Voice Cult: Sing. Vibrate. Express. Heal. Resonate. Singing together can be closer than touching.
**Please note: in the spirit of making a tangible physical offering to our own voices, this event is no longer free. Henceforth the contribution will be $15 per person, to be paid at the door upon entry. RSVPing on eventbrite, which we encourage, holds your place but is not a complete ticket for entry.
::::: About Voice Cult :::::
On the first Saturday of every month at House of Yes, we ask you to travel from near and far, bringing nothing to us but your voice. Still daunting? Let us assure you: you have been singing since the beginning of time. You got this.
Why do we sing? We sing to remember, forget, wish, apologize, forgive, go into altered states, heal ourselves and each other, flee, find, talk to dead grandfathers, lure each other into love, become our own mothers, paint the room with iridescence, and synchronize our heartbeats.
If you can speak, then you can sing - even if you have only ever croaked out thin ratchety wisps of songs and especially if your mom told you that you were tone-deaf in the fourth grade. If you are a great singer, come because you love singing.
What do we do? We perform vocal healing rituals. We sing through the colors of the rainbow. We sing in circles. We sing on the floor. We sing for aerialists flying through the sky. We hug our own shadows while singing Soundgarten. We sing for each other and we sing for ourselves.
What will we sound like together? Let's feel things. Singing together can be closer than touching. We are a cult dedicated to the truthgasmic song of our own souls. For more info on Voice Cult, please visit our website: www.voicecult.org.
::::: Daisy Press :::::
Daisy Press is the head priestess of our Voice Cult. She is a prominent interpreter of experimental classical music in the US and Europe. As the principal singer at the House of Yes, she has most likely brought you to tears and perhaps to your knees in Ketamine: the Musical, The Xmas Spectacular and many more.
As a vibrant and compassionate teacher, Daisy utilizes a powerful synergistic mix of Western classical/pop vocal technique, sound healing, and borrows from North Indian ragas to coax her students into a fully-embodied, joyful manifestation of their vocal, emotional, and spiritual potential. To share a room with her is already a healing magical experience, to sing with her is a rare privilege.
Entry fee is $15 per supplicant, to be paid at the door upon entry.
Doors at 1:45PM | Service and singing start at 2PM
::::: Upcoming VOICE CULT dates :::::
February 2nd, 2019
March 2nd, 2019
April 6th, 2019
May 4th, 2019
June 1st, 2019
July 6th, 2019
FAQ
Q: Is Voice Cult really a cult?
A:
::::::: Community and Accessibility :::::::
This is a space for everyone to feel welcome and loved. Racism, sexism, ableism, ageism, homophobia, transphobia, xenophobia will not be tolerated at our House. All entrances and spaces within the venue are single-level and handicap accessible. All bathrooms in the venue are gender neutral and gender inclusive.