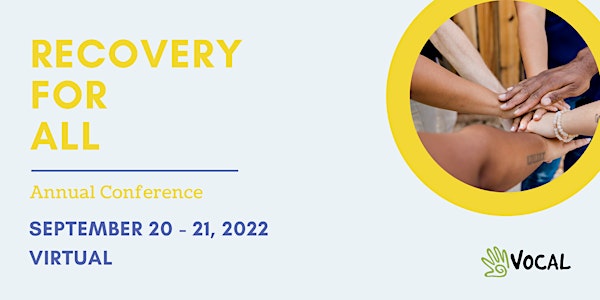 VOCAL's Annual Conference: Recovery for All
Join us on September 20th & 21st, from 9 am-4 pm, for our Annual Conference!
Refund Policy
Contact the organizer to request a refund.
Eventbrite's fee is nonrefundable.
About this event
Registration ends September 19th.
Workshop topics include: Aging in Recovery: Supporting Oneself and Others Growing Old, Problem Gambling: "The Hidden Addiction", Reimagining Recovery-Oriented Systems of Care in Rural Virginia, We Recover and Live Healthy Lives: Personal Medicine Coaching Activates Self-Care, and more!
This year we have two plenary speakers.
José R. Rosario is a researcher, clinician, speaker, and activist who believes that mental health work must consider issues of identity, power, and oppression to address the needs of minoritized groups. José identifies as a gay, Latino man who uses a wheelchair and believes that the ways identities intersect shape mental health experiences. He established The Phoenix Empowered to amplify the mental health needs of minoritized communities and provide education to shape comprehensive mental health supports. As a clinical psychology doctoral student, his research explores individual and community level distress and healing after violent events targeting BIPOC and LGBTQ+ communities.
To learn more about José's work, click here.
Chlo'e I. Edwards, MPP, is the CEO of Chlo'e Edwards Brands: Transformative Change, which is home to Woke Literacy Institute, Stay Yoked, and Blackity Black. She leads through her personal experiences as a community advocate and activist with a passion for community resilience, community engagement, racial equity, and social justice. Chlo'e is a trained racial equity facilitator, master trauma-informed care & resilience trainer, healing-centered engagement practitioner, forensic peer recovery specialist, creative writer, performance poet, public speaker, advocate, activist, and policy analyst.
Chlo'e previously served as a Policy Analyst at Voices for Virginia's Children, Community Partner in Residence for the Bonner Center for Civic Engagement at the University of Richmond, volunteered as the president of Black Lives Matter 804 and Boss Folx Vibes, and serves as a board member for I'M JUST ME Movement and The Hive Movement. During the 2021 GA session, Chlo'e helped lead efforts to successfully recognize racism as a public health crisis in Virginia, making the state the first in the south.
To learn more about Chlo'e's work, click here.
Tony Hoffman is an author and one of the most requested mental health and substance use speakers in the country, traveling over 200 days a year to share his inspiring story with various audiences. After paroling prison on December 13, 2008, Tony started living out his dream, with his addiction behind him. Tony is a Former BMX Elite Pro and placed 2nd at the 2016 World Championships in Medellin Colombia in the Masters Pro class. Tony coached Women's Elite Pro, Brooke Crain, to a 4th place finish at the 2016 Rio Olympic Games in Brazil.
Tony has presented on the prestigious TEDx stage and his viral Goalcast video 'From Prison to the Olympics' has been viewed more than 12 million times. He is a founder of pH Wellness, a drug, and alcohol addiction treatment facility located in Southern California which uses his 'F.I.T For Life' sobriety model utilizing fitness and a world-class career placement center to increase long-term recovery outcomes.
To learn more about Tony's work, click here.
Conference tickets are available for $60.00, with a limited supply of reduced rate tickets for $35.00. *Individuals who are financially able, please be sure to select the $60 rate to assure all interested Virginians have the opportunity to attend.
Conference Schedule, click here.
Please feel free to reach out to VOCAL staff with any questions:
(804) 343 1777 | network@vocalvirginia.org
We hope you will join us, and look forward to participating together in September!
Sponsored by the Virginia Department of Behavioral Health & Developmental Services, Office of Recovery Services.